While men typically never wear women's watches, more and more women have taken a liking to men's watches. Models that are traditionally considered "masculine" are often oversized, but have fewer frills and more functional features. These traits have increasingly become appealing to women, as fashion becomes more progressive and androgynous.
These days, there's only one hard and fast rule when it comes to women's fashion and accessories: if you like it, wear it! If you find men's watches appealing, you can start with these 5 watches, that women tend to love.
Rolex Cosmograph Daytona
Originally unveiled as a reliable tool watch for professional race car drivers, the Rolex Daytona has evolved into a modern design that collectors love today. Featuring a tachymeter bezel, three chronograph subdials and pushers, the Daytona is not just the ultimate timing tool for the road, but a sporty and edgy looking one at that.
While it measures 40mm, which is larger than most women's watches, it has a tapered profile that sits comfortably on the wrist. The Daytona also has a wide range of metal options and dial configurations to choose from, making it fun to wear.
We've seen the Rolex Daytona on Khloe Kardashian, Zendaya, Hayden Panettiere, Elle MacPherson, Victoria Beckham and Sofia Vergara.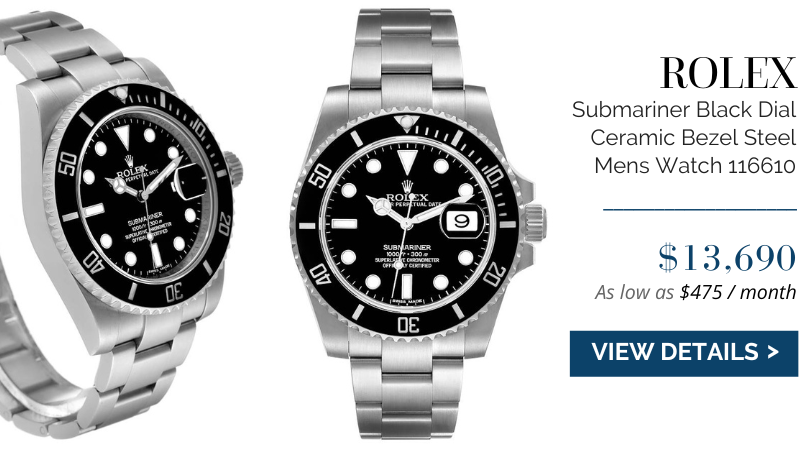 Rolex Submariner
The Rolex Submariner is adored for many reasons, and one of them is that you can wear it to a broad spectrum of occasions. As a dive watch, you can use it up to depths of 1,000 feet but it also looks classic enough to be worn to a formal event and a high-powered board meeting. Women simply love the Rolex Submariner for its classic design and universal appeal.
Today, the Submariner range comes with a choice of a 40mm or 41mm case, slimmer case profiles or the heftier Super Case, as well as a wide range of metal combinations and bezel and dial colors.
We've seen the Rolex Submariner on Drew Barrymore, Queen Latifah and Lindsey Vonn.
Panerai Watches
Especially created for the Italian Navy in the 1930s, Panerai watches are built tough – with massive and robust cases that are meant to withstand extreme conditions. With their jumbo proportions and logical design, Panerai watches actually add great contrast to the most feminine of looks.
With options ranging from 38mm to 47mm, Panerai's pure minimalist lines and simple dials can make a statement without overpowering the wrist.
We've seen Panerai watches on Model and host Heidi Klum (who wears a Panerai Radiomir) and celebrity fitness trainer Jillian Michaels, and actresses Elizabeth Hurley and Stana Katic (who wear the Panerai Luminor).
IWC Pilot
The IWC Pilot's watch collection is one of the most admired lines of contemporary pilot's watches. Known for their robust build, highly legible dials, and anti-magnetic properties, they are reliable timepieces for flying but can easily be anybody's everyday timepiece.
IWC wishes a very happy birthday to #RosamundPike. Watch the full #IWCTalksTo https://t.co/JMl45dEgWj pic.twitter.com/NxLi1eg2px

— IWC Watches (@IWC) January 27, 2017
IWC's Pilot Mark Series reduces the pilot's watch design to the absolute essentials; while the Pilot's Watch collection combines elegance and sportiness in larger case styles. Both are great options for women who are looking for edgier timepieces. We've seen the IWC Pilot on Rosamund Pike, Carolina Kurkova, and Adriana Lima.
Rolex President Day-Date
The Rolex Day-Date, and its President bracelet, earned its monicker from the diverse array of presidents, diplomats, and world leaders who have worn it. While it was famously worn by men, its classic Oyster case, two-calendar dial and famous link bracelet look incredible on women's wrists.
Today, it's available in 18k yellow, white, and rose gold, plus platinum and is produced in two sizes – the traditional 36mm and the contemporary 40mm – offering a wide range of designs for women to choose from.
We've seen the Rolex Day-Date on Hailey Bieber, Jennifer Aniston, Victoria Beckham, and Selena Gomez.