Among today's most famous watch brands, Tag Heuer is top of mind when it comes to high levels of accuracy and performance. Founded as Heuer in 1860, and later renamed Tag Heuer in 1985, the Swiss brand introduced some of the world's most famous chronographs – the Autavia, the Carrera, and the Monaco.
This strong association has led many motorsport legends to wear their timepieces. Siffert, Rindt, Senna, and McQueen are just a few of the best drivers in the world to famously wear Tag Heuer watches.
Luckily, you don't have to be a world-famous racecar driver to wear one of their pieces. The watchmaking giant now boasts a wide range of watches for every purpose and occasion – from everyday wear to diving and golf.
Explore the history and collections of Tag Heuer with SwissWatchExpo's Ultimate Guide.

A Brief History of TAG Heuer
The history of the brand goes way back to 1860, when Edouard Heuer established his eponymous watch manufacture in La Chaux-de-Fonds, Switzerland. Back then, it was only named Heuer, only in 1985 would it acquire its present name – but we'll get to that later.
The oscillating pinion was one of Edouard Heuer's first patents. (photo: Tag Heuer)
Heuer spent the next two decades acquiring unique patents for his brand and establishing its reputation for creating highly precise and accurate timepieces. Heuer was granted his very first patent in 1869 for a crown-operated winding system for pocket watches, one that did not require a key. The following year, he patented the "oscillating pinion" for stop watches. Formed by two differently toothed gears, this pinion is used to engage the chronograph, and to stop and start it using their respective push buttons. Today, this mechanism is still used by makers of mechanical chronographs.
Establishing a reputation in sports and motor racing
Edouard Heuer eventually died in 1892, and his sons Jules-Edouard and Charles-Auguste took over. Three years after, the brothers successfully patented one of the first water-resistant cases for pocket watches.
The company continued to grow in the next decade, driven by their partnership with Henri Freund & Bros. who exclusively distributed Heuer watches in American, as well as a slew of product novelties they introduced.
Heuer's Mikrograph from 1916 and a vintage Heuer pocket watch (photos: Tag Heuer)
Among these was the first wrist chronograph of the brand, which hit the market in 1914. The "Mikrograph" soon followed in 1916, which became the first stopwatch accurate to 1/100th of a second.
Through these patented creations, Heuer was named the official timekeeper for the Olympic Games for several years. The company's split-second pocket chronographs were chosen as the official stopwatches for the following games: Antwerp (1920), Paris (1924), and Amsterdam (1928).
After this period, Heuer continued to manufacture instruments for the dashboards of cars, aircrafts, and boats. In 1948, they launched the "Auto-Graph", a wrist chronograph with a hand that could be pre-set to point to a specific position on the tachymeter scale. In 1958, they introduced a slew of dashboard timepieced which included the Super Autavia chronograph, the Sebring split-second timer, and the Monte Carlo twelve-hour stopwatch.
The Golden Age
The year 1958 was also very significant for the brand as it was the year that Jack Heuer, Charles-Edouard Heuer's son, took over the company. He became head designer would eventually be responsible for the brand's most famous creations, including the Carrera and the Monaco.

Jack Heuer holding one of his iconic designs: the Carrera (photo: Tag Heuer)
When the 1960s entered, the Heuer brand was deeply enmeshed into the auto-racing world. The greatest Formula 1 drivers all wore Heuer chronographs – Jo Siffert, Jochen Rindt, Derek Bell, and Mario Andretti, among others were constantly seen with their Autavia and Carrera chronographs.
Things would only get bigger for the brand in the 1970s, when Steve McQueen chose to wear a square Heuer Monaco in his 1971 film, Le Mans. It further cemented Heuer's reputation as the de rigeur watch brand for the race track.
However, like many of the Swiss watchmakers of this period, Heuer struggled to stay afloat during the Quartz Crisis of the 1970s. The situation became dire enough that the company was put up for sale. In 1985, Techniques d'Avant Garde (TAG), a private holding company from Luxembourg, acquired the brand, and alas TAG Heuer was born.
The Modern Era
The 1990s became a period of experimentation for TAG Heuer, which saw the revival of some of their models from the 1950s and 1960s. They also made larger chronographs to cater to the trend of oversized watches, and also made some daintier models for the ladies.
Right before the new millennium, Moët Hennessy Louis Vuitton (LVMH) acquired TAG Heuer. This move would usher in new approaches for the brand, from leading-edge technologies and avant-garde designs.

Today, Tag Heuer has a wide range of timepieces ranging from re-editions of their historic timepieces, to modern and disruptive designs, all known for record-breaking precision and bold aesthetic. Below is a breakdown of each Tag Heuer collection.
---

About Tag Heuer Collections
Tag Heuer Carrera
Introduced in 1963, the Carrera collection is named after the infamous and deadly race that ran in Mexico from 1950 to 1954. Story goes that Jack Heuer, while attending the 12 Hours of Sebring race, caught wind of the dangerous Carrera Panamericana race. So enthralled was he by its name that he registered it for a model that was yet to be designed.
The 1993 re-edition of the original Tag Heuer Carrera (photo: Tag Heuer)
Jack Heuer employed his fascination with modern architecture and minimalism, and designed the Carrera's clean chronograph dial – one that did away with the tracks found in chronographs at the time. It achieved immediate success after being shown at the Basel Fair in 1963.
Tag Heuer Carrera 160 Years Anniversary Watch CBN2A1D
The Tag Heuer Carrera range offered wide range of designs over the decades, from classic time-only models to highly-skeletonized designs. In recent years, Tag Heuer has simplified the range, and most of today's models echo the classic lines of the 1960s original, with the occasional skeleton dial thrown in. Most of the current line up also uses the Heuer 02 chronograph movement, and it appears the company is slowly phasing out third party movements.
Key Features
Round cases, straight lugs, and refined indexes
Popular Models
Tag Heuer Carrera Chronograph – these strike a balance between classic everyday watches and the original 1960s chronographs from the brand. Cases range from 39mm to 45mm, and most are already powered by the Heuer 02, a column-wheel operated chronograph and the brand's flagship in-house movement.
Tag Heuer Carrera Sport Chronograph Green Dial Steel Mens Watch CBN2A10
Tag Heuer Carrera Sport Chronograph – these chronographs still possess the basic design DNA of vintage Carrera chronographs but with a decidedly sportier look thanks to a larger 44mm case and wider tachymeter bezels. Its contemporary feel is further emphasized with fine-brushed finishing and sunburst dials. These are also powered by the Heuer 02 movement.
Tag Heuer Carrera Automatic Chronograph – these chronographs possess the signature skeletonized look of the brand. They have a more assertive design thanks to the overlay of an intricate skeleton dial, index hour markers, and chronograph registers. Transparent casebacks give a peek of the Heuer 02 movement at work.


Tag Heuer Autavia
The Tag Heuer Autavia's name comes from the amalgamation of "automobile" and "aviation". Its origin goes back to 1933, when Heuer introduced its first dash counter for racing cars, aircrafts, and boats.
In 1961, when Jack Heuer took over the company, he designed his very first watch for the brand – a wrist chronograph with a turning bezel. Looking through the archives of their business, he decided to name this new watch after the 1933 original. Featuring a rotating bezel, extra large counters, and a high-contrast dial, it was launched the following year and gained iconic status among racing watches.
Heuer Autavia ref 2446C from 1968 (photo: Christies)
The Autavia found itself on the wrists of the 1970s' most popular Formula 1 racers, among them icons like Jo Siffert, Jochen Rindt, and Derek Bell. 
In 2017, it was revived through a 55th year re-edition, featuring a slightly modernized design and an updated movement. This version was the product of the "Autavia Cup", a crowd-sourced interactive campaign where Tag Heuer asked fans to choose among 16 vintage references for the anniversary re-edition. The winning model was the Autavia "Rindt" worn by the famous F1 driver Jochen Rindt.
Key Features
These vary for every generation of the Autavia. The first generation Autavia (1961 to 1967) features round cases, straight lugs, and rotating bezels. The second generation (1968 to 1986) featured tonneau-shaped cases with integrated lugs. The latest generation takes inspiration from military-style watches with its round case, large Arabic numerals, and bi-directional bezel.
Popular Models
Tag Heuer Autavia CY2110 – a 2003 re-edition of second generation Autavia watches. This employs the tonneau shaped case, crown placed on the left, and two large chronograph registers. This was the first Autavia to display the TAG Heuer logo on its dial. It features a 42mm stainless steel case with a fixed bezel with tachymeter scale, and is powered by the automatic Caliber 11.
Tag Heuer Autavia Heritage Calibre Heuer 02 Steel Mens Watch CBE2110
Tag Heuer Autavia Cup – a 2017 re-edition of the Autavia 2446 "Rindt" or the version worn by legendary racer Jochen Rindt. As mentioned above, this was the result of the Autavia Cup held in 2016. It features the tri-compax panda dial and "Heuer" logo of the original, but with a modern 42mm size, larger proportions, and the modern Calibre Heuer 03 beating at its core.


Tag Heuer Monaco
In the 1960s, as automatic or self-winding movements reached the market, a group of watchmakers sought to make the first automatic chronograph movement. Heuer, who was part of this coalition along with Breitling, Hamilton, Dubois-Dépraz, and Hamilton-Buren, introduced the caliber 11 movement in 1969.
While the said movement was first housed in the Autavia, Jack Heuer sought to create a non-traditional design to be paired with it. He designed a square case and negotiated exclusive rights to it. In the 1969 Basel Fair, they introduced the world's first waterproof automatic chronograph in a square case known today as the Monaco.
Steve McQueen wearing Heuer Monaco in the 1971 film Le Mans
While the Monaco was intended as more of a design-oriented watch more than the Autavia and the Carrera, fate had other plans. Actor Steve McQueen famously wore selected to use it in his racing film Le Mans and it became immortalized as a racing watch.
Key Features
A square face, two chronograph registers, two chronograph pushers. The original model had its crown on the left, but modern editions, particularly the CAW2111 have the crown on its right side for more conventional wear.
Popular Models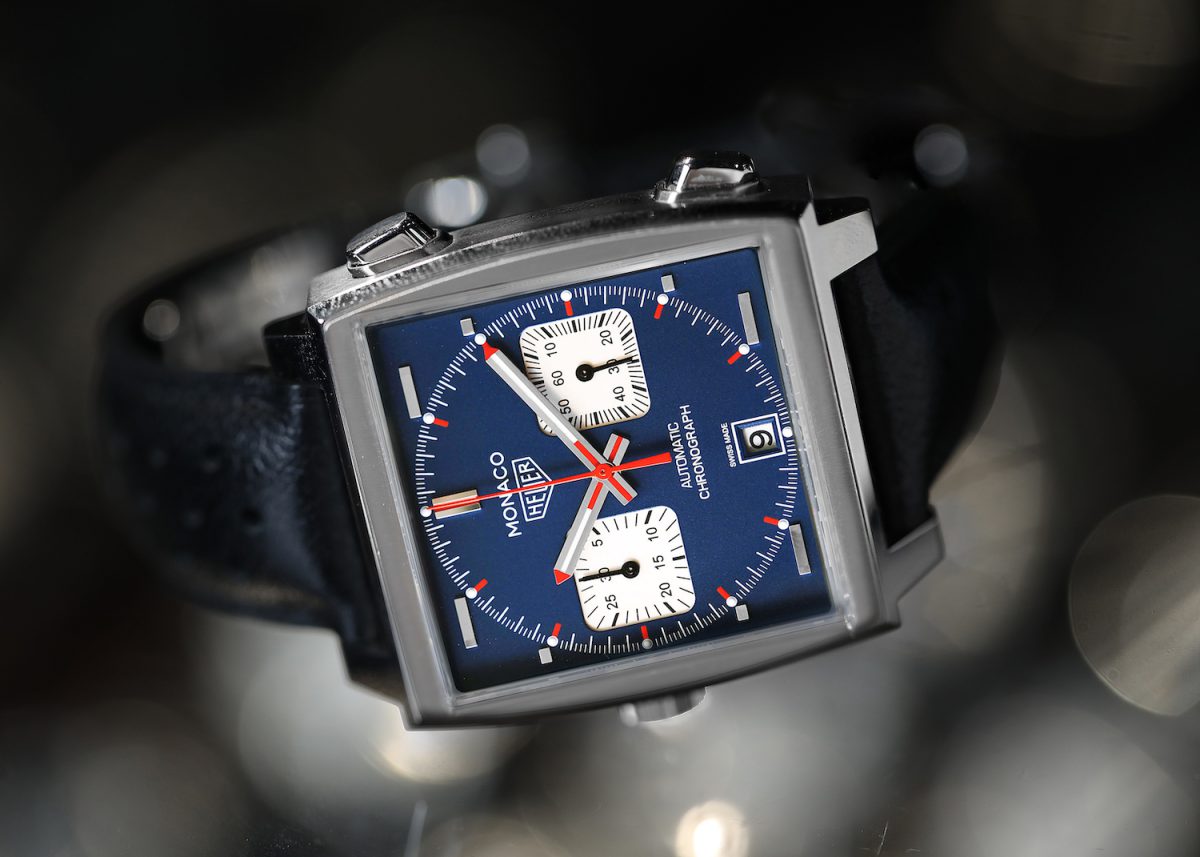 Tag Heuer Monaco Chronograph Blue Dial Steel Mens Watch CAW211P
Tag Heuer Monaco "Steve McQueen" CAW211P – a faithful re-edition of the Monaco watch worn by Steve McQueen in Le Mans back in 1971. It has the same dial color, horizontal indexes, and strap, as well as the crown positioned at 9 o'clock. What makes it modern is the caliber 11 modular chronograph movement.
Tag Heuer Monaco Gulf 2018 Chronograph Steel Mens Watch CAW211R
Tag Heuer Monaco "Gulf Edition" CAW211R – this model is a homage to one of the most iconic racing liveries of all time: the Gulf Oil light-blue and orange stripes. Even the perforated blue strap features orange lining. It is also a stylish nod to Steve McQueen, who was racing a 917 car with the famous Gulf stripes in Le Mans.  

Tag Heuer Monza
The Tag Heuer Monza is a relatively late addition to the brand's range of racing watches. It was introduced in 1976, to celebrate Ferrari's winning the constructors and driver's Formula One championships that year – a title they last won in 1964. Jack Heuer decided to celebrate with the team in the best way he knew: with a new groundbreaking design. The Heuer Monza was the first black-coated case from the brand, and one of the first PVD-coated watches ever made. This led to Tag Heuer's use of PVD in its heritage models, including the Carrera and the Monaco.
Tag Heuer Monza 2016 Re-Edition and original Heuer Monza from 1976
Key Features
The original version had an unusual oval case, a pulsometer and tachymeter at the edges of the dial, two pushers on the left, and crown on the right. Modern editions feature a rounded square case, three chronograph registers, and crown and pushers on the right side of the case.
Popular Models
Tag Heuer Monza Chronograph CR2080.FC6375 – a 2016 re-edition of the original Tag Heuer Monza. It features the two key functions of the 1976 model – the pulsometer and tachymeter scale – as well as original design features such as the Heuer logo and font. While the original model was made of PVD-coated steel, this modern iteration is crafted in grade 5 titanium making it lighter yet more shock resistant.
Tag Heuer Monza Black Dial Chronograph Steel Mens Watch CR2113
Tag Heuer Monza Chronograph CR2114-0 – the Monza was revived in the 2000s in a square-rounded case and highly polished finish. Together with its larger 39mm diameter and three chronograph subdials, this radically changed the style of the Monza, foregoing the rugged look of the 1970s original for a 1930s-inspired overall aesthetic.


Tag Heuer Aquaracer
The Tag Heuer Aquaracer was launched in 2004, following the brand's success with the Tag Heuer 2000 series of dive watches. While they have been making diver's watches since the 1980s, it was only with the Aquaracer that they experimented with stylish designs involving colorful aluminum bezel inserts and highly legible dials.
Second generation Tag Heuer Aquaracer Watches
The Aquaracer was also made available to a wider audience with both quartz and automatic versions, and varying case sizes. This strategy worked, and the Aquaracer remains in the Tag Heuer catalog until today.
Today's Aquaracer collection is decidedly modern, employing ceramic bezels, ergonomic bracelets, and playful dial colors.
Key Features
Twelve-sized bezel, 60-minute graduated bezel, and sloping lugs
Popular Models
Tag Heuer Aquaracer 300 Professional – the new generation of Aquaracers with 300m water resistance now feature a contemporary and streamlined design defined by angular bevels, short lugs, and straight lines across the dial. The range also includes a GMT model, which retains its aquatic capabilities.
New generation Tag Heuer Aquaracer 300 Models
TAG Heuer Aquaracer Superdiver – a deepwater diver that boasts a 1000-meter depth rating. It is made of grade 5 titanium which makes it lightweight despite its 45mm case, and a COSC-certified automatic movement made especially for the model. TAG also touts its use of Super-LumiNova SLN Grade X1, the brightest option to date. 


Tag Heuer Link
The Tag Heuer Link is a descendant of a watch originally produced by the brand in 1987. It is defined by a very distinct bracelet, whose links form a series of "S" shapes, giving the otherwise streamlined and minimalist watch a bold look.
TAG Heuer Link Ayrton Senna Limited Steel Mens Watch CJF2113
The collection is more limited than the rest of the catalog, with a choice of 41mm or men's sizes, and 32mm or women's sizes. Mens watches are available with time-only or chronograph features powered by third-party automatic movements, while women's models are all quartz models. They are often embellished with diamonds and mother-of-pearl.


Tag Heuer Formula 1
The Tag Heuer Formula 1 was introduced in the 1980s, as a collaboration between Tag Heuer and renowned international auto-racing federation, Formula 1. These watches are designed for high-speed motor racers' needs, so they are designed to be highly legible, colorful, waterproof, and with mechanisms to easily slip over racing suits.
Tag Heuer Carrera Ring Master Formula 1 Jenson Button Limited Edition Watch CV201X
Today's Formula 1 collection are composed primarily of quartz models and chronographs, with bold designs. Aside from incorporating concepts of speed and adrenaline, these watches also regularly use materials from motorsport industries.


Tag Heuer Connected
The Tag Heuer Connected is the first Swiss luxury smartwatch, introduced in 2015. Within the classic Tag Heuer Carrera construction is newly developed technology from Tag Heuer's partners, the microchip specialist Intel and internet giant Google. With the Tag Heuer Connected, the wearer enjoys the technology of a smartwatch, while sporting the look and feel of a luxury racing timepiece.


Tag Heuer Connected Caliber e4
Today's Tag Heuer Connected models run on Google's Wear OS platform, and are geared towards fitness and sports activities.


---

Frequently Asked Questions about Tag Heuer Watches
Tag Heuer is world renowned for its roots in making precision timepieces and its strong ties with the world of motorsports. Here are some of the most commonly asked questions about Tag Heuer watches.

How can I tell if a Tag Heuer watch is authentic?
Aside precision and reliability, what keeps Tag Heuer watches in demand are their excellent build quality. If you see any sign of imperfection on your Tag Heuer timepiece, it is likely a counterfeit.

Look out for signs like rough and unfinished edges, substandard polish, misspelled text and unfinished fonts, and even wrong markings and engravings.


Tag Heuer Carrera Calibre 1887 Steel Mens Watch CAR2A12
We always advise buyers to do their due diligence beforehand. Researching about your desired model will give you an idea if the details of the watch you are looking at is in tune with your desired model's features. To guarantee the authenticity of a Tag Heuer watch, we also advise to purchase only from a reputable dealer who has stellar and verifiable reviews, and who can provide proof of authenticity for their timepieces.

Do Tag Heuer watches hold their value?
Due to their reliable technology, excellent craftsmanship, and consistent demand in the market, Tag Heuer's timepieces have excellent residual values. The chances that you can resell your Tag Heuer watch is typically high, thus keeping their value stable.
That said, some Tag Heuer watches tend to hold their value better than the rest of the catalog, particularly vintage, commemorative, and limited edition models from the Carrera, Autavia, and Monaco collections.


Tag Heuer Monaco Calibre 12 Blue Dial Black Strap Mens Watch CAW2111
How often do I need to service my Tag Heuer watch?
A watch's service frequency will depend on how often the watch is used, what kind of elements it is exposed to, and how well it is stored. Tag Heuer generally recommends that you have your watch and its movement fully serviced every 5 years to maintain its performance, waterproofness, and accurate timekeeping. A full service means that the watch will be disassembled for cleaning, undergo rigorous testing of the timekeeping accuracy and waterproofing, and assembled back again. All these are conducted to see to it that your watch is in excellent shape.

These are only general recommendations, as there can be signs that your watch needs maintenance sooner rather than later. Check out our guide on Signs It's Time for Watch Maintenance.


---

True to their company slogan, Tag Heuer watches indeed "Don't Crack Under Pressure". It has been part of the brand's identity to make bold and unexpected releases that, coupled with timeless design and ingenious technology, continue to endure today.

Models like the Autavia, Carrera, and Monaco have reached iconic status and are still sought after by the most seasoned collectors; meanwhile, more recent collections like the Formula 1, Connected, and Aquaracer are highly popular among those who live life at full speed. 
From classic chronographs and reliable everyday watches, to avant garde timepieces, Tag Heuer has a vast array of watches for life's every adventure. Explore our wide selection of Tag Heuer watches at SwissWatchExpo.com.