Rolex is known for creating some of the most iconic watches in the world. One thing that sets Rolex apart from other watchmakers is their ability to manufacture their own raw materials and patent their own technologies. Over the years, one of the elements that Rolex has worked on producing in-house is their own luminescent material.
Luminescence is important because it makes your watch readable in any environment, light or dark. While Rolex's first watches did have any lume on the hands or dials of the watch, they added the first luminous paint to some of their military pocket watches in the early 1900s.
Rolex has used several types of luminescence over the years before developing their own. In this article, we'll explore each type so that you can understand how to tell them apart when shopping for your Rolex timepiece.

Radium (1900s – 1963)
Radium is a radioactive substance that was used to make luminous paint. It's produced as a by product of the element radium, which was once used in watches and other devices for its glowing properties.

Rolex Submariner ref 6538 with radium luminescence (photo: Christie's)
Radium lume has a distinct orange ochre color and is raised on the dial. It is very difficult to work with and you'll find that any vintage watches more than likely had their lume replaced over time. Even the slightest contact with the lume during service can shatter the fragile radium and lacquer composition.
Many collectors use a Geiger counter on vintage watches to determine if the lume is original or not.
Radium was the first luminous product used by Rolex and was used on any Rolex watch with lume from the 1900s until 1963, when usage was halted due to radium's carcinogenic effects. Rolex, like many other watchmakers, did suffer from their employees using radium-based paints. In their defense, radium's dangers weren't understood until the 1920s. In the early 1900s, radium was thought to be a natural 'cure-all' and humans ingested it.
Rolex GMT-Master ref 6542 with Bakelite Bezel (photo: Sotheby's)
Radium use caused radiation poisoning among factory workers. Despite growing knowledge of the dangers of radium in the 1920s, radium was still used in watchmaking under new safety protocols. In 1963, despite all the added safety measures, the growing health concerns pushed Rolex to decide to look for alternatives.
In the US at this time, it was discovered that 605 GMT-Master Bakelite bezels were radioactive, and that raised concerns. It came to a point where the Atomic Energy Commission demanded the watches be recalled. Rolex obliged and replaced the bezels with aluminum ones free of charge.

Tritium (1963 – 1998)
In the end Rolex traded one radioactive substance for an exponentially safer one. After dropping radium in 1963, they switched to tritium. While tritium is also a radioactive substance, it emits less radiation and has a much shorter half-life. It's less dangerous for their employees to work with.
The first period using Glowie Tritium responded to exposure to UV light. Exposure to light will cause a faint glow that slowly fades after the light source is removed. The second phase of tritium use was called Dead Tritium as these paints did not respond to UV light.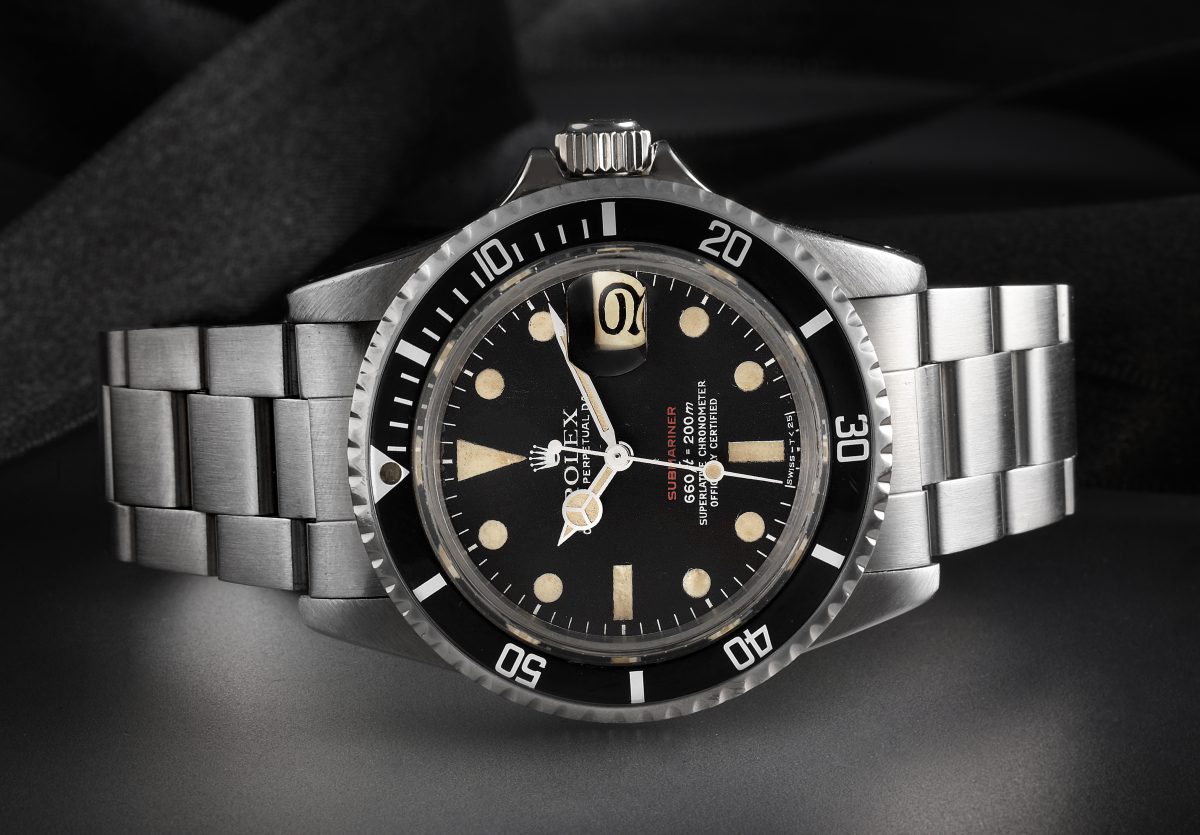 Rolex Submariner ref 1680 with Tritium luminescence
The downside of the shorter half-life is a shorter glow-life. Tritium's half-life is about 12.5 years. If you own any Rolex watches older than that which are using tritium luminescence, their watch hands and faces will not glow anymore. That's not the only thing Rolex didn't like either. The tritium paint discolored with age, turning a yellowish color.
The yellowish patina makes it very difficult to differentiate between dials and hands with radium lume and those with aged tritium. The difference between the two can be seen with a UV light or Geiger counter.
Most Rolex watches that used tritium were marked with T Swiss T or Swiss T at the base of the dial by the 6 o'clock mark. Not only that, as it's a radioactive substance, Rolex marked the level of radioactivity using a '<25' in the same location.
Rolex Milgauss ref 116400GV with Luminova
Luminova (1998 – 2000)
Rolex tried the self-charging Luminova, and by 1998 they were using it on all of their watches, stepping away from radioactive substances to the photoluminescent paint. This paint was developed in Japan by Nemoto and Co.
Keeping away from radioactive substances, Luminova was completely safe to work with and showed no discoloration over time. However, it didn't glow on its own like it's radioactive predecessors, as it required exposure to light.

Rolex Explorer II ref 216570 & 226570 with Super-Luminova and Chromalight luminescence
Super-Luminova (2000 – 2008)
Developed in 2000, Super-Luminova is a Swiss version of the older Luminova that's used on the dials of some models. Made by a Swiss company, it glows for up to 4 hours, and is charged with exposure to sunlight. Despite its need to charge, Super-Luminova is non-radioactive, and will continue to glow for the lifetime of the watch, as long as it's charged.
Rolex used Super-Luminova until 2008 when it developed an even better option.

Rolex Chromalight (2008 – present)
Rolex Chromalight is a proprietary luminescence technology developed by Rolex, in house. It's a luminous material that is painted onto the dial and hands of a watch. Rolex Chromalight has a longer lifespan than other luminous materials, which means it will glow for 8 hours after exposure to light (more than double all their other luminescent paints).

Rolex Datejust 41 with Chromalight luminescence
Chromalight shines a blue light compared to the previous greens and thus makes the watch much easier for human eyes to read in poor light. Rolex also loves its clear white color during the daytime. While it doesn't glow brighter, it glows longer, and our eyes notice it better than the previous green hues.
Chromalight 'turns on' faster than any previous luminescence and lasts longer in the dark than Super-Luminova. They first released it on their diving watch, the Deepsea Sea-Dweller in 2008, touting it as the watch that provides superior readability in dark environments.
---
<>


Rolex Luminescence: Final Thoughts
While the patina developed by radium and tritium has its appeal, the photosynthetic paints are much safer for everyone involved, but need exposure to light to glow. How long they glow and how bright depends on how much light they were exposed to during the day. While the radioactive predecessors would glow no matter what, it seems a decent trade-off for non-cancerous substances, don't you think?
If you'd like to learn more about Rolex, go through helpful resources on our blog The Watch Club and on the SwissWatchExpo YouTube channel.