If you're in the market for a new watch and want to invest in a classic piece that's sure to make a statement and stand the test of time, there are few better options than Rolex. With icons such as the Submariner, GMT-Master, Daytona, and Datejust among many others, it's not hard to see why Rolex is the leading watch brand in the world.
The aesthetics, performance, and durability of Rolex have been proven by time, meaning that no matter what kind of model you choose from The Crown, you'll be getting years of use out of it. The price drops in 2022 have many questioning whether it's a good time to invest in a Rolex wristwatch.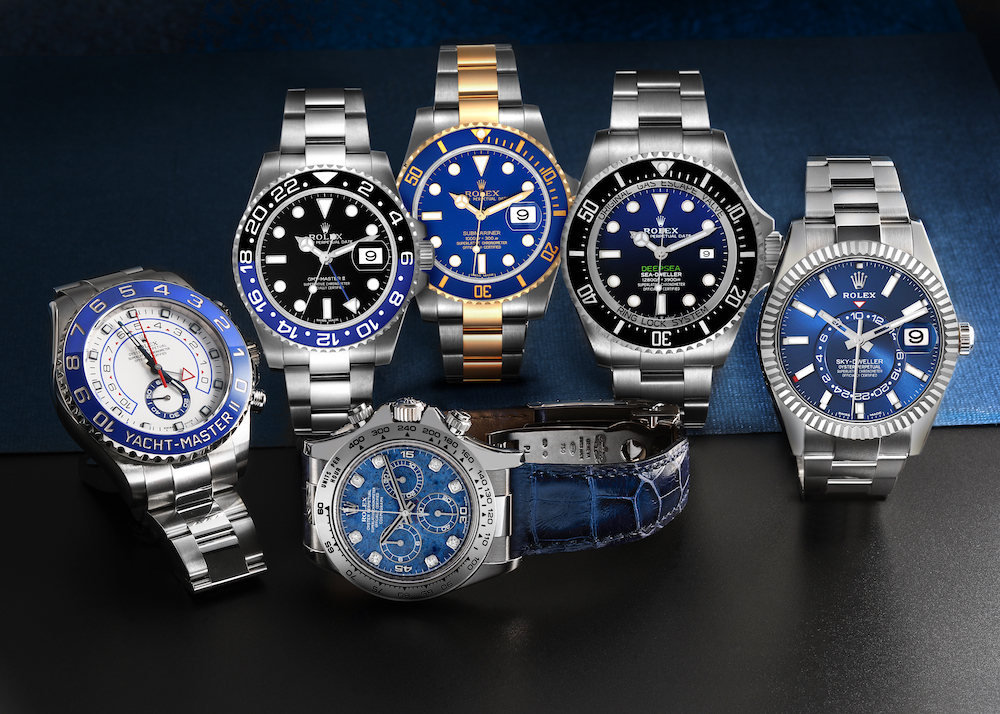 Rolex sports watches with blue dials and bezels: Yachtmaster, GMT-Master II, Submariner, Sea-Dweller, Sky-Dweller and Daytona
While the prices are better than they have been in a long time, as with all investments, there are no guarantees. Making a return on your luxury watch investment is usually a long game, and there are no shortcuts. That's why it's always best to choose a watch that you can enjoy for many, many years.
That said, there are Rolex models that show a good chance of appreciating in value over the next decade or more. When it comes to Rolex watches, the brand has proven time and time again that the materials, the reputation, and timeless style maintain demand for these luxury timepieces. Here are our picks for the best Rolex watches to invest in for 2023:
<>
The Rolex Submariner is one of the best-known and most desirable watches in the world. It's a classic watch that has been in production since 1954, and while it may be considered old by some, it's still one of the most popular watches out there – and one that's on the list of any collector, whether they're seasoned or starting out. The Rolex Submariner has been worn by everyone from Sean Connery to Michael Phelps.
The ref. 16610 was produced between 1988 and 2010, and was the last Submariner Date to feature the aluminum bezel insert and classic case proportions of the Sub. The models that came after the ref. 16610 were upgraded with the beefier Super Case, Cerachrom ceramic bezel, and solid bracelet links. While those were modern and ergonomic improvements on the Sub, this model will always be top of mind when one says "Submariner".

Rolex Submariner Date Black Dial Steel Mens Watch 16610
Even during this short production time, Rolex made some small updates to the ref. 16610. This includes the shift in luminous paints used on the dial and bezel so you can find models that have a more vintage feel with tritium lume compared to the more modern Super-Luminova. You can easily find the tritium label with a "Swiss – T<25" at the base of the dial.
When it comes to potential investment, the ref 16610 retailed at $7,375 in 2021. With the market price dropping from $10,553 in 2022, and dropping to $9,901 in early 2023, it makes it a good time to invest in a classic piece. Considering how much the watch appreciated in value since 2021, it has the potential to appreciate more over the next few years. It's not often you can find a classic Rolex for under $10,000 these days, giving the perfect opportunity for an investment.
---
The Rolex Cosmograph Daytona 116500LN is a great watch for collectors who are looking for a modern Daytona with great investment potential. Introduced in 2016, this was the first iteration of the steel Daytona that was given a ceramic bezel. Needless to say, it was highly anticipated, and until today has years-long waiting lists at authorized dealers.
Despite the fall in other markets, the Daytona market, while falling, didn't fall as far as others. When it comes to Daytona models, you won't be able to find a Daytona selling at retail price. The demand for these watches continues to hike the prices much higher.

Rolex Daytona Ceramic Bezel White Dial Steel Mens Watch 116500
As of January 2023, you're looking at a retail price of $14,800 for this model, however, average market values are registering from $27,900 to $33,100 — an incredible appreciation from retail value. The ref. 116500 peaked in 2022 at $48,500.
In the last 6 months, it's dropped in price by over $2000, more so over the last year, but is starting to climb again supporting the expert's assertion that Daytonas and other top Rolex timepieces are quite the resilient asset.
---
The GMT-Master II Pepsi has always been one of the most popular watches worldwide, and for good reason. There is arguably no travel watch more iconic than the GMT-Master, and when one thinks of the range, the blue-and-red bi-colored bezel is the one that comes to mind.
If you're lucky enough to grab one at retail (unlikely) it's one of the few models that can quickly be resold and make you some serious money. However, you're going to want to aim to invest in the discontinued and older models for a sound investment.

Rolex GMT Master Pepsi Bezel Vintage Matte Dial Steel Mens Watch 16750 with ref 1675
Introduced in the 1980s, the ref. 16750 offers the vintage feel of the older models with its plexiglass crystal and matte dial, while offering the convenience of the quickset date. It's also fetching a cheaper price currently.
The ref 16750 originally sold at $2,900 in the 1980s. Market values are currently at $17,290 as of March 2023, which is already 8% lower than its peak price in February 2023. Even with a falling market, the current market values show the resilience and value of this iconic reference.
---
The Rolex Explorer II ref 16570 is a sports watch that would fit comfortably for all wrist sizes. Produced from 1989 to 2011, it comes with the classic 40mm size and proportions of vintage Rolex watches, but also with the modern features of their watches from the 1990s to the 2000s.
Demand for it is likely to grow as it was the last 40mm Explorer II to be produced by Rolex, and at the same time it spans the upgrade to Caliber 3185 and from tritium to Luminova.  It satisfies collector's desire for classic Rolex sports watch proportions, and also sets the precedence with technological advances.

Rolex Explorer II 40mm Polar White Dial Steel Mens Watch 16570
The ref 16570 also already presents the option between a "Polar" white and a black dial, whose high contrast looks have made the Explorer II a cult classic.
Currently, the Explorer II ref. 16570 is going for $8,910 in the pre-owned market, compared to the last retail price of $6,325. This price has remained relatively steady over the last six months, but it has seen a low in early 2023.
---
The Rolex President Day-Date is the gold watch of gold watches. When you think of a Rolex Day-Date, this is the one that you have likely pictured in your mind. The Rolex President Day-Date is the epitome of iconic luxury watches through design and tradition. This is a watch that's recognized everywhere around the globe.

Rolex President Day Date 36mm Yellow Gold Mens Watch 118238
Released at BaselWorld 2015, the ref. 118238 is a more modern take on the traditional Day-Date, which makes it a little more appealing to growing markets. The updated case design and broader lugs offer a more robust wear on the wrist, while the double quickset function makes for more seamless wear.
The ref. 118238 is another classic that has fallen below its retail price. In 2020, it sold at retail for $35,300 and is currently valued at an average of $28,172 in the pre-owned market. Gold watches are finding a resurgence on the secondary market, and trends are showing a slight rise beginning for this reference. It's definitely one you'll want to invest in soon if you're interested.
---
The Rolex Daytona ref 116508 launched in 2016 without much fanfare, and that's a shame considering the eye-catching details of this timepiece. It's surprising how the solid 18k gold construction, "Christmas" green dial, and red detailing went under collectors' noses. John Mayer himself was wondering, calling this watch a "sleeper hit" — and that changed it all for this gold-and-green racing watch.
John Mayer is one of few celebrities that are considered watch connoisseurs and has quite the following, so much that there are now waiting lists of 5-10 years for this watch from authorized retailers. It's also more commonly referred to as the "John Mayer Daytona" these days.

Rolex Daytona Yellow Gold Green Dial Mens Watch 116508
This is a luxury watch that retails for $38,700 (as of 2023) and has nearly doubled in value to $73,300 on the secondary market currently — and that's still down by over $4,000 compared to the last year. Considering the jump in values and the demand for this watch, if you find one on the secondary market, it will be worth the investment. More so since the waitlist of 5-10 years for a new one may outlive the production of the watch itself. Demand indeed has power in economics!
---
The trend when it comes to which watches are good investments in 2023 is easy to see: these are classic watches that have fallen in price on the secondary market over the last year. However, the Explorer II ref. 1655 defies that trend (it has only fluctuated by around $1000 over the last 6 months) and yet still belongs on this list. Here's why:
The Rolex Explorer II ref 1655 is a classic watch that marks the run of the Explorer II range. It was first released in 1971, and was designed with spelunkers, cave explorers, and adventurers in mind. The defining features of this watch are the stationary 24-hour bezel and the bright orange 24-hour hand, which work together to help the wearer tell daytime from nighttime hours.

Rolex Explorer II Steve Mcqueen Vintage Steel Mens Watch 1655
With the current proportions of Rolex models, as well as the addition of modern materials such as Chromalight and ceramic, Rolex simply doesn't make a watch like this anymore. The ref 1655 has quickly become one of the most sought after vintage Rolex models – and that's why, despite its steadily increasingly price, it's still a good investment.
This classic watch is priced lower than icons that may be considered its contemporaries, like the Daytona Paul Newman 6239 or even the GMT-Master 6542, despite also carrying that vintage 70s style that's so popular, and an interesting back story.
The trends show that despite not following the other parts of the Rolex market, the ref 1655 is going to continue to appreciate value, so now's the time to buy.
---

Best Rolex Watches to Invest in for 2023
History has shown that certain Rolex models not only hold their value over time, but appreciate in value — at times even better than traditional investment vehicles.
While not every watch is created equal, the above models are showing promise for making good investments over the next few years, if you can make the initial investment now.
Ready for your next Rolex timepiece? Explore our vast selection of Rolex timepieces, along with nearly 40 of the world's best watch brands, at SwissWatchExpo.com.
<>