The Nautilus. Aquanaut. Grand Complications. These are the first things that usually come to mind when one thinks of Patek Philippe. While these lines of watches are mainly targeted towards men, Patek Philippe has a very long history of making timepieces for women.
In fact, Patek Philippe's first client in watchmaking was Madame Goscinska, who in the 1830s bought three of the earliest watches that the company ever produced. The appeal to ladies didn't end there though. Queen Victoria was a big fan after discovering them at the London Universal Exhibition in 1851. Eventually, Patek Philippe became Queen Victoria's royal watchmaker.
Wristwatches began growing in popularity in the 1870s, and women were actually the first to wear them, while men continued to carry pocket watches. Patek's very first wristwatch was also sold to a woman (Countess Koscowicz of Hungary in 1868), setting precedence for stunning women's watches.
Patek Philippe has continued to design women's watches, and are notable for their expertise in balancing technological mastery with the use of ornate design. In 2009, they released the first women's chronograph, and followed with the first ladies' perpetual calendar in 2012.
If you're looking for a fine ladies' watch, you can't go wrong with a company that has committed to designing ladies' watches for almost two centuries. Here are our picks for the 10 best Patek Philippe watches for women.
---
Top 10 Patek Philippe Watches for Women
It's no secret that Patek Philippe watches come with a price tag to match their reputation. They're some of the most expensive watches available today — but they're also some of the best quality timepieces one can buy. If you want something special for yourself or someone else who appreciates fine things (like your significant other), then a Patek Philippe women's watch is an excellent choice.
Patek Philippe Nautilus Silver Dial Diamond Steel Ladies Watch 7018
1. Patek Philippe Nautilus Ladies Watch ref 7018
The Patek Philippe Nautilus Ladies Watch ref 7118 is a beautiful watch for the modern woman, who wants to show off her style but still stay true to her feminine side. This can be considered as the female version of the very famous Nautilus 5711 steel watch, one of the most coveted steel sports watch of the modern era.
The case diameter measures 35.2mm and has a thickness of 6.15mm, making it small enough for everyday wear without being too bulky or heavy on your wrist.
This stainless steel timepiece features a sapphire crystal case back to show off the self-winding mechanical Caliber 324 S C.
Three dial colors in blue, silvery opaline, and smoke gray come with an applied numeral at 12 o'clock and luminous indexes that share the wave embossing — a softer take on the embossed dial the Nautilus line is known for.

Patek Philippe Nautilus 18K Yellow Gold Diamond Ladies Watch 4700
2. Patek Philippe Nautilus Ladies Watch ref 4700
Gold and vintage watches are timeless, but they are especially on trend right now. The Patek Philippe Nautilus ref 4700 is an excellent example.
The Patek Philippe Nautilus Ladies Watch is a beautiful watch that has a classic design and features. Measuring 28 x 28mm, it fits like a jewelry watch on the wrist.
Furthermore, it comes with a choice between solid 18k gold and stainless steel and yellow gold, so it has a more formal appeal than the steel Nautilus. Aside from the classic embossed dial, this reference comes with options of diamonds on the bezel and dial.
This watch also has quartz movement inside it so you can be sure that your time will always be accurate.

Patek Philippe Aquanaut Steel White and Black Dial Diamond Ladies Watches 5067
3. Patek Philippe Aquanaut Ladies Watch ref 5067
If it's a casual or sporty chic watch you seek, you can't go wrong with the Aquanaut. Introduced in 1997, it was made to appeal to young and active watch collectors with its contemporary design and rubber bracelet.
The Patek Philippe Aquanaut Ladies Watch ref 5067 is a stainless steel watch with a diamond bezel, quartz movement, and a 35.5mm diameter case. Its black rubber strap sets off the light color of the case nicely and makes the blue 'waffle' embossed dial pop with its Arabic numerals and bright white indexes.
The timepiece also features a date function at 3 o'clock along with small minute indicators on the outer edge of the dial for added functionality.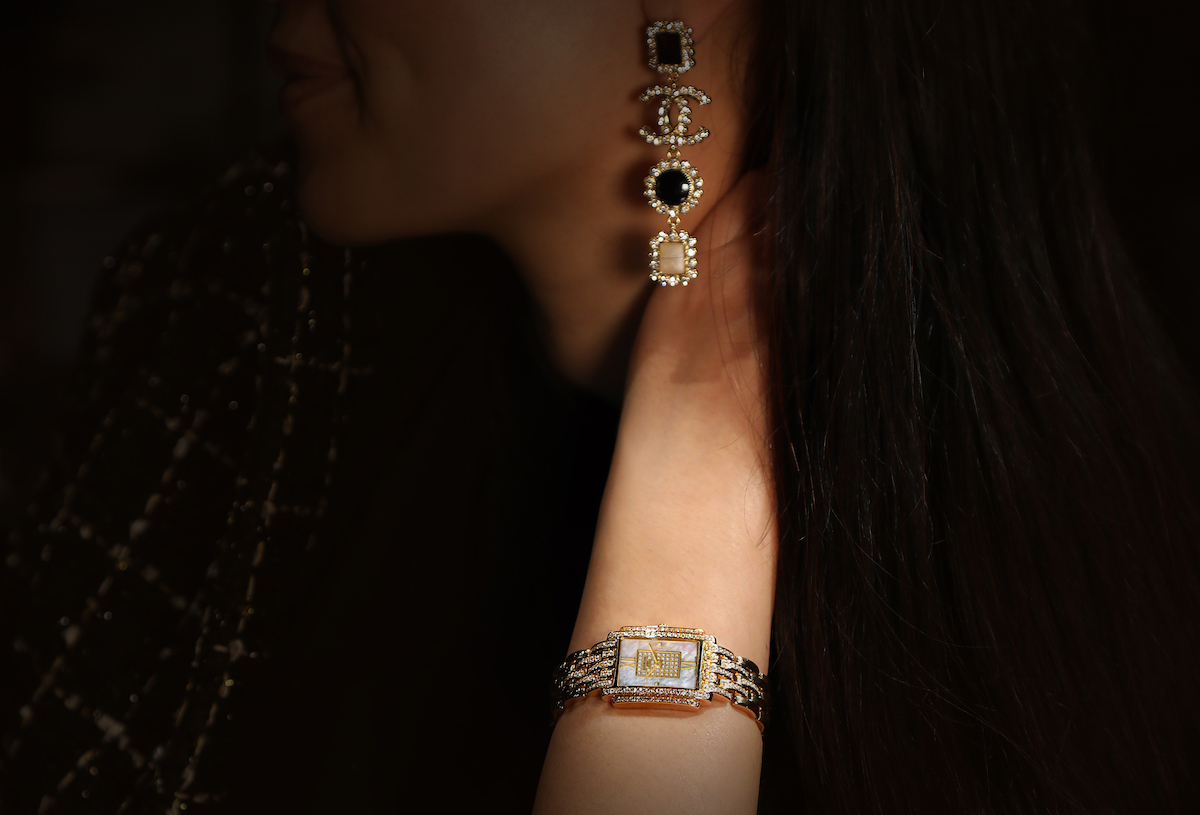 Patek Philippe Gondolo Yellow Gold Mother of Pearl Diamond Ladies Watch 4825
4. Patek Philippe Gondolo Ladies Watch ref 4825
If you seek something a little out of the ordinary, look to the Gondolo. The Patek Philippe Gondolo collection celebrates "form" watches – rectangular, tonneau, or cushion-shaped timepieces – that really stand out from the traditional round form. That said, the Gondolo is no less graceful.
Take it a notch further with an Art Deco style Gondolo, such as the ref 4825. This watch is a classic that never goes out of style, with its rectangular case and two-column diamond-encrusted bezel.
The white dial can feature diamond hour markers or a pave diamond center. More opulent  models of this watch have diamonds all over the bracelet in addition to the ones on the dial and bezel. A quartz movement keeps its time accurate.

Patek Philippe Twenty-4 Rose Gold Black Dial Diamond Ladies Watch 4910
5. Patek Philippe Twenty~4 Ladies Watch ref 4910
In yet another fantastic rectangular watch from Patek Philippe, we have the Twenty~4. The line was designed specifically for women in 1999. With the active and modern lifestyles of women considered, these watches are water-resistant to 30 meters and later models come with self-winding movements.
Black, gray, blue, and white dials with Roman numerals at 12 and 6, diamond hour markers is a unique combination that makes this watch stand out from the crowd. Newer versions have Arabic numerals and trapezoidal markers for a modern look, but both versions are equally elegant on your wrist.
The Twenty~4 comes in stainless steel, 18k white gold, and 18k rose gold versions.

Patek Philippe Twenty~4 Steel Ladies Watch ref 7300
6. Patek Philippe Twenty~4 Ladies Watch ref 7300
In 2018, Patek Philippe extended the Twenty~4 ladies collection with the Twenty~4 Automatic. The entirely new design features a more traditional round case paired with the collection's famous articulated bracelet in a contemporary style.
The Twenty~4 Automatic is available in stainless steel and 18k rose gold, with blue and green dials for the steel version, and a brown or silvered dial for the rose gold version. All models are available with diamond bezels.
The Patek Philippe Twenty~4 Ladies Watch ref 7300 in steel is a great watch for ladies who love their accessories to be classic and elegant, yet wearable enough for every day. The case is made of stainless steel with a diameter of 30mm and a thickness of 10mm, making it very comfortable to wear on your wrist.
The movement used in this watch is an automatic self-winding caliber 324 S C with a date display at 6 o'clock position. Photos from Patek Philippe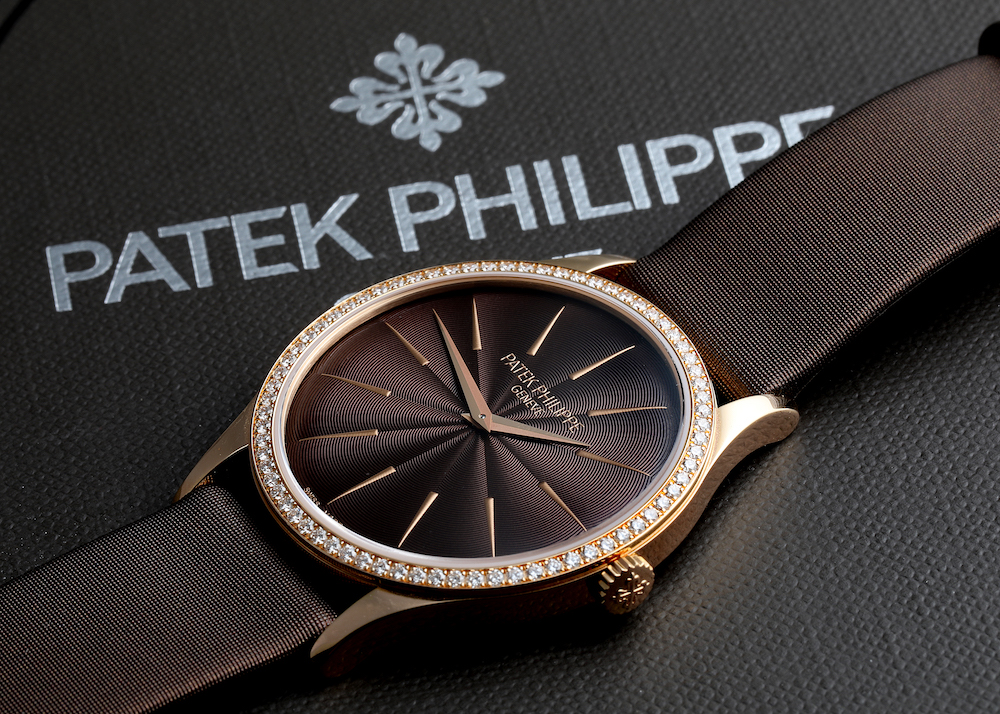 Patek Philippe Calatrava Rose Gold Brown Dial Diamond Ladies Watch 4897 4897R
7. Patek Philippe Calatrava Ladies Watch ref 4897
Experience the Calatrava with a contemporary feel with the ref 4897. With a sleek look and mechanically wound movement, this is a ladies' dress watch for the modern times.
There's a lot to love with this timepiece. The unique dial on this timepiece flashes with dancing rays of light due to the guilloched dark blue or chocolate brown dial accompanied by powdered gold hour markers. The 30mm white gold case is adorned with baguette diamonds set into the bezel. The stunning lines of the dial are mimicked in all fashions as the hands and the markers share matching lines that are equally set off by the guilloche rays on the dial.
The light colored case is set off nicely by the surrounding blue or brown detailing. It sits between the intricate guilloche dial and a matching brushed satin strap.
Patek Philippe Gondolo 18k Rose Gold Diamond Ladies Watch 7041
8. Patek Philippe Gondolo Ladies Watch ref 7041
Speaking of contemporary watches, the Patek Philippe Gondolo ref 7041 takes strong Art Deco influences into the modern times.
This elegant watch has a squarish or cushion-shaped case in rose gold. It measures 30 x 33mm, and sits beautifully on the wrist with its sloping lugs. The dial has a phalange set with 108 diamonds which adds some sparkle to this watch.
The face of the watch is brilliant, but the sapphire crystal case back gives you a clear view of its inner workings and accuracy, courtesy of the mechanical manually wound Caliber 215 PS movement.
The strap is alligator leather in chestnut with cream stitching for added comfort and style. Photos from Patek Philippe

Patek Philippe La Flamme 18k Yellow Gold Diamond Ladies Watch 4715
9. Patek Philippe La Flamme Ladies Watch ref 4715
The Patek Philippe La Flamme Ladies Watch ref 4715 is a testament to not just watchmaking, but bracelet making and gem setting — this is like jewelry that tells time.
The ref 4715, made in the late 1990s, features a yellow gold case and detailed link bracelet that seemingly flows from it. It is generously embellished with diamonds on the bezel, dial, and bracelet, while the mother-of-pearl dial has diamonds at every hour marker.
The overall design and case diameter of 23 millimeters makes this model perfect for those looking for a timepiece with an unmistakably feminine appearance.
Patek Philippe Annual Calendar White Gold Mother of Pearl Diamond Mens Watch 4936
10. Patek Philippe Annual Calendar White Gold Mother of Pearl ref 4936
No list of Patek Philippe watches would be complete without their Complications watches — after all, Patek is known for their mastery of complications paired with intricate designs.
The Annual Calendar White Gold Mother of Pearl ref 4936 is an excellent example of their form meets function ethos because it combines classic design elements with modern technology and features.
This model has an automatic movement caliber 324 S QA LU, which powers the subsidiary dials for the days of the week and the month, and apertures for the date, and the moon phases.
It also boasts of a 156-diamond set bezel and crown, and a mother-of-pearl dial with white gold roman numerals, whose colors are incredibly unique and set off the complications nicely.
---
<>


Best Patek Philippe Watches for Women
There could be no better place to find a luxury ladies' watch than with the brand that has been designing watches for the feminine elite for almost two centuries. Patek Philippe knows how to not only make a ladies' watch, but how to maintain the smaller feminine appeal while adding in the complications desired by the modern woman.
Explore our vast selection of Patek Philippe watches for women and other luxury ladies' watches at SwissWatchExpo.com, and find perfection to grace your wrist with.
<>