World renowned for working with only the best materials, Rolex makes many of their models with precious metals. While the allure of solid gold or platinum is clear, many collectors still go for the practical Rolex steel models – in fact, their steel sports watches are some of their most popular and best selling watches.
Stainless steel is a great metal choice for many watches. It is sturdy, practical, and looks timeless even through the coming and going of trends.
If you're set on getting a stainless steel Rolex watch, but find it difficult to decide on a model, we've come up with our list of the top stainless steel Rolex watches.
<>
Rolex's Choice Stainless Steel Materials
Rolex is always continuing to upgrade its watches using better and better materials as they become available on the market. Most watchmakers use 316L steel, which is still a great option for many watches. However, this is not the kind of steel that Rolex uses.
In 1985, Rolex switched to using 904L-grade steel which is stronger than 316L, and is therefore more likely to withstand corrosive elements. While we encounter 316L steel in most of our daily life, 904L stainless steel is perfect for watches that are constantly exposed to different elements including UV rays, sweat, seawater, and the weather outdoors.
In 2018, Rolex began using Oystersteel, a steel superalloy specific to Rolex, which belongs to the 904L steel family. This steel is highly resistant to many forms of corrosion and can take on a higher polish.
Rolex produces Oystersteel in-house so that the brand can ensure the best quality with every batch of watches.
---



Top Stainless Steel Rolex Watches
Among Rolex's best selling watches are these stainless steel models. Combining timeless design, reliable performance, and robust build, it's not hard to see why collectors even wait years to get these models from authorized dealers. Luckily, we have them here at SwissWatchExpo.
Let's explore the history behind each of these watches and all of their amazing features.
Rolex Submariner Steel Ceramic Bezel
No list of Rolex steel watches would be complete without the Rolex Submariner. Introduced in 1954, the Submariner is Rolex's first purpose-built dive watch and the gold standard of all dive watches.
While the Submariner collection has grown to include colored dials and bezels, as well as two-tone and solid gold models, the quintessential Submariner remains the stainless steel model with a black dial and bezel. This design has evolved through the decades, from the addition of the date, to switching from aluminum bezel inserts to the Cerachrom ceramic bezel.
The current edition of this watch, the ref 126610, comes in a 41mm case (the largest ever in the Submariner's history) and a new generation Caliber 3235 movement. Whether you choose vintage or modern, you simply cannot go wrong with a Rolex Submariner.
Rolex Daytona Steel Ceramic Bezel ref 116500LN
The Rolex Daytona Steel Ceramic Bezel was launched in 2016 and replaced the steel 116520 watch. The main changes from the previous Daytona steel watch and this model are the addition of the Cerachrom ceramic bezel along with having an updated dial.
This refreshed dial has a high black and white contrast with small red Daytona script marking the signature, which complements the black ceramic bezel with white tachymeter markings.
Like the previous ref 116520, this watch is powered by the widely-praised Caliber 4130, a COSC-certified superlative chronometer movement which offers 72 hours of power reserve.
In 2023, in time for the Rolex Daytona's 60th anniversary, Rolex updated the entire line of Daytonas. The most notable change is that the bezel now matches the rest of the case, and more importantly, Rolex has updated the movement to the Caliber 4131. A movement 20 years in the making, it features a Rolex-exclusive Côtes de Genève decoration, and also comes with improvements that Rolex has introduced to its calibers – including the Chronergy escapement, Paraflex shock absorbers, and an optimized ball bearing for better accuracy and performance.
Rolex GMT Master II Batman
If you like hints of blue on your watch, then you will love the Rolex GMT Master II Batman. This watch gets its Batman name from the black and blue color scheme of the bi-colored ceramic bezel.
What makes the Rolex GMT-Master II Batman ref 116710 noteworthy is that it was the first watch with a bi-colored bezel made of a single block of ceramic. Rolex GMT-Master models have featured two colors on their bezels since 1954, but with the switch to ceramic bezels, Rolex admitted the difficulty of creating a two-tone look. Rolex eventually cracked the code in 2013 with the release of the ref 116710.
The GMT-Master II Batman has since been updated. In 2019, Rolex introduced the 126710BLNR with a steel Jubilee bracelet and new generation Caliber 3285 movement. This model is fondly called by Rolex fans as the "Batgirl" for distinction. In 2021, Rolex brought back the Oyster bracelet originally seen on the Batman on the 126710BLNR, bringing the Batman to a family of three models.
No matter which Batman reference you choose, the classic blue-and-black Rolex sports watch will never go out of style.
<>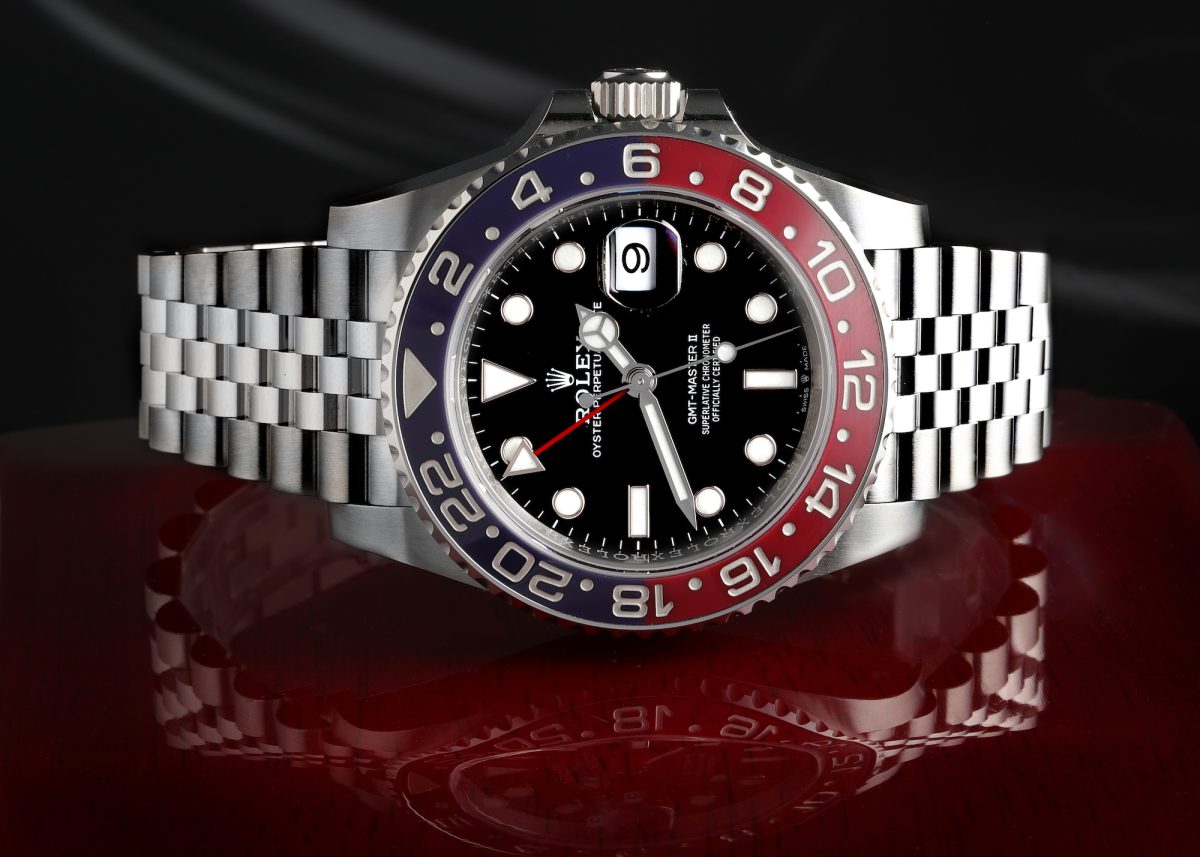 Rolex GMT Master II ref 126710 Pepsi
The Rolex GMT-Master collection is best known for its dual-colored bezel (although single-colored bezels exist in the collection, too). The one that started it all was the Rolex Pepsi. First introduced to the world with the ref 6542, the blue and red color scheme was fashioned after the official colors of Pan Am Airlines, who commissioned the watch for their pilots.
The current reference 126710BLRO was the first steel Rolex Pepsi reference to also feature a Cerachrom ceramic bezel. It also introduced a slew of other upgrades: the stainless steel Oyster case got refreshed to a 40mm by 12mm case, an even more legible, high-contrast dial, and the new generation Caliber 3285 that took the power reserve from 50 hours to 70 hours.
The combination of hardy stainless steel, unmatched GMT movement, and enduring appeal of the "Pepsi" colorway makes this reference one of the best steel sports watches and travel watches of today.
Rolex Explorer II ref 216570
Speaking of travel and GMT watches, if you're one who likes to go on outdoor adventures, then the Rolex Explorer II is your best bet. Introduced in 1971, the Explorer II was made for spelunkers and cave explorers. The 24-hour bezel and bright 24-hour orange hand helps the wearer distinguish between daytime and nighttime hours.
The ref 216570 brings the classic 1970s Rolex watch up to modern times. This inspiration can be seen with the orange arrow-tipped hand that feels like a connection to the past, while updating the dimensions and technology to suit modern preferences.
The Rolex Explorer II ref 216570 includes a 42mm stainless steel case and you can get the dial in either black or white, depending on your tastes. The dial is equipped with luminous hour markers and hands, so no matter which dial you choose, the time will always be completely legible.
Rolex Datejust 41 ref 126300
The Rolex Datejust is famous for its two-tone, steel and gold finish, but for fans of the classic dress watch who want a more contemporary look, the ref 126300 is a great option.
The Rolex Datejust 41 was introduced in 2016 as a larger style of the iconic 36mm Datejust. The following year, the ref 126300 became part of the collection, becoming the first smooth bezel, all-steel Datejust model produced by the brand. The case is 41mm stainless steel in the tried-and-true proportions of the OG Datejust.
With this reference, you can either get an Oyster bracelet or a Jubilee bracelet. There are also multiple dial options available – from classic silvered, black, and white, to sunburst blue, gray, and "Wimbledon" with green Roman numerals. Just recently, a muted green shade was made available, as well as a blue shade with fluted laser patterns on the dial. It is powered by the automatic COSC-certified Rolex caliber 3235, and has a 70 hour power reserve.
This Rolex watch is a classic and can fit any style or mood. Its sleek design pairs well no matter if you are going to a business meeting or to a once-in-a-lifetime event.
<>
Rolex Air-King ref 116900
The Rolex Air-King ref 116900 marked a renewal of the Oyster Perpetual Air-King series. This watch debuted back in 2016 featuring a novel look, but has become a beloved timepiece among Rolex fans.
Introduced in 1945, the Rolex Air-King was always well-loved for its sparse look, but the ref 116900 has a much more introverted look with a touch of historical charm. It presented a lot of firsts for the Air-King: a new 40mm case which brings it at par with most of Rolex's sport watches; plus three different types of indexes — applied markers on the 3, 6 and 9 position, and 5-minute hash markers for the rest of the dial and an applied white luminous triangle at 12 o'clock.
This is also the first Rolex watch to show off the classic Rolex crown and signature in two colors. For this watch, those colors are yellow and green.
True to its roots, the Rolex Air-King ref 116900 runs with an anti-magnetic Caliber 3131 with time and running seconds. Protecting the movement from magnetic interference are the blue Parachrom hairspring, a nickel phosphorus lever, and a Faraday cage.
While the relaunch of the Air-King watch may have sparked strong opinions at first, there is no denying that this modern take has become popular and loved.
<>
Rolex Milgauss ref 116400GV
If you're looking for a more playfully designed Rolex steel watch, your best choice might just be the Rolex Milgauss. The Rolex Milgauss watch has a black or blue dial with a fun green sapphire crystal and orange lighting bolt seconds hand.
The first Rolex Milgauss dates all the way back to 1956 as being one of the very first wristwatches to still accurately tell time even while exposed to strong electromagnetic fields.
The green sapphire crystal was introduced in 2007, followed by the "Z-Blue" sunburst dial in 2014. These were the final references in the Milgauss collection before being discontinued in 2023 — but fret not because they are still available in the secondary market.
<>
Rolex Oyster Perpetual 41 ref 124300
Last, but certainly not least, we have the Rolex Oyster Perpetual 41 watch. This watch has a strong modern touch with its larger 41mm case and bright pops of color on the dial. This reference is part of the revival of the Oyster Perpetual line in 2020, which were largely inspired by the lacquered "Stella" Rolex dials from the 1970s. From a mainly neutral palette, we now have bright yellow, green, coral and candy pink shades in the collection.
The essence of the Rolex Oyster Perpetual remains, with the classic Oyster case and bracelet, a smooth stainless steel bezel, and time only dial that pairs well with any ensemble. The OP41 is is powered by the Caliber 3230 which gives this watch a 70 hour power reserve.
---



Top Stainless Steel Rolex Watches: Final Thoughts
You never have to worry about not finding a watch that fits your style or your needs with Rolex stainless steel watches. Whether you like a perfectly modern and sleek watch, or a playfully designed one that reminds you of soda, Rolex has it all.
Find your next favorite Rolex watch amongst our list of the top stainless steel Rolex watches, or explore the rest of our selection of Rolex watches at SwissWatchExpo.com.
<>