Take a journey into the world of luxury aviation timepieces, where precision, functionality, and style soar to new heights. In this article, we will explore our list of the Best Pilot's Watches that have captured the hearts and wrists of watch enthusiasts and aviation professionals alike.
These exceptional timepieces are a testament to the unparalleled craftsmanship and innovative spirit that define the luxury watch industry. Designed to meet the unique demands of pilots during their high-flying adventures, these watches offer an array of advanced features, including precision timekeeping, navigational aids, and robust construction, all wrapped up in sophisticated designs that make a statement both in the cockpit and on the ground.
So, let us unveil our list of the best pilot's watches that have truly earned their wings in the world of luxury horology:
1. Santos de Cartier
The Santos de Cartier watch holds a special place in the annals of horology, as it is widely considered the first pilot watch and first men's wrist watch ever created. The story of this iconic timepiece began in 1904 when the famous Brazilian aviator, Alberto Santos-Dumont, expressed his need for a reliable wristwatch that could be easily used during his flights.
His close friend, Louis Cartier, took on the challenge and designed a watch that could be strapped to the wrist, and help tell time without having to reach into his pocket. It continues to be produced today and is one of the main horological offerings of Cartier.
In terms of functionality, the Santos de Cartier watch offers more than just accurate timekeeping. The current edition of the Santos features a self-winding mechanical movement, ensuring reliability and precision. The dial is designed for optimal legibility, with Cartier's signature bold Roman numerals and luminescent hands that make it easy to read in various lighting conditions. Redesigned in 2018, it comes in an ergonomic curved square case that sits comfortably on the wrist, and a variety of metals and bracelets to choose from.
<>
---
<>


2. Rolex GMT-Master II Pepsi
The Rolex GMT-Master II Pepsi is a legendary timepiece with a rich history that dates back to 1954 when the original GMT-Master was introduced. Designed in collaboration with Pan American Airways, the GMT-Master was created to satisfy the needs of their pilots who were flying long-haul routes across multiple time zones. The GMT-Master II Pepsi, with its iconic red and blue bezel, quickly became a favorite among pilots, travelers, and watch enthusiasts alike.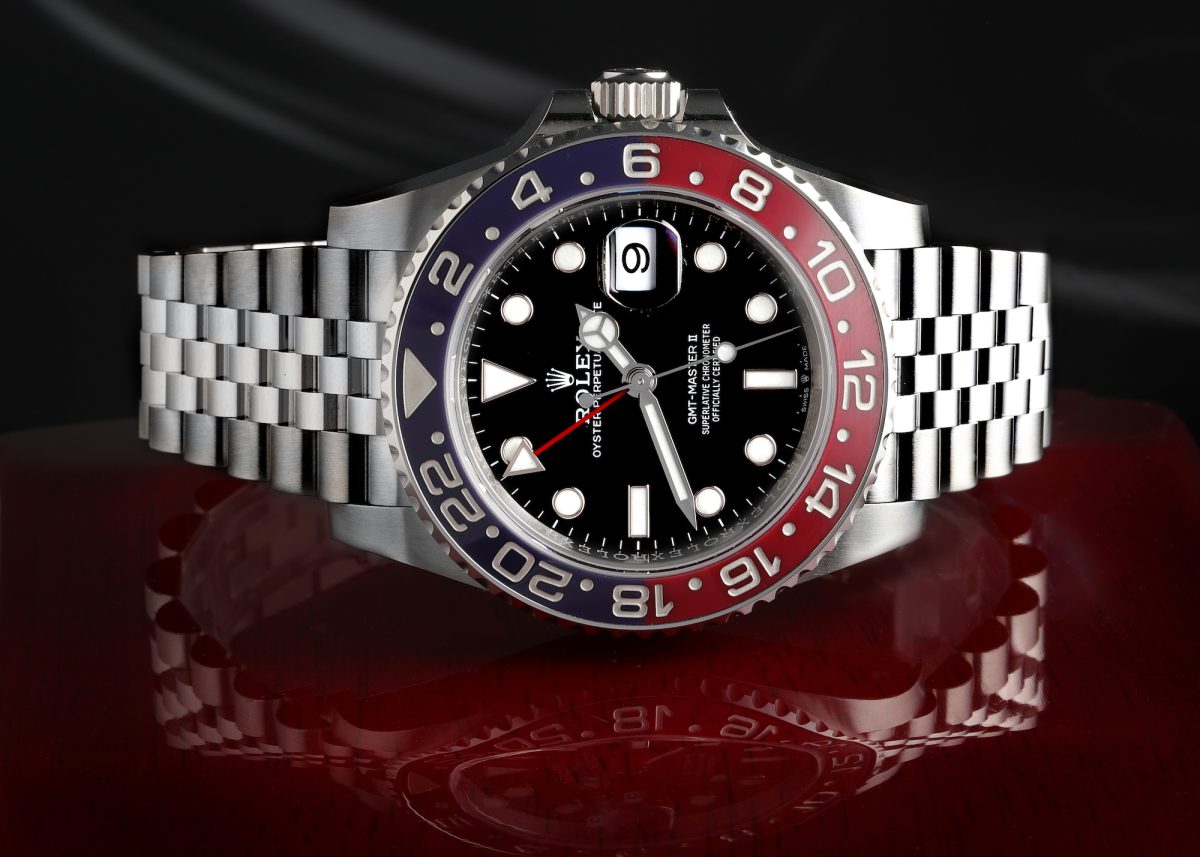 The Rolex GMT-Master II Pepsi features a host of impressive attributes that have made it a sought-after timepiece. Equipped with Rolex's in-house Calibre 3285 movement, the watch boasts a 70-hour power reserve, ensuring precision and reliability. The iconic Rolex Oyster case, crafted from corrosion resistant Oystersteel, guarantees water resistance up to 100 meters (330 feet), making it suitable for various environments and conditions.
<>
---
<>


3. Breitling Navitimer
The Breitling Navitimer is a watch with a rich history and a unique set of features. Its place amongst pilots is evident in the name alone, a clever combination of the words 'Navigation' and 'Timer'. Its most notable feature comes in the form of a slide rule bezel, which can be used to perform a variety of calculations related to aviation, such as climb and descent rates, fuel consumption, and more. This feature was first introduced by Breitling in the 1940s on its Chronomat models.
The Navitimer has been the choice timepiece respected airplane manufacturers like Boeing and industry groups like the Aircraft Owners and Pilots Association.
Since launch, Breitling has introduced countless versions of the Navitimer chronograph. These include complicated versions like GMT, perpetual calendar, and split-seconds chronograph functions. In 2019, Breitling introduced the time-and-date Navitimer 1, which retains the signature slide rule but does away with the chronograph function, while also offering a wider range of sizes.
---
<>


4. IWC Big Pilot's Watch
The IWC Big Pilot's Watch is a timepiece that combines rich history and exceptional features, making it a classic among aviation enthusiasts and watch collectors alike. Its origins can be traced back to the 1930s when the International Watch Company (IWC) began crafting high-quality watches specifically designed for pilots. In 2002, IWC introduced the modern version of the Big Pilot's Watch (Ref. 5002), which has since become a flagship model in the brand's lineup.
The IWC Big Pilot's Watch is known for its large and robust design, with a case diameter of 46mm or more, depending on the model. Its size enables easy readability of the dial, an essential feature for pilots during flights. The oversized crown, another distinctive element of the watch, allows for easy adjustments and winding, even when wearing gloves.
One of the key features of the IWC Big Pilot's Watch is its automatic movement, ensuring reliable and accurate timekeeping. Equipped with IWC's in-house caliber, the watch boasts a power reserve of up to seven days, making it a practical and dependable choice for those who require precision and longevity in their timepieces.
---
<>


5. Zenith Pilot Type 20
The Zenith Pilot Type 20 pays tribute to the brand's aviation heritage. Zenith's association with aviation dates back to the early 1900s when founder Georges Favre-Jacot began crafting precision timepieces for pilots. The modern Zenith Pilot Type 20, introduced in the 21st century, is inspired by these early aviation timepieces and showcases Zenith's commitment to precision and craftsmanship.
<>
The Zenith Pilot Type 20 is characterized by its large case size, typically ranging from 40mm to 48mm in diameter, making it easily readable for pilots. The oversized onion-shaped crown is another distinctive feature of the watch, allowing for adjustments and winding even when wearing gloves. One of the most appealing features to collectors is the more recent Extra Special with a dial design that resembles a plane's fuselage.
<>
One of the key features of the Zenith Pilot Type 20 is its reliable movement. The watch is powered by Zenith's in-house Elite or El Primero calibers, which are renowned for their precision and durability. These automatic movements ensure accurate timekeeping and, depending on the model, offer additional complications such as a chronograph function or a power reserve indicator.
---
<>


6. Breguet Type XXI
Breguet has a long association with aviation and that can easily be seen in the features and design on the Breguet Type XXI.
Breguet's association with aviation dates to the early 20th century when they began producing aircraft instruments and timepieces for pilots. In 1995, Breguet introduced the civilian version of the Type XX, which later evolved into the Type XXI in 2011. The Type XXI is inspired by the original military design, with a few modern updates and refinements. It's a piece of aviation history on your wrist.
<>
The Breguet Type XXI is recognizable by its distinctive design, featuring a case measuring around 42mm in diameter. The watch is equipped with a bidirectional rotating bezel, which allows for easy tracking of elapsed time. The oversized pushers and crown are designed for easy operation, even when wearing gloves.
The dial of the Breguet Type XXI is designed for optimal legibility, with large Arabic numerals and hands that are coated with luminescent material for easy reading in low-light conditions. The watch also features a 24-hour subdial, a small seconds subdial, and a date display, providing additional functionality for the wearer.
---
<>


7. Richard Mille RM62-01
Richard Mille is known for creating luxury watches with high levels of complexity paying tribute to aviation and racing. The brand prides itself on taking luxury and performance to new limits.
This complex timepiece features the calibre RM62-01 with a manual winding tourbillon and a vibrating alarm. The carbon fiber case makes sure that the vibrations produced by the alarm are transferred to the wearer's wrist, rather than to the movement. This watch is a limited edition with only 30 pieces made in their partnership with Airbus Corporate Jets.
---
<>


8. Breitling Emergency
Not only is the Breitling Emergency designed for pilots, it is also famous for its life-saving features. The first Breitling Emergency was introduced in 1995, went in production until 2010, and was eventually replaced with the Breitling Emergency II in 2013.
<>
When it was launched, it became the world's first integrated emergency broadcast beacon. Placed in the form of an antenna system on the bottom of the case, the beacon can transmit a distress frequency of 121.5MHz, which can be received up to 167km away. This is an impressive feat considering it was created before high-powered radios, cellphones, and smartphones were mainstream. By 2013, the emergency frequency was updated to a more powerful 406 MHz.
Powered by the Breitling Superquartz Caliber 76, it also features an  analog and LCD digital dial, water resistance of 30 meters, and a robust triple-link titanium bracelet.
<>
---
<>


9. Patek Philippe Calatrava Pilot Travel Time
Combining the legacy of aviator dual-time wristwatches with the classic design on the Calatrava and you have a fine specimen of a pilot watch from a brand that isn't well-known in this particular category. Taking inspiration from Patek Philippe aviator's watches from the 1930s, this timepiece is rugged, vintage-inspired, and modern all at the same time.
The most notable feature is the dual-time function with two, hour hands: one that tracks your home time while the other can be changed to the time of your destination. These are powered by the floating pushers at 8 and 10 o'clock, which emphasize its vintage aesthetic. Combine that with a 42mm white gold case, and you have a well thought out watch that will please pilots and collectors alike.
<>
---
<>


Best Pilot's Watches: Final Thoughts
Highly-functional yet remarkably readable and stylish, these timepieces are the epitome of the innovative spirit that binds horology and aviation. We hope this list has helped you find the best pilot's watches for yourself or someone else who loves flying. Explore pilot's watches and nearly 40 of the world's best watch brands at SwissWatchExpo.com.