Most watch wearers will tell you they feel incomplete when they don't wear a watch. Once you get used to wearing it frequently, a watch suddenly feels like a natural part of your arm. Like breathing, checking the time becomes an automatic reflex. We get surprised whenever we forget we're not wearing one.
This level of comfort only means one thing: you're wearing a watch that fits you perfectly — it's not too tight or loose, and the wrist on your skin can still breathe. So, how exactly do you wear a watch properly?
Here are 4 simple and straightforward yet detailed tips on how to wear a watch like a true classy lady or gentleman:

Wear the right size of watch for your wrist
When shopping around for a timepiece that you really want, it's only normal to consider the visual aesthetic of the watch first. But there are also other factors that you need to look into to make sure that you'll be truly satisfied with your purchase.
The right size of watch will make a difference. | Rolex Datejust II Blue Dial 116334
Size does matter in watches. Whether you're into small or large watches, there's a way to properly choose a watch that'll look balanced and proportionate on your wrist. We've made a detailed guide on How to Find the Right Watch Size – plus have a few tips below:
Before going to your dealer, measure the size of your wrist using a tape measure. Next, decide on a case size that's suitable for your wrist. A case diameter of 34mm-38mm is appropriate for individuals with a wrist measurement of 6 inches; 39mm-42mm is for individuals with a 7-7.5 inches wrist size, and 44mm-47mm is for those measuring 8 inches and more.
Typically, watch cases that are 38mm and below are women's size watches. Men's size watches, on the other hand, fall between 38mm-46mm.
| | | | |
| --- | --- | --- | --- |
| | Wrist Size | Case Diameter | Strap Sizing |
| Small | 6" | 34mm – 38mm | 120/70mm |
| Average | 7" – 7.5" | 39mm – 42mm | 130/80mm |
| Large | 8 > | 44mm – 47mm | 140/85mm |
<>
Know your wrist size before you buy. | Rolex GMT-Master II Rootbeer & Sprite
Now, let's go to strap sizing. It goes without saying, your watch should fit comfortably on your wrist. If you're unable to fit the watch in person, you can follow a few guiding principles. It should be at 50% of the case diameter. For example, a 40mm diameter would fit well on a 20mm strap.
Keep in mind that the more details the watch has, such as the embellishments and complications, the bigger it will look and feel to the wearer.

Wear the right watch for the attire and occasion
After figuring out measurements, let's talk about watch styles that can help elevate your sartorial game. For many watch collectors, there's no shortage of watch styles and designs to match their OOTDs. But if you're starting with your watch collection, it's good to have different watch band material options to match your attire.
Watches are finishing touches for your attire. | Rolex Datejust 28 Rose Gold
Leather
Leather connotes timelessness and elegance because it is an organic and durable material. There are three types of leather: faux, genuine and full-grain. Faux leather is made from plastic but resembles closely to genuine leather. It is cheaper and can wear off easily. Genuine leather is also affordable and commonly used in bags and belts aside from watches. Full-grain leather is the best and strongest quality leather.
Watches with leather straps: Patek Philippe Calatrava, Rolex Cellini, IWC Portofino and Jaeger LeCoultre Master

Metal
Stainless steel metal is the most popular metal watch band. It is more affordable than platinum, gold, silver, and titanium watches. It looks sophisticated and contemporary. Stainless steel is corrosion-resistant because it's made from chromium, a chemical element that prevents it from rusting.
Rubber
A rubber watch band is made from silicone or polyurethane. The latter is less expensive but stronger than silicone. Rubber watches are waterproof and ideal to use by individuals with an athletic lifestyle.
Choose a watch that will match your lifestyle. | Rolex Day-Date II White Gold 218349
Speaking of lifestyle, watches are also designed according to a person's taste and habits. Luxury vintage watches are typically coveted because of their storied histories and are usually worn by pioneers and celebrities who have made a mark in the world.
For example, the Rolex Daytona watch is most associated with the actor Paul Newman. He started wearing this classic Rolex timepiece in 1972 until his death in 2008. Another is the Omega Speedmaster Professional worn by the legendary astronaut Buzz Aldrin when he landed on the moon in 1969.
Watches are not just tools, but status symbols. | Rolex Daytona MOP Dial 116519
As a tool, watches are used by navigators and athletes to guide them in their respective goals with precision and accuracy. Three of Rolex's most iconic watches, the Submariner, Daytona, and the GMT-Master, were primarily created for divers, race car drivers, and pilots.
Though watches have their roots in utility and practical use, they are now considered accessories and status symbols. They're the perfect finishing touch to any ensemble.
Watches can be dressed up or dressed down. | Vacheron Constantin Overseas 7900V
While certain materials are better suited for specific occasions – such as steel and rubber for casual days, and precious metal and leather for formal affairs – these customs have been blurred in recent years. It's now acceptable to dress down gold or diamond watches and wear them with jeans and shirts, while sports watches are already frequently paired with suits and tuxedos. Just take the case of James Bond who wears a Rolex Submariner or Omega Seamaster with his tailored suits.
There are no rules but wearing your watch on the correct wrist has its advantages.
Aside from making sure that your wristwatch fits perfectly, wear your watch on the side that works best for you. Typically, most people wear watches on their non-dominant hand so it doesn't get in the way of their writing or other activities. There's no right or wrong on which side you should wear your watch so long as you're comfortable.

Finally, a few things to avoid.
While there are no rules to wearing a watch, some practices are found to be in poor taste.
Don't wear your watch over your cuff.
If there's one fashion crime related to watches, it would be wearing a watch over your cuff. The general rule is that your cuff should cover your watch when your arms are on the side. When in a relaxed position with arms akimbo, your watch should peek out of the sleeve.

Wear the watch under your cuff. | Audemars Piguet Royal Oak Chronograph 26331OR
Don't wear a watch or strap that's too loose.
A loose watch means you can slide several fingers under the strap. If you're aiming for a sharp and dapper look, your watch should be tight enough on your wrist without leaving a strap mark on the skin.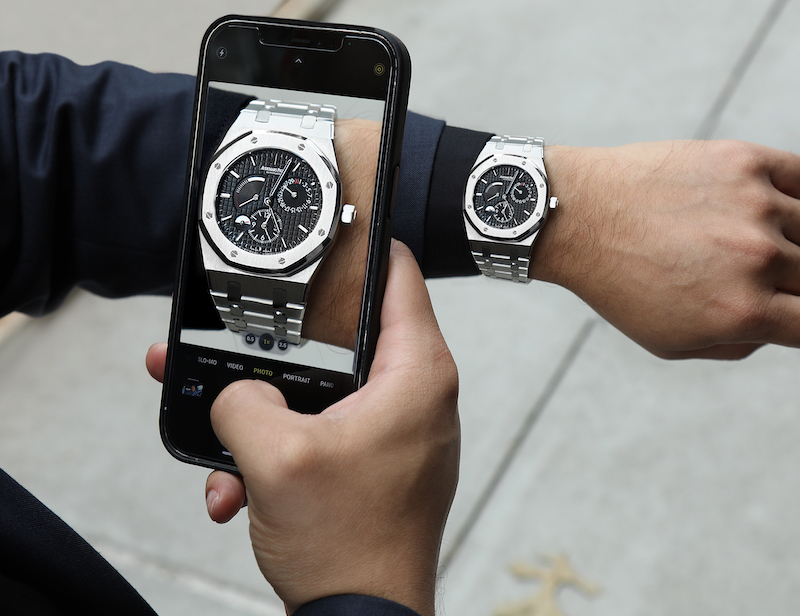 Watch wearing involves etiquette. | Audemars Piguet Royal Oak Dual Time 26120ST
Don't check the time too often, especially in social situations.
Be aware and observe courtesy in certain social situations such as in professional or formal settings. Constantly checking the time while in a room full of people having conversations is considered rude. Act cool by slightly turning your wrist while sipping on your drink, or excuse yourself by going outside or in the bathroom to check your time.
---
<>
At the end of the day, it's still the wearer's preference on how he or she chooses to wear his or her watch. However, if you want to achieve balance, comfort, and elegance in the way you wear the watch, following these tips will definitely give you confidence in choosing and wearing your timepiece.