As one of the most popular and valued brands in the world, Rolex is a target of counterfeiters. It's a sad fact of life, but there are a lot of fake Rolexes out there.  As counterfeiters become more sophisticated in their techniques, it is now impossible to tell whether or not your watch is real just by looking at it. It takes skill and training to recognize an authentic Rolex watch.
Even if you've had your Rolex for years and have always worn it, you can't be 100% sure that it's genuine unless you bought it from Rolex directly, or through a reputable dealer like SwissWatchExpo. That is, until you get it authenticated.
We're going to give you some tips on how to get your Rolex watch authenticated, and where the best place is for getting an expert opinion on your watch!
Why is it important to get your Rolex authenticated?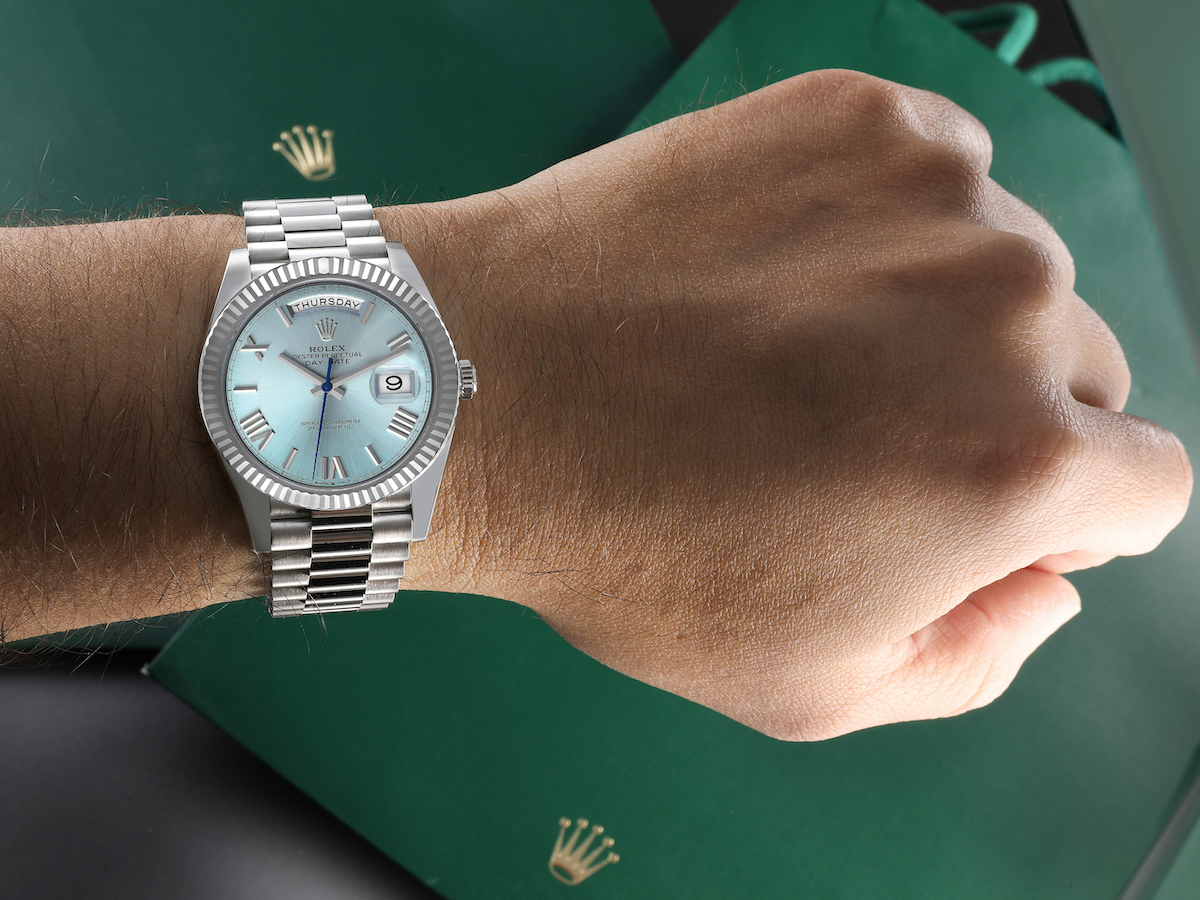 Rolex President Day-Date 40 Ice Blue Dial Platinum Men's Watch 228236
If you've bought a Rolex watch, you probably already know that you can save by  purchasing a pre-owned model. The problem is that it can be very difficult to know whether your pre-owned Rolex is authentic without having it authenticated, especially if your pre-owned purchase isn't accompanied by its original paperwork and characteristic green box.
Authentication is the process of confirming the genuine nature of an item. It includes inspecting the item itself, verifying its history, and researching any documents related to its production and use. This process made much easier with serial and reference numbers assigned by watchmakers to properly document the manufacture and sale of their models.
It's important for people who want to buy used watches to do so from reputable dealers because it allows them to tell if their purchase has been stolen or otherwise faked. In addition, authentication helps buyers avoid being scammed into paying too much for an item that isn't worth as much as advertised — or one that doesn't even exist!
Rolex Datejust
When investing in a luxury timepiece, not only will you want to know that the piece on your wrist is real but also take care of it properly. Rolex Service centers will only service authentic Rolex watches. While they will authenticate a watch before sending it to service, it's a much easier and streamlined process if you can provide the necessary paperwork ahead of time.
The $150 average cost of the Rolex authentication process is well worth it for that peace of mind.
---
<>
If I bought a pre-owned Rolex, where should I bring it for authentication?
Rolex Submariner Kermit and Hulk
If you have purchased a pre-owned Rolex watch, it is always best to get your timepiece authenticated by professionals. This ensures that the piece has been properly handled and documented, as well as being eligible for any warranty services or repairs you may need in the future.
There are three ways to go about it.
<>
1.    Official Rolex Service Centers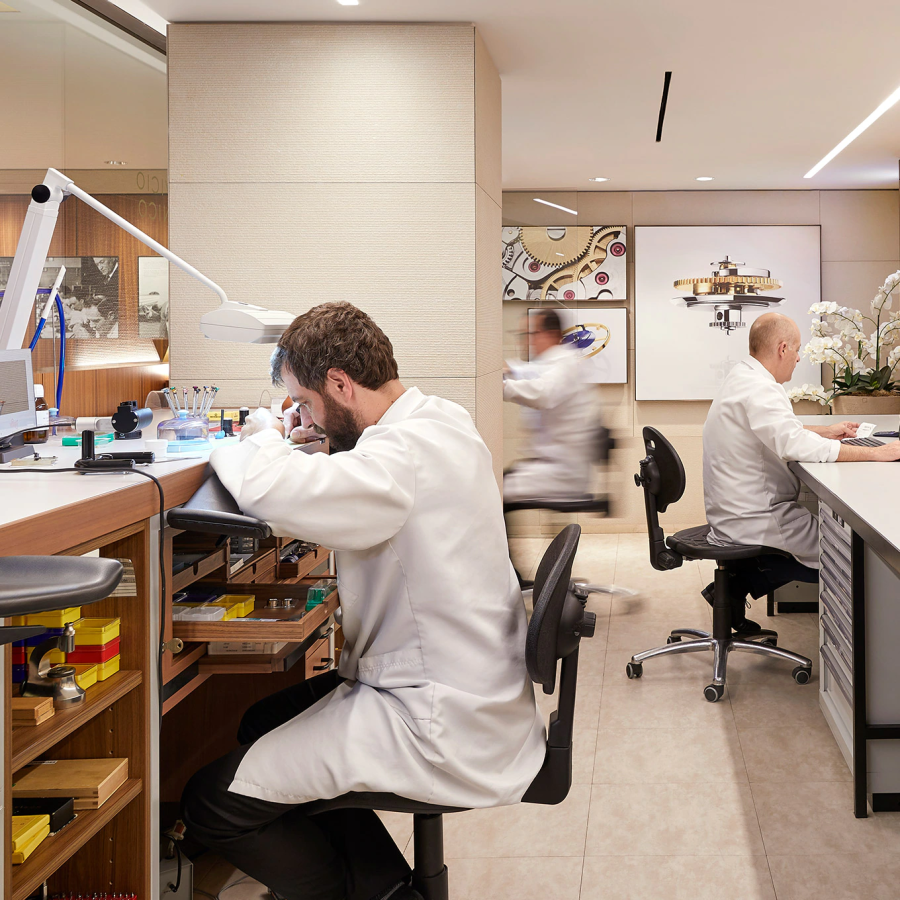 An Official Rolex Service Center (photo: Rolex)
Retail stores cannot authenticate your watch for you, but an Official Rolex Service Center can. These service centers are located in major cities around the world and are conveniently close to many people who own high-end watches.
Getting your watch authenticated at a Rolex Service Center holds the most credibility but also costs, on average, about $150.
You can walk into the service center, pay the fee and a professional will authenticate right there. After their inspection process is finished, they will mail your Service Authentication Papers/Card to you within 7 to 10 days.
However, this option only works for you if you live conveniently near a Rolex Service Center.
---
<>
2.    Authorized Rolex Dealer (AD)
A Rolex Authorized Dealer (photo: Rolex)
Authorized Rolex Dealer (AD): A person or company that is authorized to service, repair, and sell new and pre-owned Rolex watches. ADs are also authorized to provide warranty service for Rolex watches.
These are the professionals that know the ins and outs of timepieces and are specifically trained to know whether a watch is authentic or not. Rolex is the largest luxury watch brand, and these dealers make it their business to know everything about them. On average, they will authenticate your Rolex watch for around $100.
Rolex Certified Pre-Owned Programme
Rolex Certified Pre-Owned Seal (photo: Rolex)
With the intense market demand for pre-owned Rolex watches, Rolex recently launched a program where these authorized dealers can receive a certificate of authenticity for pre-owned watches without papers.
Being a market worth an estimated $20 billion US, Rolex wished to bring added value to these watches despite their previous stance of providing no replacement paperwork. This paperwork will be distributed to authorized dealers for second-hand watches that are at least three years old.
Rolex Certified Pre-Owned Guarantee Card (photo: Rolex)
These watches will be given a Certified Pre-Owned guarantee card starting in December of 2022 in 6 countries (Austria, Denmark, France, Germany, Switzerland, and the UK) first, followed by other official dealers in Spring 2023. The Certified Pre-Owned card serves three purposes:
An official certificate of authenticity
Certification that the pre-owned watch is authentic
Certification that the watch is in perfect working condition
To know if your watch dealer is authorized for this program, look for the special Rolex Certified Pre-Owned plaque in store.
---
<>
3.    Professional watch authentication service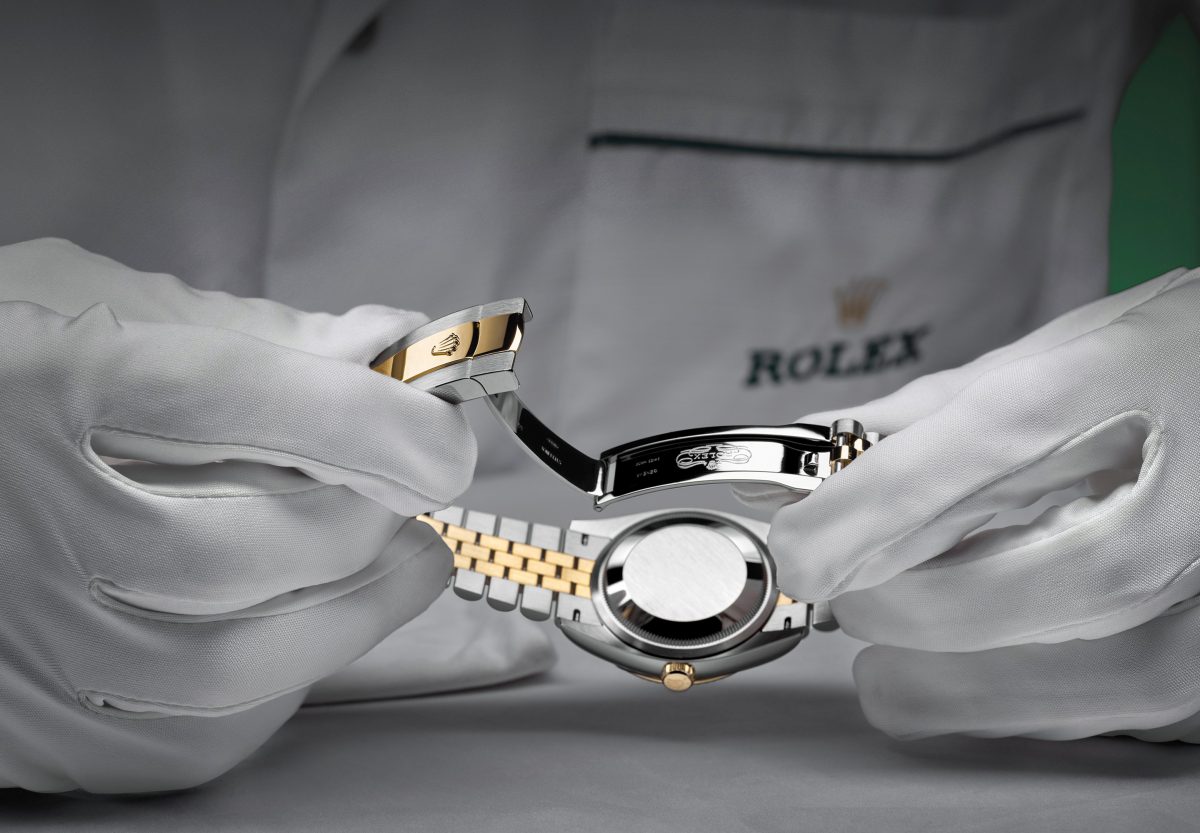 Assessment of a Rolex watch (photo: Rolex)
The next best thing to the Rolex Service Center is paying for authentication from a professional watch authentication service.
You can get an authentication service from an authorized dealer or from a professional authentication service. The procedure for this authentication often includes:
Opening up the watch case
Verifying the movement is genuine
Verifying the case and bracelet are genuine
Matching up serial and reference numbers engraved in the case
Checking the condition and making any service recommendations
Resealing the watch and then testing for correct waterproofness
Waterproof testing a Rolex watch (photo: Rolex)
The one downside is that despite this being around a 15-minute process you pay first only for verbal authentication at $100 in many cases. To get actual paperwork reflecting this authentication, you're going to pay more.
Despite the similar cost to a Rolex Service Center, finding a nearby watch authentication service might be far more convenient. Their authentication is worth just as much as the one you'd receive from Rolex itself.
---
<>
Getting Your Rolex Watch Authenticated: Final Thoughts
So, what's the takeaway? Well, we hope that now you know that if you have doubts about the authenticity of your Rolex watch, it's always best to get it authenticated by an official source.
You can either bring it to an authorized dealer or service center for a professional evaluation or use one of our services for online authentication. Peace of mind for $150 does seem like a reasonable investment, and the paperwork only adds to the value of your luxury watch.
Better yet – buy only from a trusted and reputable dealer like SwissWatchExpo.com. Each and every timepiece we sell is carefully inspected by expert watchmakers, and guaranteed to be 100% authentic.