If you're a proud Rolex owner, one of the important things you'll want to do is get your watch serviced. The last thing you want is for your prized timepiece to break down on you when it's supposed to be keeping time perfectly.
But how much does Rolex servicing cost and how long does it take? We are going to answer all these questions in this article so let's get started!
What does a Rolex service consist of?
Servicing of a Rolex watch (photo: Rolex)
Any Rolex retailer or affiliate has been trained and authorized to perform servicing on Rolex watches. Your servicing is completed by an expert watchmaker every time. No matter where you take it for servicing, they'll take notes on any issues you may have noticed and your concerns and then send it to a watchmaker for the actual procedure.
Servicing takes some time but it's well worth it as you'll get an international two-year service guarantee that covers replacement parts and labor for taking care of your luxury watch.
<>
Servicing includes: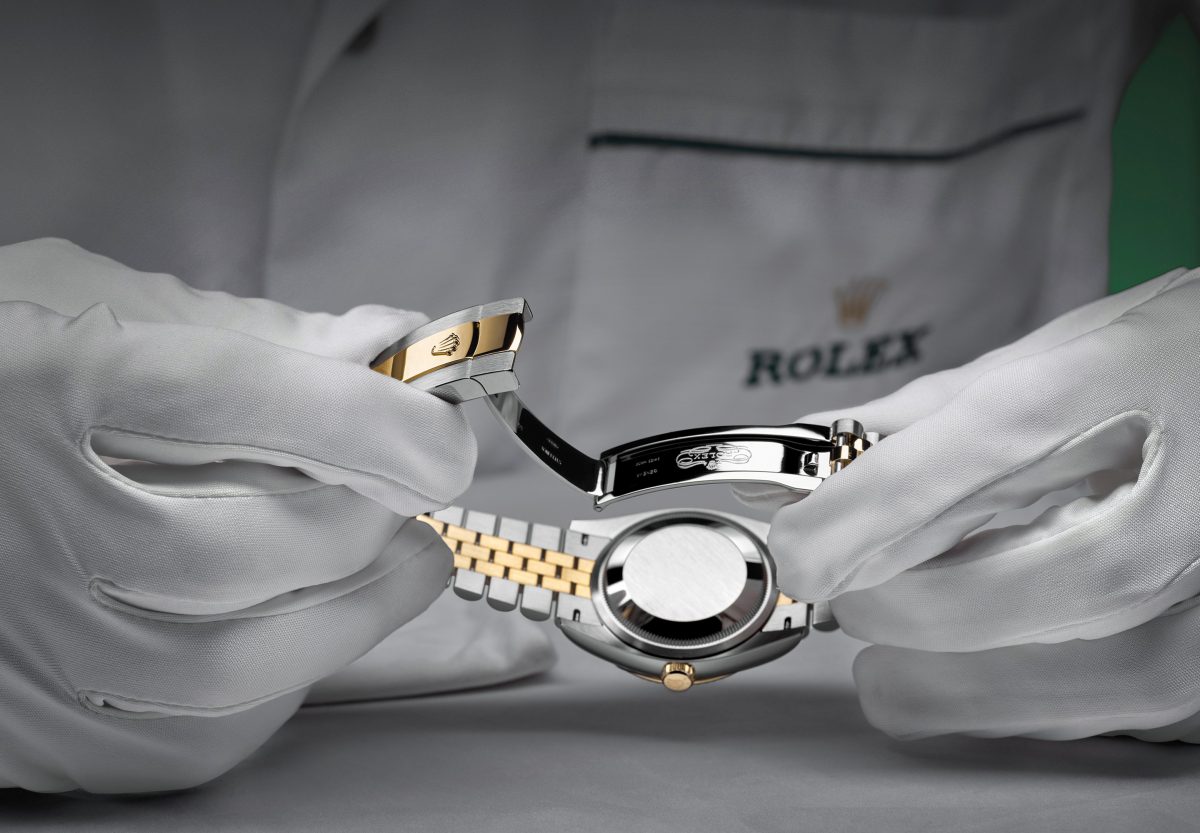 Assessing a Rolex watch (photo: Rolex)
Assessment. The assigned watchmaker will examine the entire piece for any work that might need to be done. The watchmaker will provide you with an estimate of the cost of any repairs for your approval. Once you approve the quotation, their work begins.
Preparation. They will first remove the bracelet from the case to get a better look. At this point, the movement in its entirety is removed from the case as the bracelet, case, and movement get sent to different departments for maintenance before being reunited at the end of service.
Dismantling. An expert in Rolex movements will dismantle the entire piece, examining every single part. Any parts of the movement that no longer meet Rolex's high standards will be removed and replaced.
Cleaning the components of a Rolex watch (photo: Rolex)
Cleaning. After it's determined if any piece needs to be replaced, each tiny piece is placed in an ultrasonic bath removing absolutely any impurities that made their way inside the case and could interfere with functioning.
Assembly and Lubrication. After drying the freshly cleaned components, the watchmaker carefully puts the movement back together and lubricates the moving parts. This step is the first time the watchmaker will adjust for precision purposes. Rolex's brand criteria are very high when it comes to precision.
Refinishing. While the movement is being expertly taken care of, the case and bracelet are getting some TLC of their own. The case is broken down into its separate parts: the bezel, the central case, the case back, and the bracelet. Each is then restored according to its original finish – whether polished or satin-finished. This is very delicate work and requires an expert hand.
Assembly of the case. Once cleaned and repolished, all the seals of your case are replaced to full functioning order and the case is retested for its designated waterproof level.
Assembly of the case of a Rolex watch (photo: Rolex)
Re-Casing of the Movement. Once both the movement and the case have finished the previous steps, the dial and hands are carefully refitted to the movement and placed back into the case. A watchmaker will perform the rigorous testing known to Rolex to make sure your watch is maintaining the peak performance expected from this brand.
Precision Test. The watchmaker now makes any final adjustments to the movement to make sure your watch is maintaining the chronometric precision that Rolex is known for. This test continues for at least 24 hours to make sure performance is maintained over time.
Rolex watch case undergoing waterproof testing (photo: Rolex)
Waterproof testing. Before reattaching the bracelet, the reassembled case undergoes another round of waterproof testing.
Final Control. The watchmaker reassembles the entire piece and performs a final check making sure your watch not only functions perfectly but looks perfect as well.
Returning Your Watch. Your watch is then returned to you at the original location in a protective pouch.
---
<>
How much does it usually cost to service a Rolex?
Rolex watch servicing (photo: Rolex)
As you'd expect, the cost of having a Rolex serviced will depend on the model, movement, and type of service. Standard service for watches is $600 to $1200. This includes new gaskets and seals that keep water from damaging the watch and a thorough cleaning by hand to remove any dirt or debris.
If your watch requires further work beyond this basic checkup, such as replacing worn parts or repairing damaged areas, those additional services can increase your bill considerably.
---
<>
What is the Rolex service turnaround time?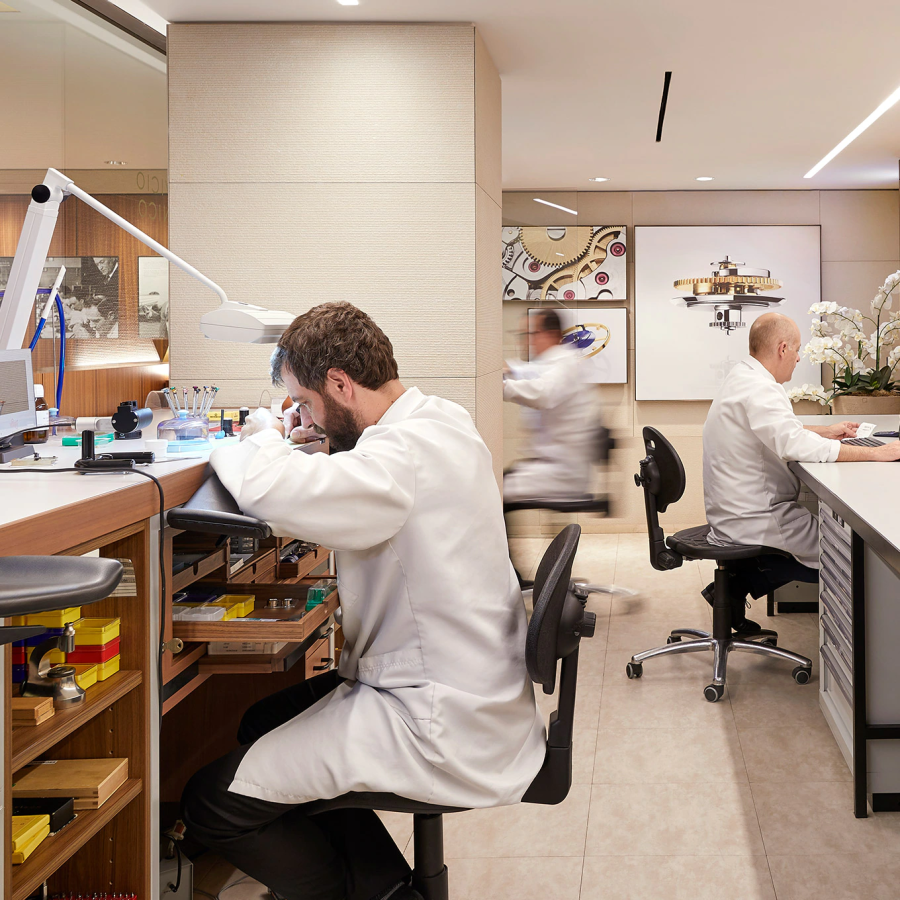 Servicing at a Rolex service center (photo: Rolex)
Again, this is very dependent on the exact model of the watch and how complicated the movement is, but on average you'll wait at least 4 to 6 weeks to get your watch returned in peak condition. Most service centers will tell you it can take between 6 and 12 weeks, while the majority of watch owners in the US have reported that US-based Rolex service takes around 6 weeks to complete. Some have said 3 weeks, but that isn't a normal turnaround.
Factors on time:
The condition of your watch
Replacement parts
The complexity of your watch's movement
How many watches are being serviced at that time
---
<>
Rolex Service and Restoration at SwissWatchExpo
Rolex Oyster Perpetual, Day-Date, and Datejust
If there is no Rolex service center near you, you can send your watch to SwissWatchExpo for servicing. SwissWatchExpo offers a full range of services, from basic maintenance to major repairs and restorations. Repair estimates are always provided free of charge.
All watch repairs are performed in-house by our own trained technicians, in our state-of-the-art service center in Buckhead, Atlanta. We are one of the very few stores in the Atlanta area that performs in-house watch repair of luxury timepieces – you can be sure that your watch will be in the hands of an expert watchmaker from start to finish.
---
<>
Conclusion
Rolex, and luxury timepieces in general, are fine machinery that require routine maintenance and repair. Most of us want to enjoy them for many years – if not for a lifetime. Regular servicing prevents problems that may arise in the future, and keeps your timepiece ticking for longer.