Breitling watches are some of the most sophisticated timepieces in the world. They're also known for their innovative designs and classic styling for both men and women.
Luckily, no matter how many dials your Breitling watch has, they're all pretty similar to operate. Most modern Breitling watches are powered by automatic movements, meaning they wind themselves using energy provided by your wrist movement. However, if it's new or if you haven't been wearing it for a while, you may have to wind it to get the time going again.
If you have a Breitling watch and need to wind it and reset the time, here's how:
How to Set the Time and Date on Your Breitling Watch: Step by Step
Setting the time and date on your Breitling watch is easy. Just follow these steps:
Breitling Avenger Bandit Titanium Men's Watch E13383
Step One: Wind it to get the movement going
Turn the crown or the little knob at the center of the right side of the watch face counterclockwise. This unlocks it (it locks for waterproofing purposes). After unlocking it, you're going to want to wind it clockwise around 40 to 50 times. You don't have to be exact. Always wind it clockwise. Turning it counterclockwise will only re-lock it.
Step Two: Set the date
Now, pull that crown out completely and then push it back in halfway, this is called position 2. This halfway position allows you to set the date. Turn the dial counterclockwise to the date before what the actual date is today. For instance, if today is the 13th, then set it for the 12th. This is important for establishing whether you're in am or pm time. This will be corrected in Step Three.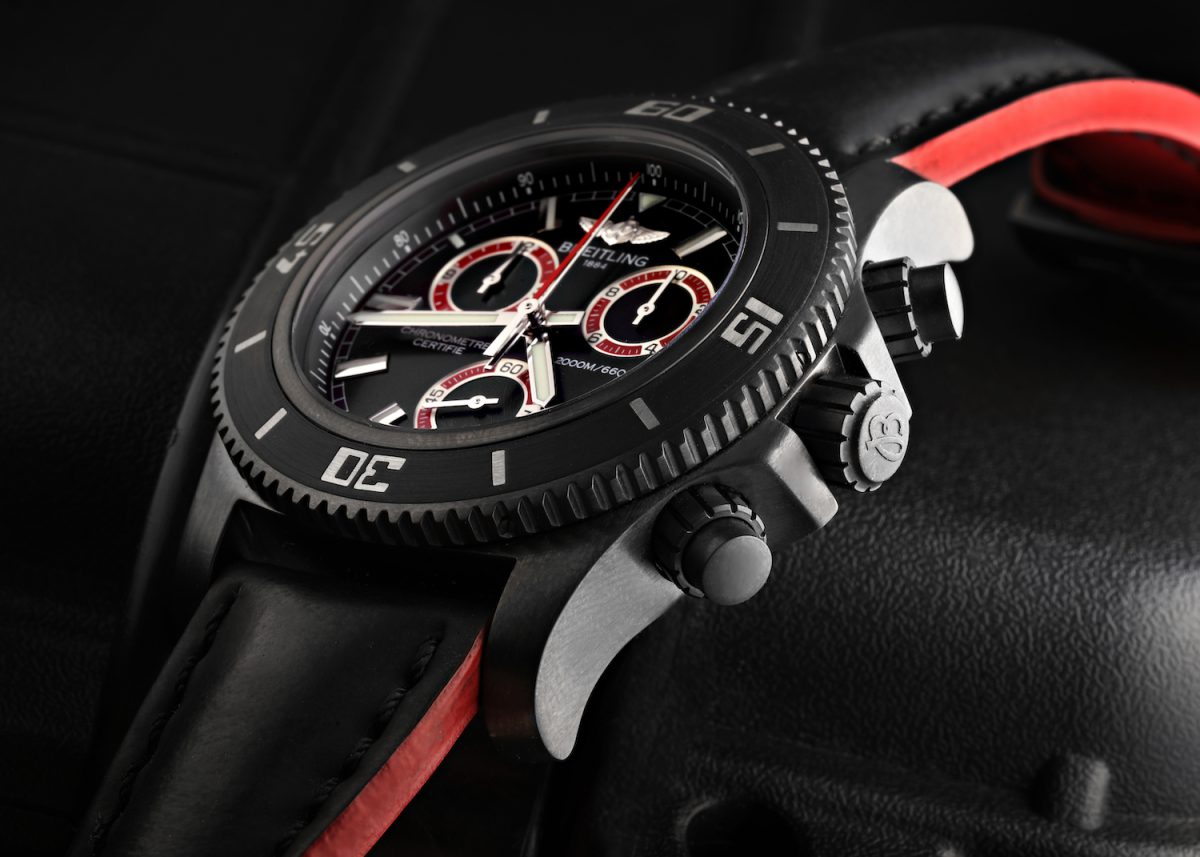 Breitling SuperOcean Chronograph Steel Men's Watch M73310
Step Three: Set the time
In order to set the time, you're going to need to pull the crown out fully again, this is position 3. Turn the dial clockwise. Watch the date while you're turning, once it flips to the correct date or jumps one day in this case, you'll know that you're in the am time setting (this way your date isn't going to change at lunch).
Once you reach the correct time with the largest set of hour and minute hands on the dial, push the crown back in completely, this is position 1. One counterclockwise turn will lock it into place. You should only just feel some resistance when locking the dial. Absolutely do not force it.
Step Four: Subdials
If you have any subdials, you can set them now. This time you're going to use the top button on the right side of your watch. Unscrew the dial by turning it counterclockwise. Then you can push it to change the hands on the first subdial of your watch. Once that is set to your preference, then turn it clockwise to lock it back in place. The bottom button on the right-hand side of the watch will set any additional subdials. Use the same process.
---
<>
Do's and Don'ts
While setting your watch can seem really simple, some silly mistakes can be incredibly detrimental. There are a lot of tiny gears and springs that can be damaged easily by misuse and some very simple and seemingly innocuous mistakes.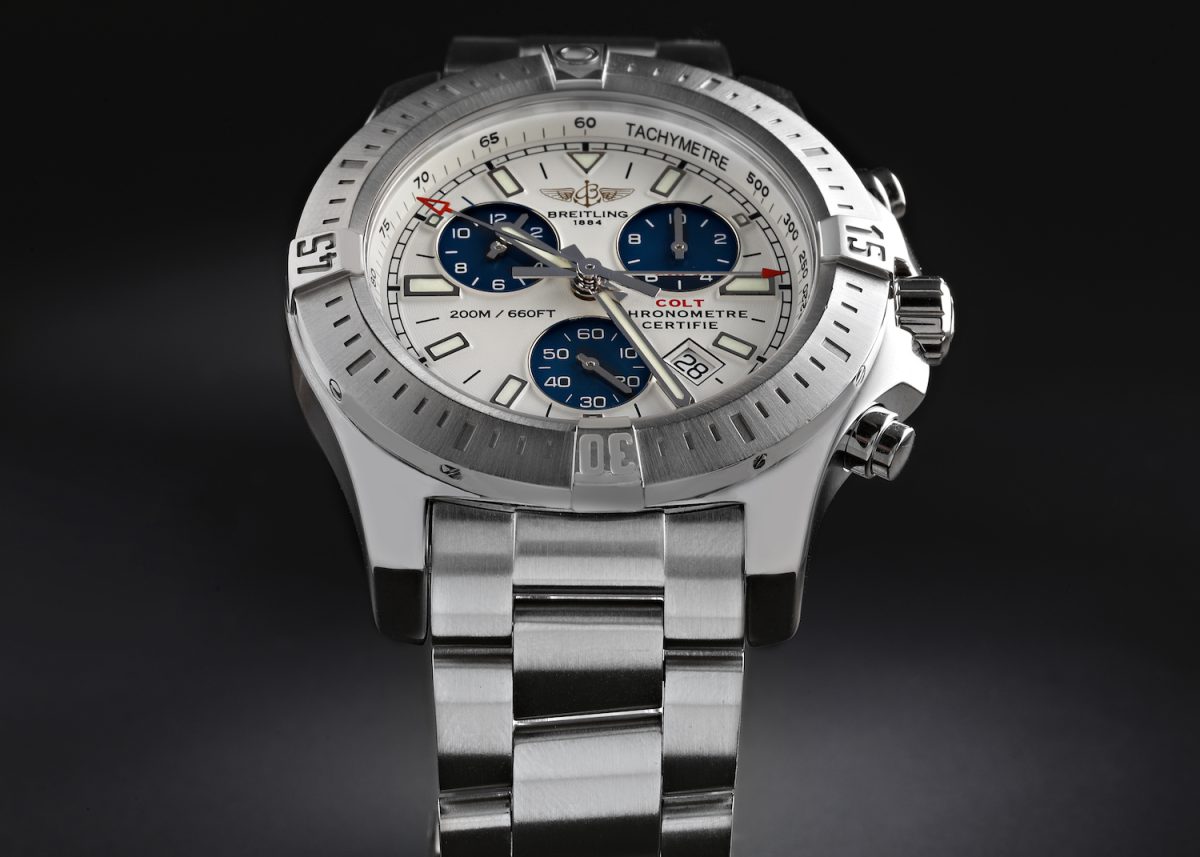 Breitling Colt Chronograph Steel Men's Watch A73388
Set your watch hands clockwise
That doesn't mean you should turn the crown clockwise, it means only you should turn the hands clockwise. Often this entails turning the crown toward yourself.
Don't over-turn
Only turn until you feel a little resistance. Any forced movement might cause parts of the movement to break.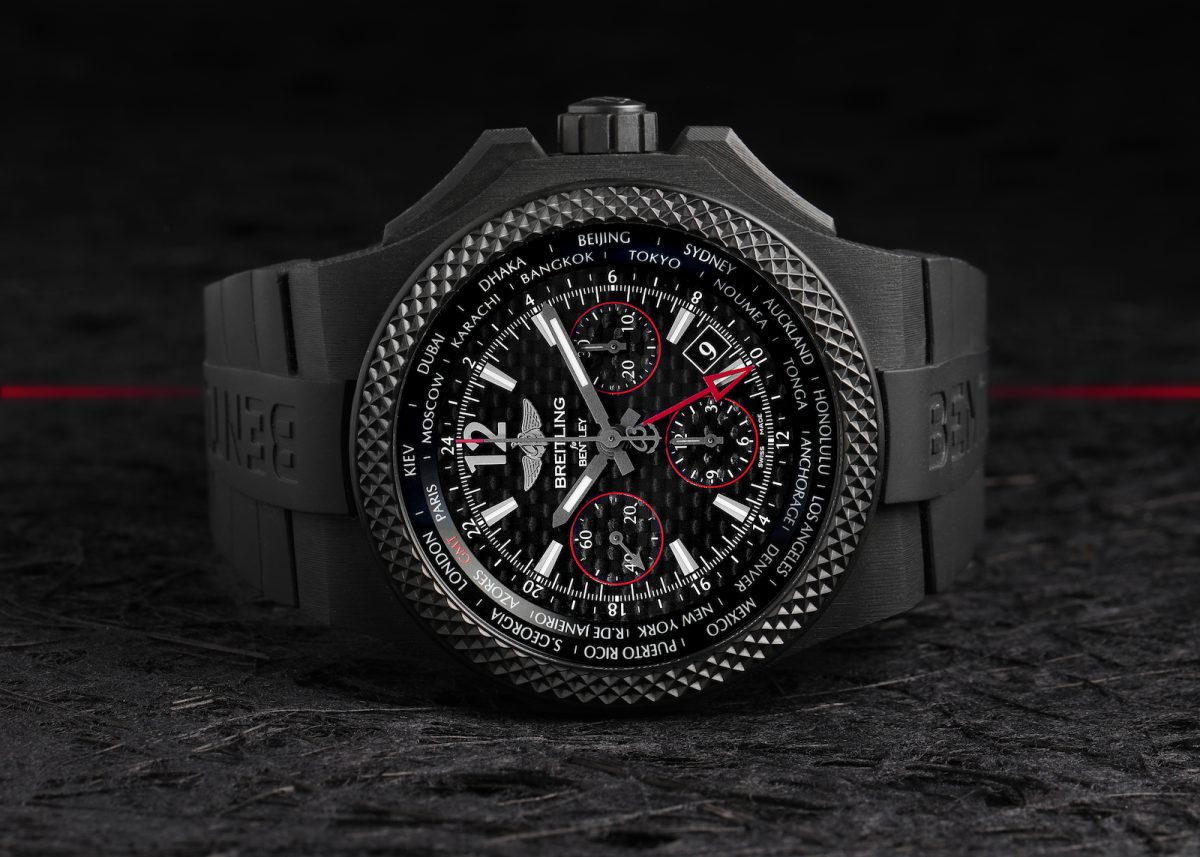 Breitling Bentley GMT B04 Carbon Men's Watch NB0434
Don't set your watch counterclockwise
The hands are designed to turn clockwise! That's what that phrase means. While turning the hands counterclockwise won't break your watch immediately, it will cause problems down the line. Turning the hands in a direction they're not designed for puts unneeded wear and tear on the gear train.
If you do this regularly, this can affect your watch's overall health and increase your need for repairs.
So, what if you over-shoot the time? Turning it backward, very slowly, to gain back a few minutes isn't a really big deal. It's certainly easier than resetting the date and spinning through another 24 hours to get the correct time.
Breitling Chronomat B01 Men' Watch RB0136
Don't set your watch between 8pm – 3am (3 to 4 hours within midnight)
These mechanical watches, often using mechanisms to track the date, day, month, and even moon phases, use complex systems that are set into motion between 8pm and 3am. Because of this important time frame, it's imperative that you not try to set the date or time during this period.
It's best to set your watch's date when the hour hand is along the bottom of the dial. Why? If you've been up until midnight and noticed on your watch, as the minutes tick closer to midnight the date disc starts to move, gearing up for the change of date. Sometimes this action isn't completely finished for fifteen whole minutes past the hour. Some higher-end watches change immediately.
There's a gear attached to the date wheel that has a pin attached. This pin pushes the date disc forward every 24 hours. So as the time approaches midnight (between 8pm and midnight depending on the watch) the pin comes into contact with the disc. If you turn the date disc with the crown at this point you could minimally jam the gear or at worst cause the wheel to break!
Breitling Navitimer 1 Men's Watches
If you break the wheel, you'll not only have to pay for the wheel to be replaced, but a full-service cleaning to clear any potential debris that may have traveled into other parts of your movement.
Save yourself the trouble and never change the date between 8pm and 3am.
---
<>
Winding your Breitling watch: Final Reminders
So, there you have it: all the steps you need to know for winding a Breitling watch.
If you have trouble winding your Breitling watch, talk to our specialists at SwissWatchExpo and have them walk you through the process in real time. If you think you might have broken that date dial, don't fret, our expert watchmakers stand ready to repair your watch at our state of the art service center.