Rolex has made a name for itself by creating equally beautiful and reliable timepieces in the dress and sports watch realm. The Rolex Datejust, Day-Date, Submariner, GMT-Master, and Daytona are top of mind. What is not discussed often enough is the incredible work they have done with the Cellini line, the dedicated "tuxedo" watches of the Rolex family.
The Rolex Cellini is the brand's exclusive line of dress watches. Formally named in the 1960s, the earliest watches in this collection stood out with their Art Deco designs and non-Oyster cases. While Rolex continued to establish their tool watches during that era, they also created the Cellini line as a symbol of refinement and sophistication. Along with the Datejust and Day-Date collections, this range of stylish formal watches helped establish Rolex as a luxury watchmaker rather than a purely utilitarian one.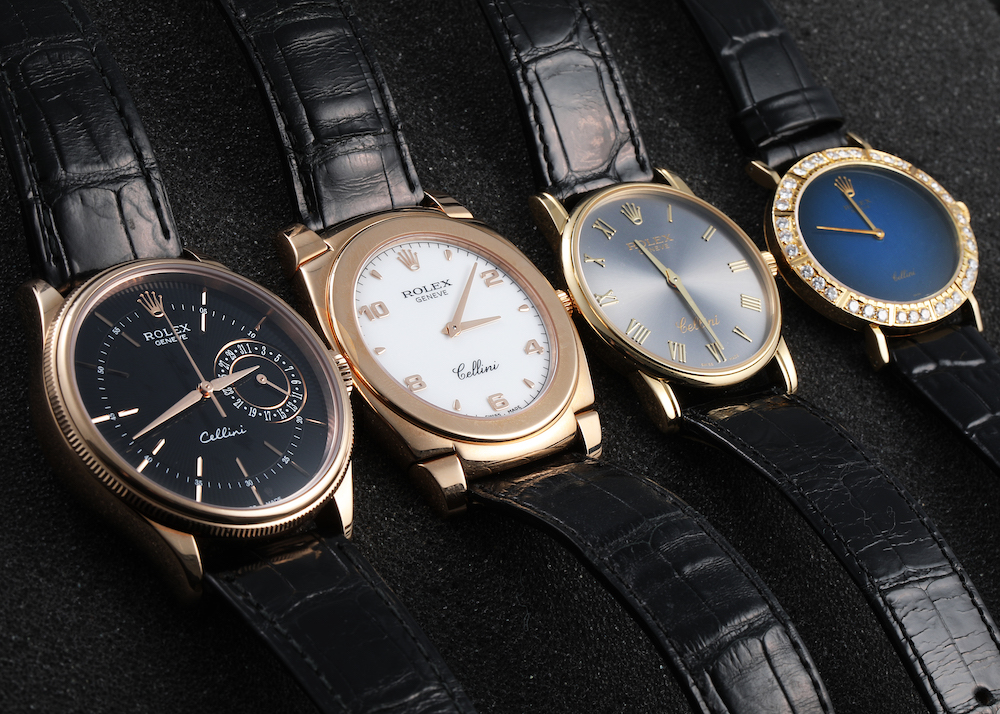 Generations of the Rolex Cellini – Rolex Cellini Date, Cellini Cestello, Cellini Danaos, and Cellini Vignette
Furthermore, the Cellini collection was a display of Rolex's creativity. Whereas the Oyster case became an instantly recognizable design of Rolex watches, Cellini models came in a vast assortment of shapes, with a focus on avant-garde design. While this also meant that early Cellini models were not instantly recognizable as Rolex models, it also showed Rolex's willingness to innovate and experiment.
Today's Rolex Cellini collection is composed of harmoniously designed, round formal watches, with exquisite finishing and an assortment of complications. We've broken down the history and models of Rolex's most underrated collection with SwissWatchExpo's Rolex Cellini Ultimate Guide.
---

A Brief History of the Rolex Cellini Collection
It is quite challenging to pin down the exact beginnings of the Rolex Cellini collection. Because it serves as a catch all for all Rolex dress watches with non-Oyster cases, one can trace back some of the models to the 1920s, when the Crown created rectangular Prince and Princess models in Art Deco fashion.
In the 1950s, Rolex focused their efforts in designing "tool watches" that met the specific needs of professionals and workers. This era gave birth to the Rolex classics that we know today – the Explorer for cave explorers, the Submariner for divers, the Daytona for race drivers, the GMT-Master for pilots and travelers, and so on.

Rolex Cellini Models from 1960 (photos from Christie's and Sotheby's)
It was during the 1960s that the Cellini line was formally created and named, under the leadership of Rene-Paul Jeanneret and André Heiniger, both corporate leaders of Rolex. They took over when Rolex founder Hans Wilsdorf passed away in 1960, and are largely credited for Rolex's transition from watchmaker to luxury brand.

Rolex Cellini Classic 18K Yellow Gold ref 5116
Jeanneret proposed to create a line of watches that was distinct from their Oyster-cased collections. Moreover, they were to be more focused on aesthetics and finish, rather than specific functions. The aim was to build the premise of owning several Rolex timepieces – some for sport, some for leisure. This new collection will house exclusively gold or platinum watches, the kind that one wears for black-tie and formal events.
Rolex named the collection after Benvenuto Cellini, the 16th-century Florentine maverick, who was a renowned goldsmith, sculptor, and painter, and whose work continues to be celebrated today. His best-known work is the 1543 Saliera or Salt Cellar commissioned by Francis I, the King of France. This became a subject of a Rolex Cellini ad in the 1980s, where the King was said to have "gasped in amazement" upon seeing the object – and it is to this standard that Rolex Cellini watches are designed.

Benvenuto Cellini's Saliera at the Kunsthistorisches Museum in Vienna (photo: Jononmac46)
The earliest Cellini models were slim dress watches with mechanical movements. As their focus was on aesthetics and finishing, they were not built with water resistance in mind, and therefore not equipped with Oyster cases.
In 1962, Rolex followed the earlier dress designs with a geometric model – the King Midas. Created by renowned watch designer Gerald Genta, even before he sketched the Royal Oak and Nautilus, the watch was inspired by the Greek Pantheon turned over on its side. Made from a single block of solid 18k yellow gold alloy, it featured an asymmetrical shape and integrated bracelet. Continuing with the Greek Mythology, the watch was named after King Midas, in homage to the myth that he turned everything he touched into gold. At the time, it was the heaviest gold timepiece being sold on the market.

Rolex Cellini King Midas 4609 and Cellini King Midas Tiger Eye 4316 (photos: Christie's)
The King Midas was followed by another geometric watch, the Cellini Octagon. The eight-sided watch was also made of solid gold and had an integrated bracelet.
As the 1990s rolled in, the Cellini series shifted from trendy geometric designs to more subdued rounded cases such as the Cellini Danaos and Cestello.
For the next two decades, the Rolex Cellini housed all of the brand's dress-oriented, non-Oyster case timepieces. As such, there was a wide variety of shapes and styles under its umbrella.

The modern Rolex Cellini collection
In 2014, Rolex took a page out of its Classic and Professional collections, and redesigned the Cellini with a simple and timeless design that would resonate across all of its models.
The contemporary Cellini collection, as we know it today, is composed of watches with 39mm round cases, and subtle refinements like polished finishes, part-domed and part-fluted double bezels, guilloche dials, and leather straps. Just like the Cellini models of yore, these models are made of gold – albeit only in 18k white gold and Everose gold, Rolex's patented rose gold alloy.
The initial collection ranged from time-only to dual time models, and later on a moonphase model was added.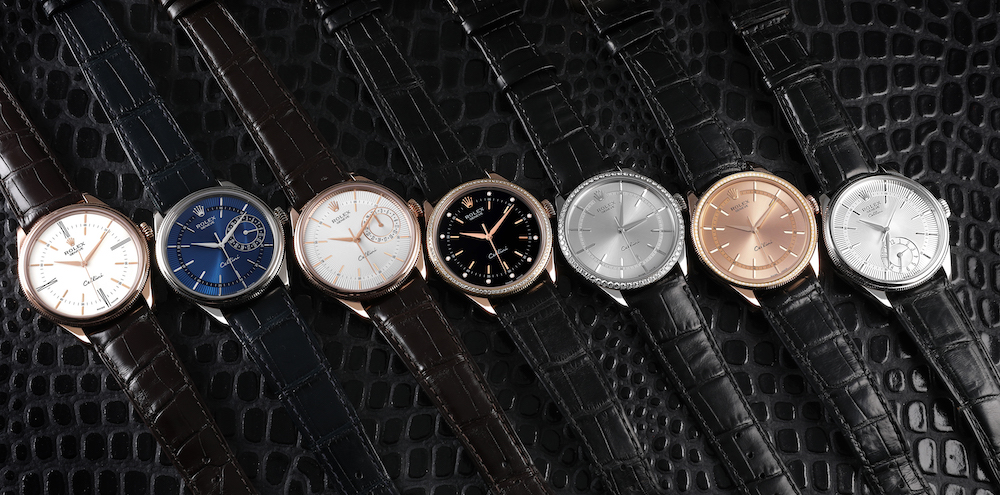 The modern Rolex Cellini collection
All in all, Rolex Cellini models stand out amongst the brand's most popular styles, but they all share the well-thought out and inspired designs, as well as impeccable craftsmanship that Rolex watches are known for.
Here's a summary of important milestones in the history of the Rolex Cellini:
1968 – Rolex introduces the Cellini collection as its new line of non-Oyster case dress watches.
1970s – The Rolex Cellini Midas becomes a staple model in the collection. This watch is based on a limited edition model designed by Gerald Genta in 1962.
1980s – The Rolex Cellini Octagon is introduced. The eight-sided case and integrated bracelet continues the theme that Genta set with the King Midas.
Late 1990s – Rolex shifts to more subdued designs reminiscent of "Bubbleback" watches from the 1940s, yet in more contemporary sizes and finishes. Among their designs released in this decade are the Cellini Danaos and Cestello. It was also during this decade that they created the Cellini Cellissima, a timepiece exclusively designed for women.
2001 – The Rolex Cellini Cellinium is introduced. For the first time, a watch from the collection is housed in a 38mm case, and made exclusively in platinum.
2005 – The Rolex Cellini Prince is unveiled. This rectangular timepiece is a revival of 'doctor's watches' designed by the brand in the 1920s.
2014 – After decades of housing different watch shapes and sizes, Rolex revamps the Cellini line with a more cohesive look. The new range features 39mm round watches with polished finishes, double-stepped bezels, and leather straps.
2017 – The Rolex Cellini Moonphase is introduced. Its aesthetics are in line with the contemporary Cellini range, yet this model revives the moonphase complication, last seen on a Rolex watch in the 1950s.
2022 – Rolex discontinues the entire modern Cellini line-up, with the exception of the Cellini Moonphase ref 50535 model.
---

Models from the Rolex Cellini Collection
The Rolex Cellini collection has a very colorful history. Launched in the mid-1960s as Rolex's dress watch collection, it became a venue for experimentation which resulted in a wide range of models – from avant-garde designs to more subdued vintage-inspired formal watches. In 2014, Rolex created a more cohesive design for the collection, which are the models we enjoy today.
As such, the Cellini collection can be divided into two groups: Vintage Rolex Cellini Watches and Modern Rolex Cellini Watches.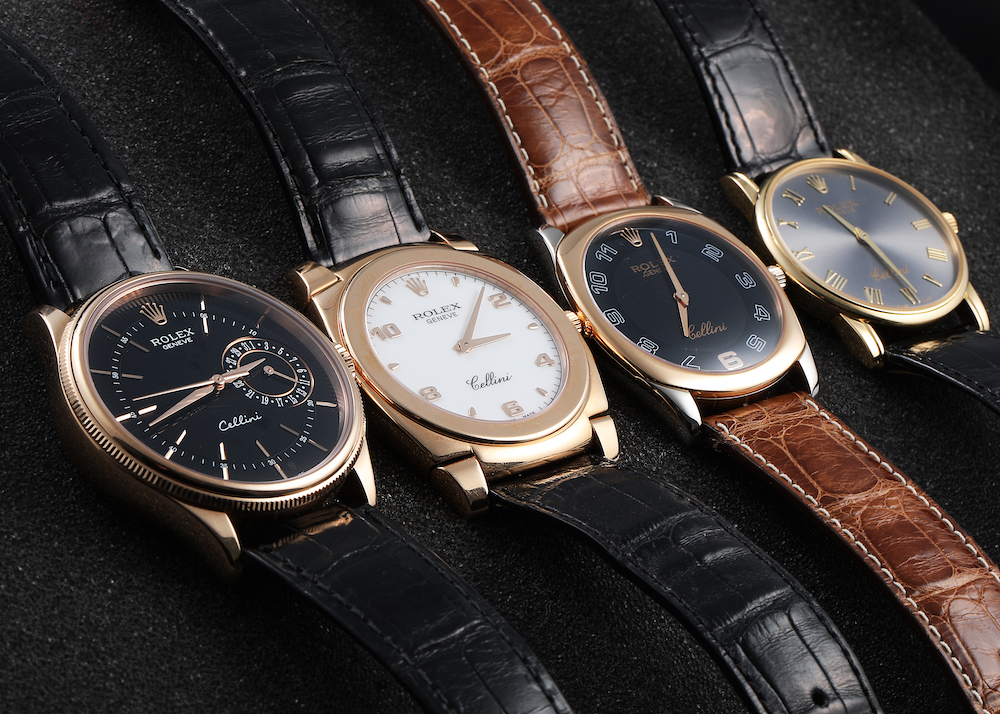 Generations of the Rolex Cellini – Cellini Date, Cellini Cestello, Danaos, and Classic
Vintage Rolex Cellini Watches
(1960s – 2005)
Before becoming a line of classically elegant watches, the Cellini collection briefly became Rolex's experimentation venue for ground-breaking angular designs. Over the decades, it transitioned into creating more subdued formal timepieces inspired by their work from the early 21st Century. Below were the models produced during this period:

Rolex Cellini King Midas and Cellini Octagon
Cellini King Midas (1970s) – an asymmetrical watch with a pentagonal case shape and integrated bracelet links, made from a single block of 18k yellow or white gold. This timepiece actually began as a limited edition piece designed by renowned watch designer Gerald Genta. It is inspired by the Greek Parthenon, turned sideways. The Greek Mythology theme continues with its name, after the legend King Midas who was said to turn everything he touches into gold. It was the heaviest gold timepiece at the time, and one of the most expensive as well. King of Rock & Roll, Elvis Presley, and silver screen actor John Wayne wore this timepiece.
Cellini Octagon (1980s) – a slim, eight-sided timepiece with an integrated three-link bracelet. Like the King Midas, the focus is on its angularity, so the dial is minimalist, with only four hour markers, slim hands, and a simple applied Rolex logo.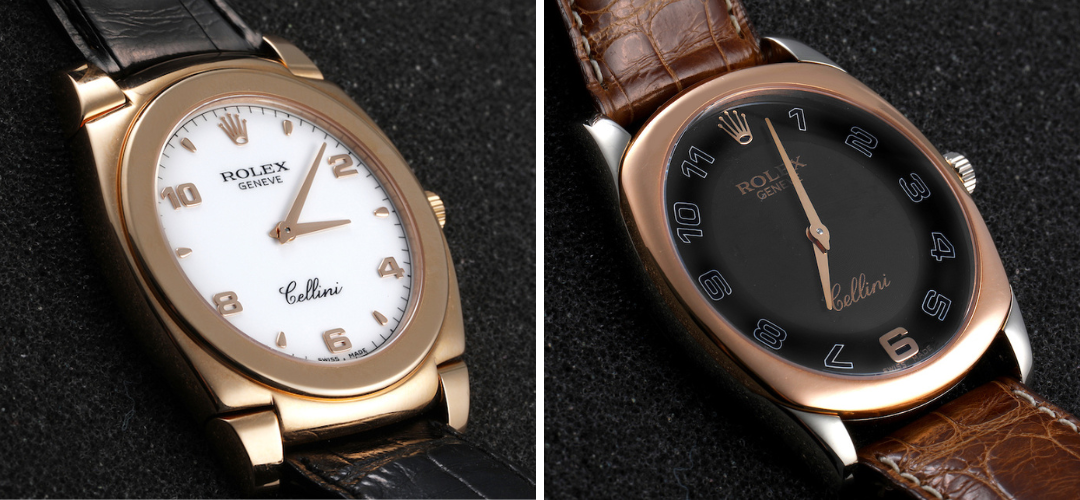 Rolex Cellini Danaos and Cellini Cestello
Cellini Danaos (1990s) – from angular designs, Rolex shifted to rounded cases with polished finishes, the first of which was the Cellini Danaos. The Cellini Danaos features a cushion-shaped case, with vibrant dials that feature large Arabic numerals and concentric designs.
Cellini Cestello (1990s) – cushion-shaped watches with polished finishes and hinged-lugs. They either featured Roman numerals or a combination of dauphine and Arabic numerals as hour markers.

Rolex Cellini Cellissima and Cellini Cellinium
Cellini Cellissima (1990s) – an exclusive collection of watches for ladies. These can either be round or oblong, with diamonds on the bezel. They come with daintier 26mm case sizes and run on quartz movements.
Cellini Cellinium (2000s) – a line of round watches crafted exclusively in platinum, introduced in time for the new millennium. They come with stark black dials or beautifully decorated mother of pearl dials.
Rolex Cellini watches from the 1990s to the 2000s, from the Danaos to the Cellinium, were particularly remarkable because of their 100m water resistance, which was previously found only on Oyster-cased watches. Rolex Cellini watches, given their dress watch nature, offered 50m water resistance prior to this range.
Cellini Prince (2005) – a range of rectangular Art Deco design watches inspired by a Rolex watch first introduced in 1928. While Rolex is best known for their Oyster case waterproof watches, it was the rectangular Prince that put Rolex on the map, particularly for its precision timekeeping.
The first two watches from this range – the ref 971 and ref 1343 – both used rectangular movements made by Aegler, which produced movements for Rolex and Gruen at the time. Its shape allowed for what was then a long power reserve of more than two days, and a relatively large balance. These watches also featured large seconds sub-dials (as central seconds have not yet been designed), making them suitable for timing respiration and pulse beats. They became especially popular among doctors for this reason.
Rolex discontinued the original Prince models in the 1940s, and revived them in 2005 as part of the Cellini line. The 2000s editions were offered in four different designs – two in 18k white gold, and one each in 18k yellow and 18k Everose gold.
They were powered by the Rolex Caliber 7040, which offered a 70-hour power reserve and came with a COSC chronometric certification. The re-edition of the Cellini Prince was discontinued once more in 2015.

Modern Rolex Cellini Models (2014 -)
While the Rolex Cellini collection served as a catch-all dress watch collection from the 1960s to the 2010s, Rolex decided that it was time to make it more cohesive, just like their Classic and Professional range of watches.

Rolex Cellini Modern Editions: Cellini Date, Cellini Moonphase, and Cellini Dual Time
The Rolex Cellini collection was updated in 2014 and given a modern dress watch design. All current-production Cellini watches come in 39mm cases, made of either 18k white gold or Everose gold, Rolex's patented rose gold alloy. Their sophisticated design is enhanced with a double bezel – half-fluted and half-domed – and accompanied by a leather strap. The dial design was offered in either smooth opaline dials or sunburst guilloche dials in silvered, black, blue, salmon, and chocolate brown shades.
These come with a range of different functions, from time only to complicated styles:
Cellini Time – time-only watch that indicates the hour, minute, and seconds. On the dial are long, thin baton hour markers or oversized thin Roman numerals at 3, 6, 9 and 12 o'clock. This model is powered by the Caliber 3132 movement.
Cellini Date – date model that shows the calendar numbers through a sub-dial at 3 o'clock. It comes with a Rayon flammé de la gloire guilloche dial with thin, baton hour markers and a date indicator at 3 o'clock. This watch is powered by the Caliber 3165 movement.

Rolex Cellini Modern Editions: Cellini Time, Cellini Date,
Cellini Dual Time, and Cellini Moonphase
Cellini Dual Time – similar to the Cellini date, but instead of the date aperture, it features a round register at 6 o'clock to display a second time zone. On the subdial is a day-night indicator with an image of the sun and the moon. This watch is powered by the Caliber 3180 movement.
Cellini Moonphase – the latest version of the modern Cellini, the Moonphase only comes in Everose gold. It features a blue enameled disc at 6 o'clock showing the moon phases. It is the first Rolex watch to include the moonphase complication since the 1950s.
In 2022, Rolex discontinued the rest of the modern Cellini series, leaving only the Cellini Moonphase ref 50535 on their current catalog.
---

Popular Rolex Cellini Models
With its long and colorful history, the Rolex Cellini collection offers a vast range of models. Here are the most popular of them all.

Rolex Cellini Prince Yellow Gold 5400 and Rose Gold 5442
The Modern Rolex Cellini Prince ref 5440, 5441, 5442 and 5443
The re-edition of the Rolex Cellini Prince is an almost identical version of its 1920s kin, only with larger cases to suit modern tastes. With all of Rolex's watches coming in Oyster cases, this rectangular Art Deco timepiece became the unorthodox and rare beauty of the Rolex catalog.
Available in four configurations, it presented different interpretations of Art Deco style. There's the yellow gold edition with a sunrise pattern on the arching case, printed hour markers, raised hands, and a Clous de Paris hobnail design. Meanwhile, one of the white gold examples comes with either parallel grooves on the case contrasting with concentric Godron Circulaire patterns on the dial; or pave diamonds outside the figure-eight dial.

Rolex Cellini Prince White Gold 5441 and 5443
The other two models in Everose and white gold boast a radiating sunlight motif widely known as Rayon Flammé de la Gloire – a type of guilloche pattern often used in the Cellini series. The former offers a high-contrast look while the latter sports red and white accents that add character to the otherwise monochromatic offering.
Further enhancing these elegant touches is the visible case back showing the manual-wind Caliber 7040 – the only Rolex movement that is visible to wearers. Pioneering innovations like the Paraflex shock absorber, Breguet overcoil, and Microstella nuts in gold all contribute to its anti-magnetism and shock resistance. It also comes with a COSC certification and a 70-hour power reserve.

Rolex Cellini Time White Gold ref 50509 and Everose Gold ref 50505
The Rolex Cellini Time ref 50505 and 50509
The entry-level watch of the modern Cellini collection, the Cellini Time, is an elegant expression of the simple three-hand watch. Like the rest of the modern Cellini range, it is offered in 18k white gold or Everose gold, and with either black or brown leather straps, whose deployant buckle matches the gold material used for the watch case.
The design is elegantly modern with their choice of white or black lacquered dials (with sunburst silver and salmon later added as options). The hour markers either come in applique "double-edged" style batons in matching white or Everose gold, or elongated and ultra-thin Roman numerals.

Rolex Cellini Time White Gold ref 50709 and Everose Gold ref 50705
Instead of being placed on the edge of the dial, the minute track bisects the hour markers, and lends interest by appearing closer to the dial's center. The time-only design was also made more striking with options of a diamond-set bezel (for the Everose gold edition) and diamond indices (for the white gold edition).

Rolex Cellini Date Everose Gold ref 50515 and White Gold ref 50519
The Rolex Cellini Date ref 50515 and 50519
Whereas Rolex is famous for its Cyclops lens and automatically changing date window, the Cellini indicates the date through a circular sub-dial at 3 o'clock.
As with the rest of the collection, this model is offered in 18k white gold and Everose gold, with silvered, black, and blue dials. What makes the Cellini Date extra special is the "Rayon flammé de la gloire" guilloché dial, whose striations glow from the center towards the edges of the dial. The same "double-edged" style batons in matching white or Everose gold are used as hour markers, while an elegant Serif style font is used for the date indicator. Black leather is used for the 18k white gold models, while brown leather straps complement the Everose gold editions beautifully.

Rolex Cellini Moonphase Everose Gold ref 50535
The Rolex Cellini Moonphase ref 50535
The Cellini Moonphase is the only remaining Cellini model in the Rolex catalog as of 2022. This model was introduced in 2017, and it brought back the moonphase complication to the Rolex catalog, which was last seen in the 1950s. It calls to mind vintage models such as the Rolex Reference 8171 Triple Date Moonphase also known as the Padellone and the Rolex Reference 6062 or the Stelline, both of which are highly sought after at auctions.
It's base design is very similar to the Cellini Time, whose simplicity really makes the moonphase shine through. On the outer edges are the date indicators, which is read using an extra date hand colored in blue, and with a crescent moon-shaped end.
At 6 o'clock, a blue enamel disc shows the lunar cycle with a full moon and a new moon – the former with a meteorite disc, the latter with a silvered ring.
---

Rolex Cellini Reference Numbers
The table below shows the list of Rolex Cellini references through the years, from older 4-digit references to the modern 5-digit models.
| | |
| --- | --- |
| REFERENCE NUMBER | MODEL |
| 9630 | King Midas |
| 3580 | King Midas |
| 4315 | King Midas |
| 3581 | Cellini Queen Midas |
| 3584 | Cellini King Midas |
| 3585 | Cellini Queen Midas |
| 4012 | Cellini King Midas |
| 4014 | Cellini King Midas |
| 4015 | Cellini King Midas |
| 4016 | Cellini King Midas |
| 4017 | Cellini King Midas |
| 4031 | Cellini King Midas |
| 4126 | Cellini King Midas |
| 4127 | Cellini King Midas |
| 4151 | Cellini King Midas |
| 4153 | Cellini King Midas |
| 4312 | Cellini King Midas |
| 4313 | Cellini Queen Midas |
| 4316 | Cellini King Midas |
| 4342 | Cellini King Midas |
| 4344 | Cellini King Midas |
| 4609 | Cellini King Midas |
| 4611 | Cellini King Midas |
| 4620 | Cellini King Midas |
| 4912 | Cellini King Midas |
| 5038 | Cellini King Midas |
| 5072 | Cellini King Midas |
| 9903 | Cellini Queen Midas |
| 4360 | Cellini Octagon |
| 4243 | Cellini Danaos |
| 4233 | Cellini Danaos |
| 6229 | Cellini Danaos |
| 5330 | Cellini Cestello |
| 5310 | Cellini Cestello |
| 6311 | Cellini Cestello |
| 6321 | Cellini Cestello |
| 6671 – 6671/9 | Cellini Cellissima |
| 6672 | Cellini Cellissima |
| 6673 | Cellini Cellissima |
| 6683 | Cellini Cellissima |
| 6691 | Cellini Cellissima |
| 6692 | Cellini Cellissima |
| 6693 | Cellini Cellissima |
| 5240 | Cellini Cellinium |
| 5241 | Cellini Cellinium |
| 5440 | Cellini Prince Yellow Gold |
| 5441 | Cellini Prince White Gold |
| 5442 | Cellini Prince Rose Gold |
| 50515 | Cellini Date Rose Gold |
| 50519 | Cellini Date White Gold |
| 50705 | Cellini Time Rose Gold |
| 50505 | Cellini Time Rose Gold |
| 50509 | Cellini Time White Gold |
| 50525 | Cellini Dual Time Rose Gold |
| 50535 | Cellini Moonphase |
---

Most Frequently Asked Questions About the Rolex Cellini Collection
The Rolex Cellini holds a special place in the brand's history as its dedicated line of traditional dress watches. Here are some of the most frequently asked questions about the Rolex Cellini collection.
What is a Rolex Cellini?
The Rolex Cellini is an entire collection of watches with classical designs and sophisticated aesthetics. Formed in the 1960s, Rolex created the collection to stand alongside its well-known roster of functional tool watches. Cellini watches do not come with Oyster cases; instead, they have refined designs with a special focus on luxurious finishing. They were designed with special occasions and formal affairs in mind.
Are Rolex Cellini watches worth collecting?
Rolex Cellini watches are worth collecting for many reasons. First is its storied history as a collection – it is the only range within Rolex that placed emphasis on traditional dress watch design over water resistance and niche functionality.

Vintage Rolex Cellini Vignette Dial ref 4083
As such, Cellini watches are only crafted in precious metals – 18k yellow, white, or Everose gold and platinum – and often paired with leather straps. Modern Rolex Cellini models, particularly those produced from 2000s onward, are also powered by Rolex in-house movements. Together with the wide range of designs and shapes available within the range, all these make Cellini watches particularly collectible.
How will I know if my Rolex Cellini watch is authentic?
Rolex watches are made to the highest standards of performance, durability, and aesthetics. If you inspect your watch and observe poor quality on the construction, finishing, details, and timekeeping – those are signs that your watch is a counterfeit.
Due to its colorful history, there are many different types Rolex Cellini models, so what you need to look for will vary between vintage, discontinued, and modern models. We advise doing research on your chosen model beforehand, so you can check if the design details of the watch you intend to buy match the correct details of your chosen model.
The best way to warrant the authenticity of your Rolex – or any timepiece – is to "buy the seller". Only purchase your watch from a reputable and trusted retailer, like SwissWatchExpo, who has significant presence and reviews online, a showroom where you can view the watches, and one who provide a guarantee of authenticity on the watches they sell.
Rolex Cellini Prince White Gold ref 5441
Is the Rolex Cellini discontinued?
As of 2022, only the Rolex Cellini Moonphase ref 50535 remains in the Rolex catalog. In the same year, Rolex phased out the modern Cellini Time, Date, and Dual Time. Since Rolex no longer produces the Datejust and Day-Date with leather straps, this leaves the Cellini Moonphase as the only option for a traditional dress watch in the current Rolex lineup.
While Rolex has ceased production for older Cellini models, they are still available in the pre-owned market. SwissWatchExpo has a wide range of Rolex Cellini models to choose from.
—
While the rules for formal attire has changed in the recent decades, and one might no longer find it taboo to wear a "sports watch" with a tuxedo, the traditional dress watch still has a level of refinement and finesse that is hard to match – such is the role of the Cellini in Rolex's history and catalog.
The Rolex Cellini collection is a showcase of Rolex's versatility and ability to adapt with the times. From bold, angular models, to decidedly elegant yet contemporary styles, their storied designs and intuitive features showcase the best of what Rolex has to offer. Explore our selection of Rolex Cellini watches at SwissWatchExpo.com.