When you buy a Rolex watch, you're also getting a warranty that protects you from defects and errors in the manufacturing process. The warranty only covers manufacturer defects, not accidental damage or the typical dings and scratches from wearing it.
It's important to understand how a Rolex warranty works to ensure your watch lasts for years without any issues. In this article, we'll break down everything you need to know about warranties: what they cover, what they don't cover, how long they last, and more.
Why is a watch warranty important?
Rolex President Day-Date 40 228236
When you're investing a large sum of money in a luxury watch, you want peace of mind with that purchase. All Rolex watches come with a guarantee that any timepiece sold by them will carry proper precision and reliability.
Believe it or not, the warranty for watches has become the prime place for brand competition. As luxury watches become more durable and high functioning across the board, they compete with each other with the warranty they offer.
To make that guarantee, Rolex submits every single watch through some impressive testing. Quality assurance is important to them. That's probably one of the reasons they have thrived as a company for so long and are the leading name in luxury wristwatches.
To prove that a company stands by what they've made, they need to offer a warranty. A warranty shows you the confidence that the manufacturer has in their product. A warranty is what offers you a reason to trust the company with your money.
---
<>
What does a Rolex warranty look like?
The warranty ensures the precision, reliability, and authenticity of Rolex watches
(photo: Rolex)
The original warranty and guarantee came in paper form, but now comes as a small green card, much like a credit card. The warranty card serves three purposes: verifies your warranty, authenticates your watch, and adds to its resale value.
The guarantee on your Rolex watch is only valid if three criteria are followed:
✓ You have to have purchased your watch from an Official Rolex Retailer.
✓ The guarantee cards has to have been filled in completely by the Official Retailer. This must be done at the time of purchase.
✓ The guarantee card must be present for claims, and claims must be made at an Official Rolex Retailer or Official Rolex Service Center.
The warranty card contains pertinent details of the watch
This also means that your watch cannot be serviced by anyone not certified by Rolex or the warranty is null and void.
Your warranty card on a watch bought in the US (and therefore in English) will list the watch's serial number, model number, bracelet reference number, and dial design. The warranty cards for sales made outside of the US are in French. These cards will have all of the above, with the addition of 'N client' which is a code to designate what country the watch was purchased in, and a 'modele' category.
The back of your warranty card may also list the authorized dealer's name and have a space for owner information like name, address, and date of purchase.
Warranty Packaging
Warranty cards are packaged in either a paper folder or faux leather cardholder
Warranty cards that come with US purchases are usually located in a paper folder. This little folder will have cut-outs to display the initially relevant information.
Those purchased outside of the US are kept in a faux leather card holder with cut-outs displaying the model number and serial number. It's an interesting way to immediately know if the watch was sold in the US or another country.
Here's a fun fact: the N client code 061 designates Rolex Headquarters. That's an extremely rare sales location. Rolex doesn't often sell direct from their headquarters.
The New Warranty Card
The new Rolex Warranty card excludes the land code and the purchaser's name
Starting in 2020, Rolex began phasing out the old green cards for something new for the future. The new cards will still have the model or reference number, the serial number, and the date of purchase printed on the card. However, they're removing the land code and the purchaser's name.
The new cards have chips in them much like a credit card. Rolex retailers and service centers will be able to verify the card and look up any of the other needed information in a computer system instead of needing it printed on the card.
---
<>
What does the Rolex warranty cover and not cover?
Rolex Submariner Kermit 126610LV
As with most warranties, the Rolex guarantee does not cover what happens to your watch from the act of wearing it. That includes especially the normal breaking down of non-metal bracelets and straps. They also will not cover loss, theft, or damage caused by misuse of the watch. Rolex's warranty covers what falls under the manufacturer's defects. Basically, they cover what's wrong with the watch, not what happens to the watch.
So, if you notice scratches on the crystal, case, bracelet, or bezel, don't expect Rolex to care for that for free. While you can get those flaws fixed during servicing, you will have to pay for it as this falls under normal wear and tear.
Rolex will also not fix any damage caused by you altering the watch in any way with non-Rolex components.
The Rolex warranty covers manufacturing defects, which when they do occur it's something on the inside with the mechanics of the watch. On average, people utilizing the Rolex guarantee have one of three complaints: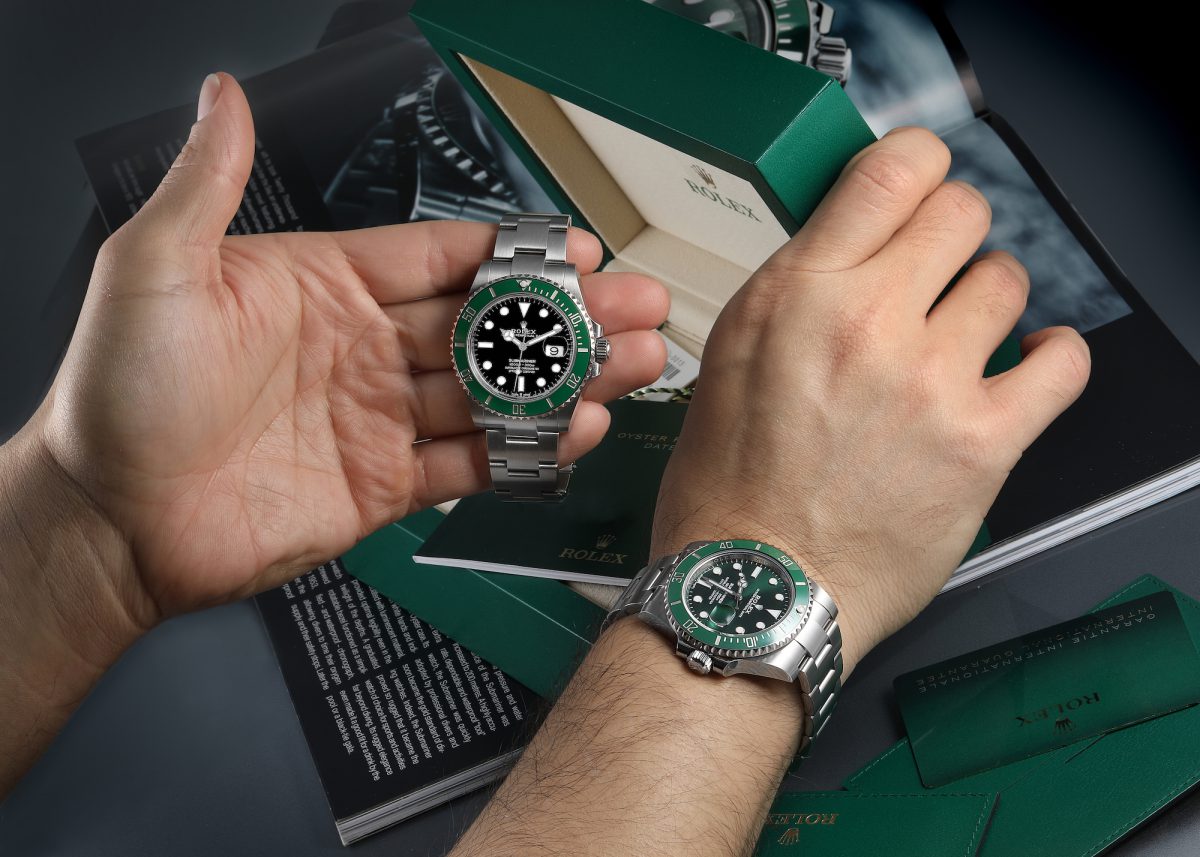 Rolex Submariner Kermit and Hulk
1. Lack of precision and reliability. The feeling that your Rolex is running slow, losing time, or speeding up would be cause for concern. Especially with their Superlative Chronometer Certification. Their watches are supposed to maintain precision within 2 seconds either way (plus 4, minus 6 seconds per day for older watches). Rolex will gladly check and fix accuracy problems.
2. There's a factory flaw. In the excitement of buying one of these pieces of art, it's easy to miss a flaw. If you notice later there's some dust inside the case or something looks off, they will fix it for you if they determine it's a manufacturing flaw. For instance, if you notice moisture in the case and take it in to be serviced, if Rolex finds the source of the leak to be the crystal to case seal and that there's a small chip at the seal, then they will determine that you accidentally smacked the watch, causing the leak and they won't cover the repair.
3. Something in the operation of the watch doesn't work. The crown doesn't properly change the date and/or time. The date wheel doesn't shift as it's supposed to. The crown turns strangely or feels weird. Any of these concerns can be brought to Rolex's attention and they will check them and fix any problems.
Your Rolex warranty does not cover your servicing costs. Many owners think they need to rush and get their watch serviced before the warranty runs out, but that isn't the case. Servicing is a completely different department, and the warranty doesn't pay for servicing. In fact, Rolex recently changed their recommendation for when you should service your watch outside of the 5-year warranty window.
---
<>
How long does the Rolex warranty last?
It is not a lifetime guarantee. Originally, each Rolex came with a 2-year international guarantee and that more than doubled in July of 2015 to 5 years. Considering what they cover, any of those issues should be discovered within the first five years of ownership.
Keep in mind that if you purchased a watch before the new 5-year policy started (and the watch is still under guarantee) Rolex gave an extra year of service to those cardholders.
Your Rolex is guaranteed to function perfectly for five years. That doesn't mean much though when you think about it. Rolex watches are to be serviced regularly to maintain proper performance. Even Rolex advised getting your watch serviced every 10 years. The implication being they expect your watch to function well on its own for at least 10 years.
Most Rolex watches will last a lifetime. That's why there's such an incredible market for used watches. Rolex makes highly reliable and precise movements to the point where some owners have worn their watches for 20+ years without any servicing.
Servicing Extended Warranty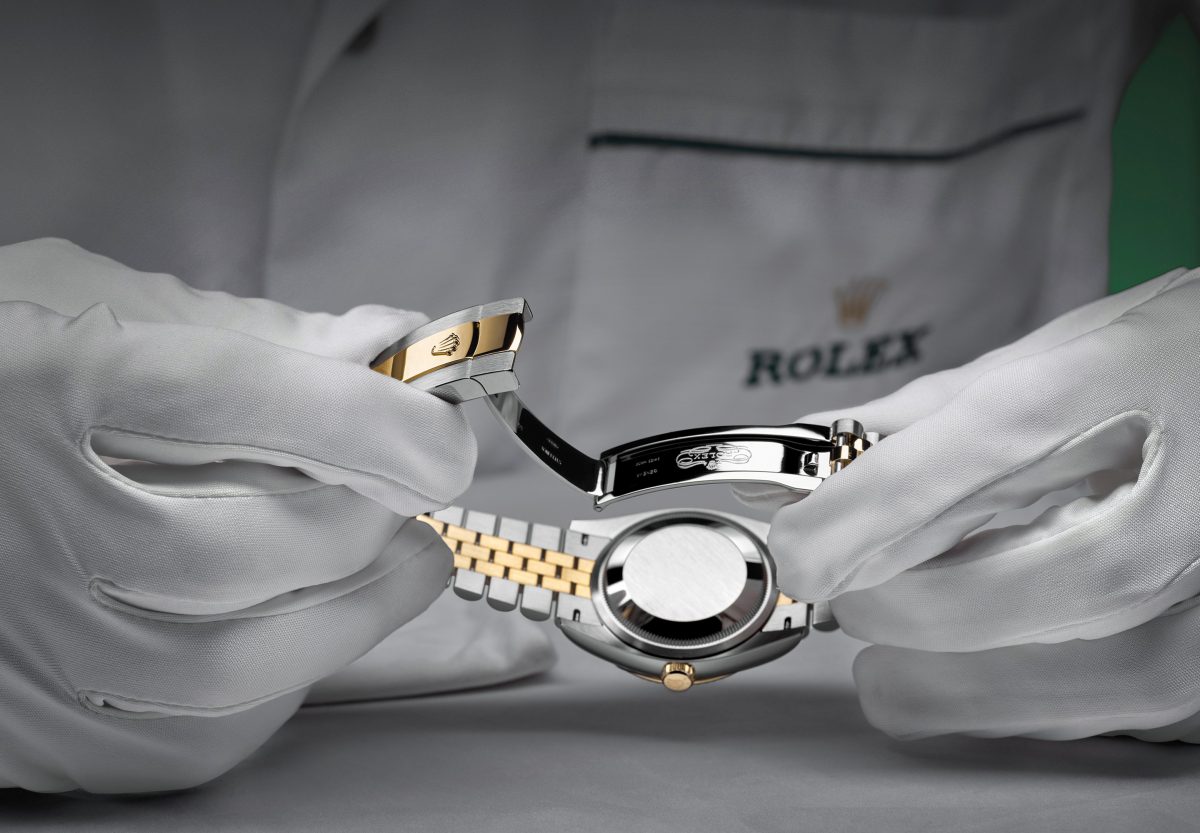 Watches that are serviced by Rolex are given an extended guarantee (photo: Rolex)
Rolex guarantees its service on all watches as well. If your 5-year warranty is up and you like the peace of mind a warranty gives you, consider taking your watch in for servicing to an Official Rolex Service Center.
When Rolex completes a watch service and maintenance, that watch is given an extended 2-year guarantee. Much like the original warranty, no servicing can be completed by a non-Rolex authorized party.
---
<>
Is the Rolex warranty transferrable?
Rolex President Day-Date 40 228236
As with many other luxury brands, the Rolex warranty is transferrable if your timepiece is sold. If you sell a watch and someone else buys it from you, then that person will be able to use their warranty for repairs or service work. However, there are some exceptions:
– You must possess the original green guarantee card that meets the three original criteria listed above.
– Proof of sale isn't a bad idea either. Rolex keeps good records as to who buys one of their watches. They also monitor databases that report lost or stolen watches. If your name doesn't match the original purchaser on the guarantee card, then having proof of sale changing ownership makes the process easier.
---
<>
Can you replace a lost Rolex warranty card?
No. Rolex issues one card per watch and one card only.
It doesn't matter if you have the serial number and all the other information associated with the purchase of the watch; they do not reissue guarantee cards.
In the case of the sale of pre-owned watches, like those at SwissWatchExpo.com, Rolex is currently rolling out a new program.
---
<>
Rolex Certified Pre-Owned Program
Rolex now issues a guarantee card for certified pre-owned Rolex watches (photo: Rolex)
Understanding the depth of the pre-owned market and how easily the original papers are lost, Rolex has started a program in Europe currently that will expand to other locations later this year.
They also understand that Rolex watches are now passing through multiple lives as they go on new adventures with new owners. They want their brand to ring true no matter if they're brand new or have seen a few homes.
They wish to guarantee the authenticity of pre-owned watches and with the certification comes a new pre-owned warranty card for 2 years. The ability to authenticate watches for this program will be restricted to Official Rolex Distributors and select watchmakers that have passed their tests to be certified. These watchmakers will have a plaque to display in their stores.
---
<>
Rolex Warranties: Final Thoughts
If you're looking to purchase a Rolex watch, it's important to understand what kind of warranty you're getting. Rolex sets itself apart from the crowd when it comes to luxury watches with its warranty.
They guarantee their watches will work to perfection for 5 years after the date of purchase — that's how confident they are in their work. In all honestly, considering the rigorous protocols every watch goes through before it's even sent to a retail store, it's a pretty slim chance you're ever going to have to pull on that warranty.