While the automatic date function was once a groundbreaking introduction to watches, it is the most ubiquitous complication today – in fact, watches with date windows are the easiest to come by. You'll find that watches that tell you at least the date – if not also the day and month – are not only popular, but incredibly practical in today's world.
Our need and almost obsession throughout the ages of needing to watch time flows over into the related tracking of dates and years. A lot has been invested into the tracking of dates and times. Horology was birthed from the science of astrology, so it makes sense. Dates and time are so intimately related that adding calendars to watches was inevitable.
Patek Philippe Complications Annual Calendar ref. 5035J
The concept of a calendar changed over time since it was invented by the Romans. The Julian Calendar often fell out of alignment as the actual rotation of the earth accounts for 365 ¼ days per year and the addition of the one-quarter day came at various and often erratic points during the year. In 46 BC, Julius Caesar decided to fix this by introducing the Gregorian Calendar that added an extra day every 4 years. The year 46 BC held 445 days to reset the calendar and then the new Gregorian reform was instituted in the year 45 BC.
Even with the concept seeming so straightforward, calendar watches can vary with their subtle and yet profound differences.
Let's explore the different calendar watches we have today.

Standard Calendar (Date)
Rolex Datejust
The standard calendar watch displays the date in a window on the watch's face. The calendar is programmed by setting it to a particular day, usually by pulling out a crown or pusher on the side of the case and turning it until you reach your desired date. Then, you'll need to reset it for every month with less than 31 days and when February has 28 days. That means 5 times per year, at the end of the months of February, April, June, September, and November
The date can be indicated in two popular ways, via a date window or a date disk with a pointer hand.
Despite its simplicity, adding a calendar like this to a wristwatch requires new mechanisms and parts that integrate perfectly with the watch movement itself. More parts also means more assembly time.
---
<>
Day-Date
Rolex President Day-Date
A Day-Date is a watch that has a date window (usually at the 3 o'clock position) and a day window (usually at the 12 o'clock position). You'll sometimes hear this calendar referred to as a double calendar.
The Day-Date was first introduced by Rolex in the 1950s as their answer to competing models from Patek Philippe and Blancpain. The name comes from its ability to display both day and date information simultaneously; other similar models feature separate subdials for each piece of information, or double apertures right below 12 o'clock instead.
---
<>
Annual Calendar
Patek Philippe Gondolo Annual Calendar ref. 5135G
It's hard to believe that most of the modern movements that we think are revolutionary started in the 19th century. It's hard to fathom that kind of technology and thought came before the automobile, but it did.
The Annual calendar doesn't fit this mold though. The complication and movement weren't introduced until 1996, considerably later than most wristwatch functions. The annual calendar, as its name suggests, only need to be adjusted once per year, in February.
This calendar tracks the months with 30 and 31 days. The mechanism does not track the month of February being shorter or leap years. Every year you'll have to manually move the calendar into March either after the 28th or 29th depending on the year. Only having to manually adjust your watch's calendar once per year is incredibly appealing to those who have had to do it multiple times per year.
Patek Philippe Complications Annual Calendar ref. 5035
Patek Philippe, a name you'll hear often when it comes to the development of watch calendars, came up with the annual calendar. You'll now find them on watches from other large names like A. Lange & Söhne, Zenith, Vacheron Constantin, Cartier, and IWC.
Patek developed the annual calendar in an effort to speed up the manufacture of their watches. With less complicated movements compared to the perpetual calendar, they could be assembled quickly by attaching them to their pre-assembled base calibers.
---
<>
Perpetual Calendar
Patek Philippe Complications Perpetual Calendar ref. 5940G
The perpetual must be the most profound development in modern watch movements. This type of calendar movement is so sophisticated it tracks the length of months, whether 30 days or 31, and leap years.
No manual adjustments are needed until the deletion of a leap year (which only happens every 100 years) since they're based on the Julien calendar. Even then, it won't have to be adjusted until the 1st of March in the year 2100.
The beginnings of this calendar came in the 18th century in full-size clocks. Mr. Thomas Mudge is attributed to the creation of the first portable perpetual calendar in 1762.
It still wasn't until the concept and movement were adopted by Swiss watchmakers in the 19th century that this idea truly started to take shape. By 1930, Piguet and Jaegar-LeCoultre were able to shrink the concept into a wristwatch.
Blancpain Villeret Perpetual Calendar ref. 6659
It wasn't until 1955 that the perpetual calendar was able to track leap years as well as the others.
After the Quartz problems of the 70s and 80s, IWC reinvented the concept of the perpetual calendar with a four-digit year display that covered 500 years of life that could be set through the crown rather than pushers.
You'll often find perpetual calendars in watches that have an automatic winding movement. As these watches wind themselves as you wear them, they're less likely to lose time and therefore also lose their calendar tracking.
There are a great number of ways this type of calendar is displayed from an amphitheater, stacked display on the Cartier Rotonde, to triple dials, or a combination of dials and windows. You'll find they're often stacked with other complications like moon phases and leap year indicators. With all these additional moving parts, these watches take longer to assemble than the standard and annual calendar watches.
---
<>
Complete Calendar
Jaeger LeCoultre Master Calendar Meteorite Dial ref. Q1558421
A complete calendar watch is one that displays all 12 months of the year. The term "complete" is derived from the fact that these watches include both date, day, and month whereas other types of calendars only indicate date or day (and sometimes not even both).
Some people prefer this type of watch because it gives them all the information they need at a glance, instead of having to look up their birthday on their phone or computer every year.
While giving you more information at a glance, this calendar has to be manually adjusted or corrected 5 times per year. Any month that doesn't contain 31 days has to be manually forwarded to the next month after the 30th or 28th of February.
This type of calendar with its added symmetry in new windows, sometimes including the moon phase, has been rather popular since the 1940s.
---
<>
Secular Calendar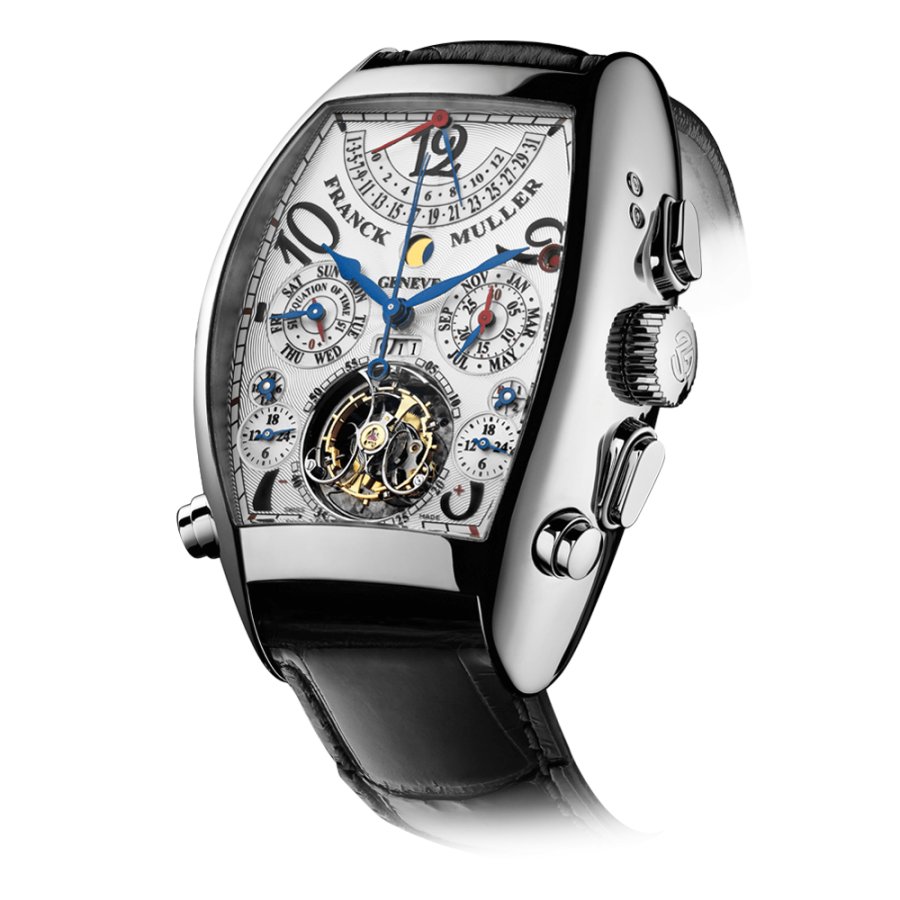 Franck Muller Aeternitas Mega 5 (photo: Franck Muller)
Secular calendar watches are the most complicated of all calendar watches. They are designed to display the date, day, and month, as well as the moon phase and leap year cycle. Secular calendars also have a mechanism for showing the day of the week and day of the year (day count).
Also known as the secular perpetual, this movement negates the need to even worry about setting the watch manually in February of 2100. Unlike the perpetual calendar's movement that is only accurate for 100 years, the secular calendar will not lose track or forget to skip a leap year in 2100.
These are complicated movements created by Patek Philippe, Svend Anderson, and Frank Muller. The Frank Muller Aeternitas, for example, has 36 complications with 1483 moving parts. It's capable of tracking the leap year every 4 years, skipping the leap year at 100 years, and tracking the leap years on 400-year cycles. It even has a 1000-year calendar window set just beneath the center of the dial hands.
---
<>
Calendar Watches: Final Thoughts
Calendar watches are a great way to keep track of time and day, and they can be very stylish as well. Whether you're looking for a gift or want a sophisticated timepiece for yourself, there are many different kinds of calendars available today at SwissWatchExpo.com.