Your initial investment in a luxury watch, while profound, is not the end of your investment, or rather it shouldn't be. That doesn't mean you'll be spending money on it regularly like your luxury car, but it does need servicing eventually.
Not only does servicing help maintain its value, but it also ensures that the watch will be in good working order for years to come. While your complicated mechanical timepiece doesn't need servicing as often as your vehicle, a luxury watch needs the same care as any piece of fine jewelry or other valuable item in your collection: just like diamonds need to be professionally cleaned, so do fine watches, whose very small parts experience wear over time.
Rolex Submariner Black Dial Ceramic Bezel Steel Mens Watch 126610

Why do luxury watches need to be serviced?
– To keep the watch running properly.
– To ensure that the watch is safe to wear.
– To ensure that the watch is accurate, as well as water resistant, and in good working order, which are all important factors when caring for a luxury timepiece.
– To protect your investment from serious wear and tear.
Rolex Submariner Vintage Mark IV Dial Steel Mens Watch 1680

When does my watch need a service?
If you're looking to buy a luxury watch, it's important to know when it should be serviced. You don't want to buy a watch and then find out that it needs servicing after the fact. This can be quite expensive, so you need to know what signs indicate that your timepiece needs service.
Most luxury watchmaking companies advise that you get your timepiece serviced every 3 to 5 years. This is to ensure that it's operating at optimum levels.

Rolex President Day-Date Platinum Ice Blue Dial Diamond Bezel Watch 118366
Some luxury brands, such as Rolex, are now creating timepieces that carry service intervals of up to 10 years as technology improves – but of course that will also depend on the model and usage.
The first sign is when the watch stops working altogether or begins malfunctioning in some way. If this happens, take your watch to a reputable jeweler immediately; do not try fixing it yourself! Make sure to check the warranty instructions for your particular watch. Rolex, for example, will not guarantee a watch that has been serviced by an outside entity.

3 Signs Your Watch Needs to be Serviced
While recommended service intervals are a great starting point, there can be signs that your watch already needs a service, even before that period is up.
1. An obvious sign that it's time to take your watch in for servicing is if you can see condensation or other signs of water or moisture inside the case. With most luxury watches featuring serious water resistance, water in the case is a sign of something wrong. If water can get in, so can dust and grime, and none of these are a good combination with the fine working parts in your luxury watch.
Rolex Submariner Black Dial Ceramic Bezel Steel Mens Watch 116610
2. Another sign you can notice is a loss in accuracy. In order for your watch to pass COSC standards, it has to remain accurate up to 4 seconds slow or 6 seconds fast. Today, many companies set their own standards beyond this (like Rolex's +2/-2). There are many reasons why your watch might be running fast or slow and it's time to have the professionals check it out.
3. The parts just aren't working the same. Sometimes parts loosen or tighten over time and with use. When you think about it, the average luxury automatic watch has a minimum of 100 moving parts, it's bound to happen. This includes strange sounds, like a rattling inside. Any of these can be symptoms of broken parts and the immediate need for a professional repair.

What will the watchmaker do during a service?
Here are the standard procedures when it comes to servicing a timepiece:
1. Disassembly
The first step in servicing a watch is to disassemble it. This means taking apart each individual part of the movement. For example, if there's a water leak from your watch's case back (the rear cover), then this will need to be removed so that you can access the interior of your timepiece and clean up any messes made by water and grime.
This process can be done manually with tools such as screwdrivers or special purpose tools, but many luxury brands prefer using machines that automatically remove parts from movements without damaging them or destroying their delicate internal components. This is why it's so important to take your watch to a professional watchmaker and servicer. All the moving parts need to be handled with the utmost, expert care.
Rolex Cosmograph Pre Daytona Steel Silver Dial Vintage Mens Watch 6240

2. Cleaning of the movement
The movement is the most important part of a watch. It's where energy comes from, and it's what makes your watch tick. While it's not always visible to the wearer, the heart of every luxury timepiece is its movement.
During cleaning, every single part of your movement is cleaned thoroughly, often in an ultrasonic bath. Keeping dirt and debris out of the movement maintains accuracy and the longevity of your timepiece.

3. Cleaning and replacement of components
If you've reported issues to the servicer, they will check those parts and replace any that may need to be replaced. The watchmaker will also inspect every piece and make sure they're running smoothly. While damaged parts are not unusual, leaving them unattended will spread damage to other parts over time. Waiting too long may make the cost of repair much more expensive.
4. Oiling of the movement
Oiling the movement is a critical step in the service of your watch, as it helps keep all of the moving parts lubricated and running smoothly. Oils are used to prevent corrosion, which can occur when metal parts come into contact with each other. The oil also protects against friction and wear caused by repeated use over time.
Our expert watchmaker works on a movement
5. Water resistance renewal
While luxury watches have a wide range of water resistance levels depending on brand and model, it's all measured by how much pressure that particular case can sustain. After servicing the movement, your service center will check the water resistance of your watch. There are levels to maintain.
Part of this process is checking all the gaskets and replacing them when needed to maintain your watch's level of water resistance. This is especially important if you take your watch swimming regularly. You should have the gaskets checked on your watch every 3 to 5 years. Water can cause serious harm inside your case and if water can get in past your gaskets, so can other harmful debris.

6. Reassembly
Reassembly is the obvious reverse of disassembly. It involves putting all of the parts of your watch back together, ensuring that no damage was done during service, and making sure that all parts are in place and functioning properly.

Rolex President Day-Date Platinum Ice Blue Dial Diamond Bezel Watch 118366

7. Quality Control
The servicer will now check the functions and the aesthetics of your watch according to the requirements of your watch's brand.  This includes:
– Checking the movement.
– Checking the case.
– Checking the bracelet.
– Checking the crown, if applicable

Things to Avoid in between service
While servicing your watch is a huge part of maintaining its accuracy and performance, how you use and store your timepiece day-to-day also matters. Here are some things to avoid:
– Don't delay getting service if you notice water or moisture in the case.
– Avoid exposing the watch to extreme temperatures.
– Don't drop it on a hard surface or allow anything heavy to fall on it, such as a bag of coins or keys in your pocket.
– Don't expose the movement (the inner mechanism) of your watch to strong magnetic fields, such as those from MRI machines or large speakers with powerful amplifiers. They can demagnetize parts of your movement and cause permanent damage that will require service at a later date.
– Avoid exposing your luxury timepiece to strong vibrations, which can also cause damage over time.
– Be careful of high-impact activities. There are limits to the amount of 'punishment' even your luxury watch can take.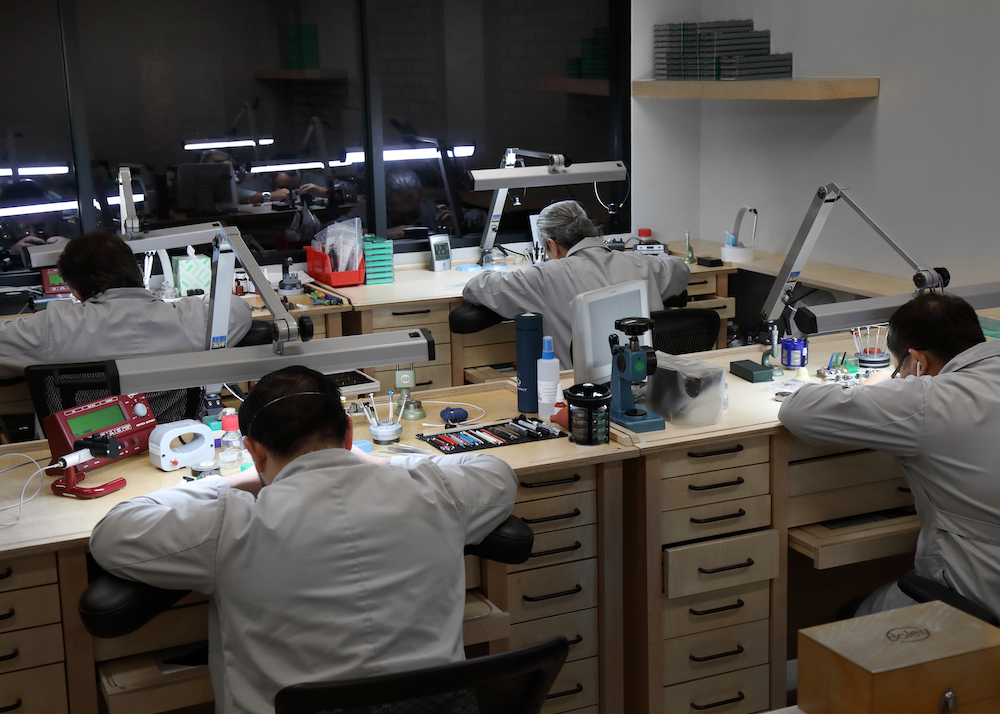 SwissWatchExpo's state-of-the-art service center
<>
Even with timepieces, prevention is better than cure. The best way to avoid a problem – and a potentially costly one – with your watch is to have it serviced regularly. This will ensure that everything is running smoothly and keep your timepiece in good working condition for years to come.
SwissWatchExpo stands ready, as it has for many years, to provide loving care to your treasured timepiece. Our expert watchmakers have over 100 years of combined watch repair experience and all of the procedures are done at our state-of-the-art service. Contact us today to get your watch in top working order.