Since its inception in 1847, Cartier has been synonymous with luxury, elegance, and timeless style. As one of the world's most prestigious jewelry and watchmakers, the brand has consistently pushed the boundaries of craftsmanship, merging artistry with precision to create timepieces that are as beautiful as they are functional. Cartier watches for ladies are prime examples of these.
For women, a Cartier watch is more than just an accessory; it is a statement of sophistication and a testament to their impeccable taste. With such an extensive collection of exquisite designs, narrowing down the top 10 Cartier watches for women is no easy feat.
In this article, we will delve into the world of Cartier, exploring the intricacies of their iconic timepieces, and reveal our carefully curated selection of the ten best Cartier watches for ladies that effortlessly capture the essence of femininity and the brand's unparalleled excellence.
<>
10 Best Cartier Watches for Ladies
Cartier Tank Louis
The Cartier Tank Louis has been an icon of timeless elegance since it launched in 1922. What makes this collection unique is the unmistakable design, which was inspired by the rectangular shape of French tanks in World War I.
The Tank Louis features a clean, simple dial with a square bezel and slim, elongated Roman numerals. It's a watch that easily exudes sophistication and refinement that has made it a favorite for over a century with watch enthusiasts around the world.
The Tank Louis comes in a variety of sizes and metals, ranging from petite in a case size of 22mm x 29.5mm to the larger with a case size of 33.7mm x 25.5mm. The collection includes watches in yellow gold, rose gold and white gold with the option of diamonds on the case brancards.
Many famous women have been seen wearing the Cartier Tank Louis throughout the years, including Jacqueline Kennedy Onassis, Angelina Jolie, and Princess Diana.
---

Cartier Ballon Bleu
The Cartier Ballon Bleu is a collection of watches that was introduced in 2007, and it has quickly become one of Cartier's most popular collections.
The unique quality of this collection lies in its distinctive design. Named after the French word for balloon, it features a round case with a protruding crown guard that encloses a round sapphire cabochon. Set into the side of the case it provides an elegant finishing touch.
When it comes to sizes, it ranges a little larger than the Tank Louis with the smallest diameter case at 28mm and 42mm at its largest. The 36mm model is considered the largest for women, but men's sizes lend a trendy oversized look. The collection features watches in stainless steel, rose gold, yellow gold, white gold, and a two-tone model with steel and yellow or rose gold.
The most common dial design is the silvered guilloche dial, but the Ballon Bleu collection also offers sunburst dials in pink, silver, and blue. Models may come with diamond hour markers or a full diamond bezel.
You'll find the Ballon Bleu gracing the wrists of many popular women of our modern world including Kate Middleton, Sofia Vergara, and Jennifer Love Hewitt.
---



Cartier Tank Francaise
The Cartier Tank Francaise is a watch collection that was introduced in 1996, and it is a modern interpretation of the original Tank watch that was created in 1917. This watch finds its place with the updated, more sporty design with a more angular case and a chain-link bracelet compared to the older, leather strap. The Tank Francaise also has a sapphire cabochon crown, which is set into the side of the case adding that iconic Cartier touch.
This collection features a set of seven references in small, medium, and large sizes. The small and medium (20mm and 25mm) come in gold with different iterations with or without diamonds, or in steel and two-tone finishes. The large (28mm) steel case includes an automatic movement and a date window in the 6 o'clock position. The small and medium case sizes come with a smaller quartz movement.
You'll find Cartier Tank watches on several famous female wrists like Princess Diana, Megan Markle, Dakota Fanning, and Jennifer Garner.
---

Cartier Panthere
First created in 1914, the Cartier Panthere is known for its blend of luxury and sophistication as the design happens to be bold and daring. Thanks to the relationship between Louis Cartier and Jeanne Toussaint (a Parisian style icon) the leopard skin décor in her home inspired an incredibly unique bracelet designed to resemble those unique spots. The Panthere watch was commercially released in the 1980s, as Cartier introduced a line of Panthere quartz watches with a fine link bracelet.
The square case comes in mini, small, medium, and large sizes when it was first produced until the end of production in 2004. As of the re-release in 2017, you can still get it in the mini, small, and medium sizes (21mm x 25mm; 22mm x 30mm; 27mm x 37mm).
The luxurious appearance is maintained with several material options with two tone steel and stainless steel, and all-gold varieties with white gold, yellow gold, and rose gold. Models with diamonds on the bezel and lugs are also available.
The Cartier Panthere was famously the favorite watch of Gwyneth Paltrow and Madonna decades back. These days, you'll find this luxurious watch on the wrist of several celebrities including Rihanna, Jennifer Lopez, Dua Lipa, Siena Miller, as well as director Sofia Coppola.
---



Cartier Pasha
The Cartier Pasha's sporty and rugged look with its round case and locking screw down crown really makes this watch stand out from the other Cartier collections. The original watch is said to have been designed in 1933 and given as a gift to the Pasha of Marrakesh (as legends in watch circles go), but this is only a rumor.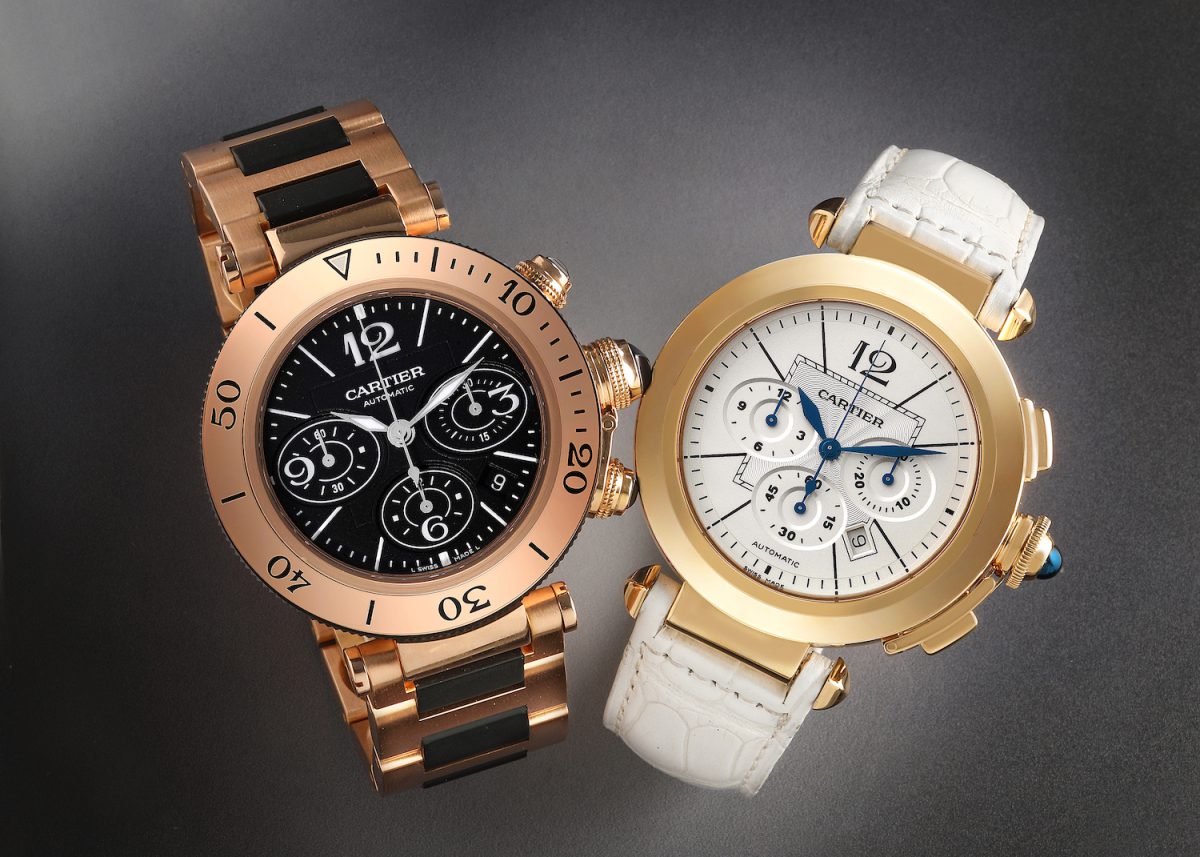 The commercial collection was launched in 1985 in an effort for Cartier watches to break through that sportier barrier that other luxury watch companies had already mastered. The protective crown guard and chain that holds it onto the case allows the Pasha to offer water resistance of up to 100m while keeping its profile relatively slim.
In 2020, Cartier redesigned the Pasha to suit contemporary tastes. The newly released Pasha watches come in two sizes: 41mm and 35mm. The larger version is available in stainless steel or 18K yellow gold while the smaller, mid-size reference comes in stainless steel or 18K pink gold with an option for inset diamonds on the bezel.
Beyond its female ambassadors Maisie Williams and Willow Smith, you'll also find the Pasha on the wrist of Sarah Snook as Shiv Roy on HBO's Succession.
---



Santos de Cartier
The Santos de Cartier is a watch collection that was first introduced in 1904, and it is known for being the first wristwatch designed specifically for men. The unique quality of this collection lies in its square case shape. The Santos also features exposed screws on the bezel, which adds to its industrial and modern aesthetic.
While the current collection no longer makes Santos models exclusively for women, you'll find a variety of Santos ladies' models in the pre-owned market: the Santos Dumont, the Santos Demoiselle, Santos Galbee, and Santos 100. These collections are available in white gold, rose gold, and two-tone options in sizes ranging from 21mm to 33mm.
---



Cartier Tank Americaine
The Tank Americaine is a sub-collection of the Tank series first released in 1989 as a tribute to the New York flagship of Cartier. The elongated rectangular case and slightly curved back that hugs the wrist is reminiscent of the Tank Cintrée released in the 1920s.
As part of Cartier's ongoing redesign of their most iconic pieces, the Tank Americaine was revamped in 2023 with a thinner, curvier, and more refined aesthetic. The new collection features a total of 11 models, with mini, small, and large case sizes. The mini (28 x 15mm) and small (35 x 19mm) sizes cater mainly to ladies. Available in steel and rose gold, they come with options of a diamond-treated case and bracelet.
---



Cartier Baignoire
The Baignoire moniker comes from its distinctive oval shape that was inspired by bathtubs. The feminine and sophisticated aesthetic combined with a minimalist design not only typifies Cartier's dress watches but makes them both timeless and modern at the same time.
This watch was first released to the public in 1957 and was a popular watch found on the wrist of the famous French actress, Catherine Deneuve, Romy Schneider, Sophia Coppola, and Jeanne Moreau. In 2019, Cartier gave the Baignoire new life with two new sizes: 21 x 47 mm for the medium size, and 23 x 52mm for the large size. The bezel was also given an extra luxe touch with a diamond pave bezel and a Clous de Paris bezel.
Available in white and rose gold, these models come with a classic Cartier Roman numeral dial or a full pave diamond dial.
---



Cartier Tortue
This collection is known for its distinctive shape, reminiscent of a tortoise shell, hence the name. Despite the unique case shape, it still follows the classic and sophisticated elegance that has remained a signature of Cartier style for over a century.
The draw of Cartier watches to all collectors is the varying sizes that will appeal to men and women alike. The Cartier Tortue is no different. The lady's edition measures 31mm x 39mm or the smaller 24mm x 30mm. The large Tortue case runs 43mm x 38mm and the extra-large measures at 38.5mm x 48mm. You'll find the cases made from a variety of precious metals including platinum, rose gold, and yellow gold with the added luxury option of a diamond set bezel.
---



Cartier Roadster
The Cartier Roadster was introduced in 2001, but its inspiration comes from vintage automobiles from the 1950s. The sporty and masculine design, inspired by the sleek lines of the 1950s Porsche 356, appeals to all genders.
The unique quality of this collection lies in its blend of classic and modern elements with the case shape like the Tortue and the classic Cartier dial and the sleek curves adding a splash of modernity.
The cases are designed specifically for men (43mm x 38mm) and women (36mm x 30mm) in mind. With several options when it comes to materials and even features you can get the watch of your dreams in stainless steel, yellow gold, white gold, or rose gold.
Several famous women have made a fashion statement with this watch including Jennifer Aniston, Kim Kardashian, and Rachel Zoe.
---
<>
Best Cartier Watches for Ladies – Final Thoughts
Cartier watches for ladies offer a diverse range of styles, sizes, and materials, ensuring that every woman can find the perfect timepiece to suit her taste.
With luminaries and style icons like Jackie Kennedy and Princess Diana as fans, its clear that Cartier ladies watches are not only luxurious but also versatile and iconic.
Find your dream Cartier ladies watch from our vast selection at SwissWatchExpo.com.
<>