When it comes to luxury watches, few brands are as iconic as Cartier. From the elegant Tank to the sleek Santos, Cartier timepieces have been a symbol of style and sophistication for over a century.
Beyond their heritage and aesthetic appeal, many collectors wonder whether Cartier watches are good investments. With the price tag of luxury watches, it's important to consider not only their beauty but also their value over time.
In this article, we'll explore the question of whether Cartier watches are a good investment, examining factors such as brand reputation, historical performance, and market trends to help you make an informed decision.
<>
Where are Cartier watches made?
The company's headquarters are in Paris, France, however, like many luxury watch brands, Cartier's manufacturing operations are primarily based in Switzerland, a country renowned for its long history of watchmaking expertise and precision engineering.
Cartier has over 6 manufacturing facilities in Switzerland, including a production facility in La Chaux-de-Fonds, a city located in the heart of the Swiss watchmaking industry. Here, Cartier's skilled watchmakers and craftsmen work together to create each Cartier watch by hand, ensuring the highest level of quality and attention to detail.
Cartier also partners with a number of Swiss suppliers for the various components that go into its watches, including movements, cases, and dials. These suppliers are carefully selected for their expertise and ability to meet Cartier's rigorous standards of quality and precision.
We tackled this in detail on Where are Cartier Watches Made?
---

What are the most popular Cartier watches?
While Cartier may have begun as a fine jeweler, what is a watch other than a luxurious way to tell time on your wrist? Cartier has developed and released a vast number of watches that have caught collectors' eyes, but these are the most popular models to date:
1. Cartier Tank: The Cartier Tank is one of the most iconic watches of all time, with a rectangular case and clean, classic design. Released in 1917, Louis Cartier was inspired by French tanks after spending three years under the stresses of World War I. The design of the case resembles the top-down view of the Renault Tanks that were used on the Western Front.
2. Cartier Santos: The Cartier Santos is another iconic watch with a square case, inspired by the famous Brazilian aviator Alberto Santos-Dumont. First designed in 1904 for his friend, Cartier released the watch for everyone later. It is widely considered as the first men's wristwatch and first pilot's watch.
3. Cartier Ballon Bleu: The Cartier Ballon Bleu is a relatively newer model, first introduced in 2007, with a distinctive round case and a unique blue sapphire cabochon on the crown. The balloon-shaped case caught the eye of modern watch collectors and can be seen on many a famous wrist.
4. Cartier Pasha: The Cartier Pasha is a classic watch with a round case and unique screw-down crown cover. The design was inspired by the early-20th century Pasha of Marrakesh who supposedly commissioned a watch that could easily be used while swimming. While this may be stuff of legend, the Pasha remains loved for its elegant design that has water resistance in mind.
5. Cartier Panthere: The Cartier Panthere was introduced in 1983 and was the choice watch of many tastemakers at the time. It took the square case of the Santos in a slimmer, more refined form, and was paired with a link bracelet, whose sinuous curves recall the movements of a panther as it walks through the jungle.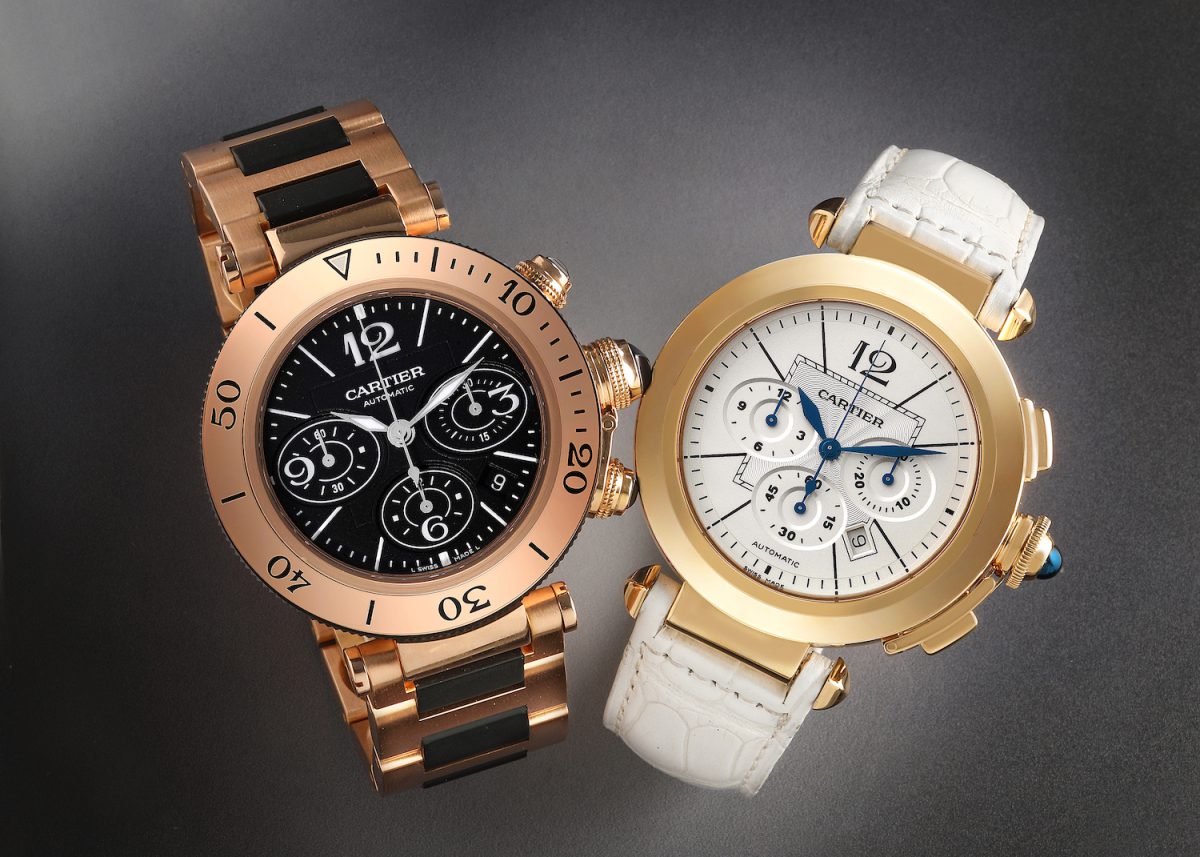 ---

Who wears Cartier?
Cartier is among the most respected luxury watch brands, whose heritage, design, and reputation make it the top choice among celebrities, royalty, and luminaries who often wear Cartier watches. A-listers and red carpet regulars often show up with Cartier watches and jewelry.
Some notable personalities who have been seen wearing Cartier watches include:
Princess Diana, who was often seen wearing her Cartier Tank Louis and Tank Francaise watches
Andy Warhol, who famously wore a Cartier Tank
Pierce Brosnan, who wore a Cartier Panthere as Remington Steele
Angelina Jolie, who has been seen wearing a Cartier Tank Louis
Meghan Markle, who wore a Cartier Tank watch to her wedding reception
Jackie Kennedy, who was known for wearing a Cartier Tank Paris
Muhammad Ali, who was often seen wearing a Cartier Tank
Sofia Coppola, who has been spotted wearing a Cartier Panthere
Kate Middleton, who often wears her Ballon Bleu de Cartier
These are just a few examples of the many famous people who have worn Cartier watches. The brand's timeless and elegant designs have made it a favorite among the rich and famous for generations.
---

Are Cartier watches good investments?
Simply, yes. While this is a complicated question, Cartier is one of the most prestigious and sought after luxury watch brands, which only helps retain value, and also encourage growth.
Whether your Cartier watch is a good investment does depend on a number of factors including the specific model, condition, rarity, and current and future market demand.
In general, Cartier watches tend to hold their value, particularly the vintage or limited-edition models. Some Cartier watches, such as the Tank or Santos, have been in production for many decades and are considered classic timepieces with an enduring appeal.
The high-quality materials used in every Cartier watch gives the brand a reputation that draws collectors. The materials ensure less wear and tear over time, and they simply last longer than more inexpensive watch brands. That said, watches made in solid gold hold their value better than steel or vermeil (gold plated silver).
Like all investments, it's not without risk. Market trends and fluctuations in demand can affect the value of a watch, and factors such as condition, provenance, and rarity can have significant impact on the watch's resale value.
If you're considering investing in a Cartier watch, it's important to do your research, consult with a reputable dealer like SwissWatchExpo, and carefully consider the specific model and condition before making a purchase.
It's also important to remember that a Cartier watch, like any luxury item, should primarily be enjoyed for its beauty and craftsmanship, rather than solely as an investment.
<>