The world of horology has seen a remarkable resurgence of interest in recent years, and at the forefront of this horological renaissance is the trend of green bezel watches. Evoking a sense of timeless sophistication with a contemporary twist, green bezel timepieces have taken the watch industry by storm. They offer a fusion of classic elegance and modern vibrancy, making them an appealing choice for both seasoned collectors and newcomers to the world of fine watches.
This trend has been embraced by numerous renowned watchmakers, each offering their unique take on the green bezel concept. For those who appreciate the allure of a classic black dial watch, with just a hint of green to set it apart, we delve into the fascinating realm of these captivating timepieces.
From Rolex's iconic Submariner Kermit to the collaboration between Tudor and Harrods, and from Breitling's Superocean Heritage to Bell & Ross's unique bronze creation, these watches beckon with their distinct charm. Let's embark on a journey through time and style, unraveling the tales of these mesmerizing green bezel watches.
<>
Rolex Submariner Kermit 16610LV
The Rolex Submariner Kermit 16610LV, affectionately named after the beloved Muppet character, made its grand entrance in 2003. It was created to commemorate the 50th anniversary of the iconic Rolex Submariner collection. What set this timepiece apart was its daring use of a green aluminum bezel, marking a first in Rolex's Submariner lineup.
The Kermit, with its green bezel, was a groundbreaking addition to the Rolex portfolio. It deviated from the traditional black bezels and made a bold statement in the world of dive watches.
The bezel is crafted from aluminum, chosen for its resilience against corrosion and its lightweight properties.
The Kermit boasts a black dial adorned with luminous hour markers and hands, ensuring exceptional readability in various conditions, especially underwater. Its heart beats to the rhythm of the Rolex Caliber 3135, a highly reliable automatic movement celebrated for its precision. The stainless steel bracelet, equipped with the Oysterlock clasp, provides both comfort and security during wear.
The Rolex Submariner Kermit 16610LV stands out primarily due to its unique and vibrant green bezel, a significant departure from the classic black found in most Submariner models. This distinctive touch quickly captured the hearts of collectors and watch enthusiasts, cementing its status as an iconic piece within the Rolex lineup.
---
<>
Tudor Black Bay Harrods Green Special Edition
The Tudor Black Bay Harrods Green Special Edition emerged in 2017, the result of a captivating collaboration between Tudor and the esteemed London department store, Harrods. This limited edition timepiece was conceived to captivate watch enthusiasts with its distinct style.
The collaboration with Harrods brought exclusivity to the Tudor Black Bay lineup, giving collectors a unique opportunity to own a special edition piece. This watch features a deep green aluminum bezel, harmonizing elegantly with its deep black dial and gold accents. The aluminum material is both lightweight and durable, making it an excellent choice for a sports watch.
Powering the Tudor Black Bay Harrods Green Special Edition is the Tudor Caliber MT5602 automatic movement, known for its robust precision and impressive 70-hour power reserve. Its stainless steel case and bracelet exemplify Tudor's commitment to both durability and style.
What distinguishes this Tudor Black Bay model is its unique green bezel and the exclusive collaboration with Harrods. Limited in quantity, this watch is a collector's gem, marrying Tudor's watchmaking craftsmanship with the prestige of a renowned retailer.
---
<>
Rolex Submariner Kermit 126610LV
The Rolex Submariner Kermit 126610LV is a modern reinterpretation of the classic Kermit design. It was unveiled in 2020, ushering in notable updates to the Submariner collection. The most significant innovation in this watch is the use of Rolex's proprietary Cerachrom ceramic for the bezel insert. This material ensures resistance to fading and scratching, a significant advancement in dive watch technology.
The Kermit 126610LV features a green Cerachrom ceramic bezel, elevating its resistance and longevity. The watch's black dial is enhanced with larger luminous hour markers and hands, coated with Chromalight luminescence for superior visibility in low-light conditions. Beneath the surface lies the Rolex Caliber 3235 automatic movement, celebrated for its enhanced accuracy and a power reserve of approximately 70 hours. The bracelet incorporates the Glidelock extension system for easy adjustments.
The Rolex Submariner Kermit 126610LV marries classic design elements with modern materials and technology. The use of a green ceramic bezel and improved luminescence make it a standout choice for those seeking a contemporary take on an iconic timepiece.
---
<>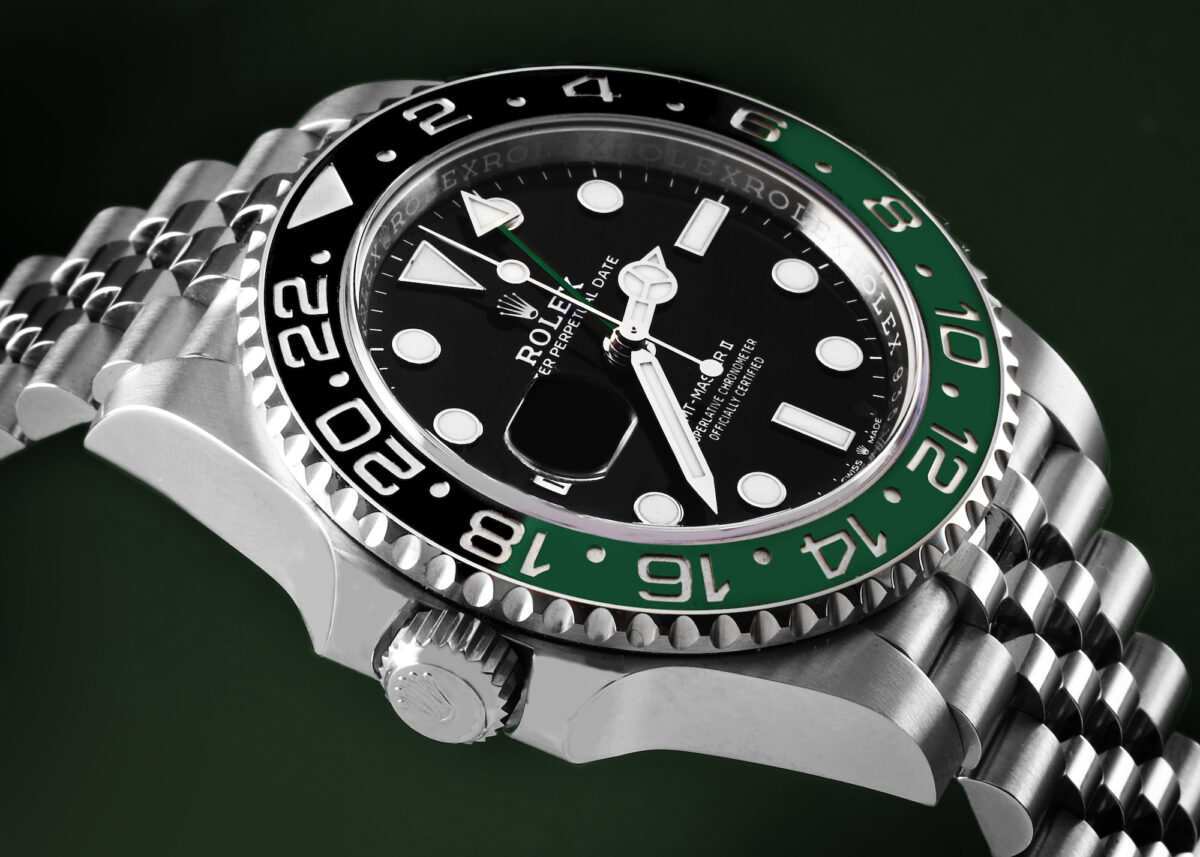 Rolex GMT-Master II Sprite 126720
The Rolex GMT-Master II Sprite 126720 made its debut in 2020, capturing immediate attention for its captivating green and black bezel. Part of Rolex's esteemed GMT-Master II collection, this watch offers dual-time zone functionality. The Sprite introduces a unique green and black color scheme to the GMT-Master II collection, setting it apart from its predecessors.
Rolex uses its signature Cerachrom ceramic for the bezel, ensuring not only its vibrant green color but also durability and resistance to wear and tear. The black dial of the Sprite is adorned with Chromalight-coated hour markers and hands for exceptional legibility. Powering the watch is the Rolex Caliber 3285, renowned for its precision and a power reserve of approximately 70 hours. The Jubilee bracelet adds a touch of elegance to its design.
The Rolex GMT-Master II Sprite 126720 stands out with its distinctive and eye-catching green and black bezel combination. This watch is perfect for travelers and individuals who value Rolex's commitment to innovation and quality.
---
<>

Breitling Superocean Outerknown 44 Green Bezel
The Breitling Superocean Outerknown 44 joined the esteemed Superocean collection in 2020, offering a unique twist on classic dive watch aesthetics. Co-designed with renowned surfer Kelly Slater's surf wear brand, it underscores both brands' dedication to preserving oceans.
The green bezel, which comes with a matching green dial and nylon strap, comes in a refreshing and sporty khaki green shade. Its sloping unidirectional rotation, 60-minute graduations, and large Arabic numerals ensure accurate reading during dive trips. The stainless steel case, water resistance of 1,000 meters (3,300 feet), and recycled nylon bracelet reflect Breitling's dedication to both durability and style.
The Breitling Superocean Outerknown 44 Green Bezel stands out with its fusion of sporty, dive watch aesthetics and a modern, vibrant green bezel. It caters to individuals who appreciate both style and functionality in their timepiece.
---
<>

Bell & Ross Diver Green Dial Limited Edition Bronze BR0392
The Bell & Ross Diver Green Dial Limited Edition Bronze BR0392 is a timepiece that arrived on the horological scene in 2021, offering a fresh and distinctive approach to dive watches. This limited edition creation was designed to stand out and make a statement with its innovative use of materials. What truly sets this watch apart is its pioneering use of bronze for the case. While bronze watches have been gaining popularity in recent years for their unique patina development, Bell & Ross takes this concept to the next level. This watch invites wearers to embark on a journey of personalization as the bronze case ages over time, creating a one-of-a-kind timepiece.
Complementing the bronze case, the watch features a green aluminum bezel. This combination of materials not only adds durability to the watch but also enhances its vintage-inspired aesthetic. Powering the Bell & Ross Diver Green Dial Limited Edition Bronze BR0392 is the automatic BR-CAL.302 movement, known for its reliability and precision. The matte green dial with oversized numerals and indices ensures optimal legibility, even in challenging underwater conditions. The rubber strap provides comfort during water activities and complements the overall design.
What truly distinguishes this watch is its unconventional use of bronze, a material that ages uniquely over time, developing a patina that tells the story of the wearer's adventures. This feature adds character and individuality to each timepiece, making it a remarkable choice for those who appreciate both craftsmanship and personalization in their watches. The Bell & Ross Diver Green Dial Limited Edition Bronze BR0392 is more than just a timekeeping device; it's a wearable work of art that evolves with its owner's experiences and memories.
---
<>
Best Green Bezel Watches – Final Thoughts
Green bezel watches have become a prominent trend in the watch industry, offering a refreshing alternative to traditional black dials. These watches cater to a wide range of preferences, from classic elegance to modern innovation and even vintage-inspired aesthetics. Whether you're a collector, a traveler, or someone who values durability and style, these green bezel watches offer something special.
For a wide selection of authentic, pre-owned luxury watches, including the models mentioned here, SwissWatchExpo is a trusted destination.
<>