There's nothing like wearing a nice watch to make you feel more confident when you walk into a room. Though, when deciding on which watch to wear, aesthetics are not the only consideration to keep in mind. The movement is undoubtedly just as important in deciding which to go with.
Quartz and automatic are two of the primary watch movements available. Read on to understand both and know which one is right for you when choosing your watch.
Brief History of Quartz and Automatic Movements
Automatic wristwatches have been around since the 1920s. John Harwood started producing these watches in Switzerland in 1928, and back then they could already function for twelve hours after being charged to total capacity. Though the 1920s were when the development of automatic caliber in wristwatches began, it's based on the classic mechanical movement from many years prior.
The Quartz movement took the watch world by storm in the 1970s. These movements were quicker to produce, and therefore also cheaper than mechanical movements which were previously the set standard by Swiss-made wristwatches. The Swiss watch industry found it difficult to keep up with mass-produced quartz watches that originated in Tokyo, Japan, causing what is now known as the "Quartz Crisis".
1969 Seiko Astron (photo: Seiko)
The Astron, released in 1969, was the first-ever quartz movement presented to the world by Seiko, although the first quartz clock was developed by Telephone Laboratories in 1927.
Though quartz initially appeared to be taking over the watch industry through the more affordable yet quality development, today quartz and automatic caliber coexist. Both have their unique advantages depending on what you're looking for in a watch.
---
<>
What is a Quartz Movement?
You've likely seen beautiful quartz stones and now wonder if they're actually used in wristwatch quartz caliber. They are! This movement requires a battery that connects to the quartz crystal, and this causes vibrations that power up the motor.
Quartz-powered watches are low maintenance: all that's required is to change the battery every few years. They are also more accurate than other movements.
Notable Quartz Movement Watches
The Beta 21 quartz watch was Swiss watchmakers' development of the quartz movement. As quartz watches caused upheaval in the market, Rolex and several other major Swiss watchmakers banded together in the 1970s to form Centre Electronique Horloger (CEH). CEH's mission was to form a quartz movement that can rival the competition, and the Beta 21 was the result of this partnership. It was used by several brands, most notably for Rolex's prototype Oysterquartz, the reference 5100.
Rolex ref. 5100 "Texan" with the Beta 21 Movement (photo: Sotheby's)
Another notable quartz movement watch is Breitling SuperQuartz, which is known for its movements that are ten times more accurate than standard quartz caliber. Introduced in 2001, it boasts a maximum variation rate of 15 seconds per year, compared to two and a half minutes (150 seconds) for the average quartz watch.
---
<>
What is an Automatic Movement?
Unlike quartz movement which uses battery power, automatic movement converts motion to energy through the natural motion of the wearer's arm. This complex system stores the energy in a coiled spring, which propels movement in the watch.
Automatic watches are usually constructed by hand and are quality-tested multiple times before going on the market.
Notable Automatic Movement Watches
The ETA 2824 is a well-known automatic movement watch. With a power reserve of 38 hours, this watch is available in four grades, and the accuracy increases with each one. This workhorse movement can be found in watches like older models of the Tudor Black Bay.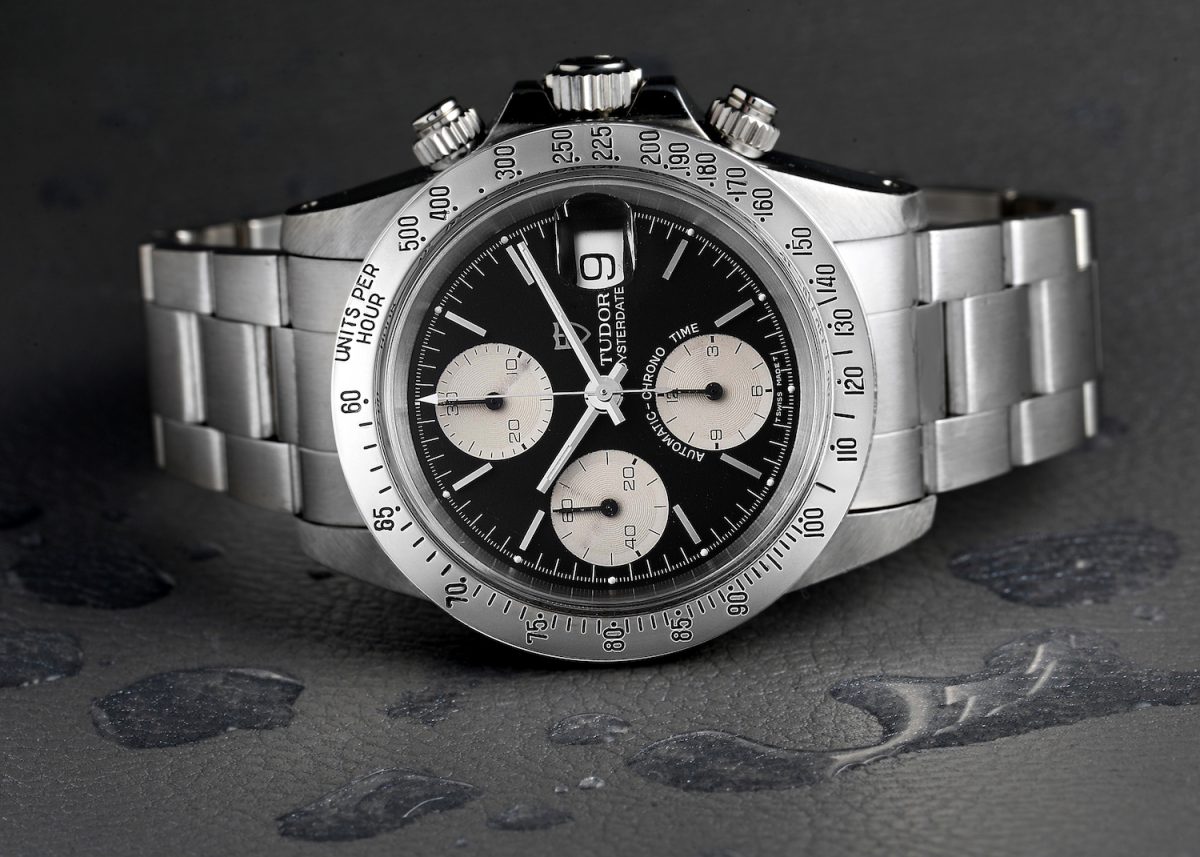 Tudor Prince Oysterdate "Big Block" powered by the Valjoux 7750 movement
Another notable automatic watch is the Valjoux 7750. This one is widely used due to its comparatively affordable production, and it has a power reserve of 40 hours. It can be found in some models of the Breitling Avenger, Tag Heuer Carrera, and Panerai Luminor.
---
<>
Choose Quartz Over Automatic if…
Cartier Tank Louis ref. W1529856 and WGTA0010
While both quartz and automatic have their benefits, you'll ultimately have to decide on the right one for you. Even if you intend to collect more watches in the future, it's useful to know the advantages and disadvantages of each caliber. Some reasons to choose quartz over automatic include:
Accuracy – Quartz watches have a complete advantage over automatic watches when it comes to accuracy. Quartz watches keep time more accurately due to their battery. They are considered accurate to about 15 seconds per month, far better than automatic watches which can range from anywhere between +/- 3 and +/- 15 seconds per day.
Low Maintenance – Quartz watches are low maintenance because you simply need to replace the watch battery every few years. This upkeep at about twenty dollars is also cheaper than automatic maintenance. Automatic watches have many other components that contribute to their movement, so maintaining worn-out parts is important. For automatic upkeep, you need to service the watch at a professional location every few years as well, spending upwards of eighty dollars each time (prices as of 2022).
Affordability – Quartz caliber is cheaper to produce, so these watches are also cheaper on the market. You can even find quartz movement watches for as cheap as ten dollars, while the cheapest automatic watch will be fifty. Although, even then the cheapest automatic watch will not be very accurate.
---
<>
Choose Automatic Over Quartz if…


Automatic movement on an Audemars Piguet watch
If the list above didn't seem beneficial for you, then perhaps automatic will be the best watch for you. Though automatic caliber is often more expensive and less accurate, there is an undeniable charm to watches that have automatic movement. A few reasons to choose automatic over quartz are:
Look and Feel – While the movement doesn't affect the aesthetics of the outside of the watch, it's good to take a bit of consideration for what the movement itself looks like. Quartz watch movement is not as smooth as automatic due to the battery-powered ticks of quartz watches. Since automatic watches function through an intricate mechanical system, the motion of the second hand is much smoother.
Luxury – The majority of quartz-caliber watches are not usually considered collectors' items. Automatic watches are often handmade, which brings inherent added value to them. Though they're more expensive, that also means that more luxury brands offer automatic caliber watches. Automatic watches bring fascination through their craftsmanship and impressive accomplishments of engineering.
---
<>
Quartz vs Automatic Watch Movement – Final Thoughts
Both automatic and quartz caliber watches are appealing for different reasons. If you're simply looking for something affordable, accurate, and low maintenance then a quartz movement watch is the one for you. If, however, you're seeking a watch that has more of a design and collector's value then you should look for high-quality automatic watches. Though an important thing to keep in consideration with an automatic watch is the higher level of maintenance required for upkeep.
Regardless of what you're looking for in a watch, you can easily find the right one for you with a little bit of searching. SwissWatchExpo.com has a great variety of high-quality automatic and quartz movement watches from nearly 40 of the world's top watch brands.